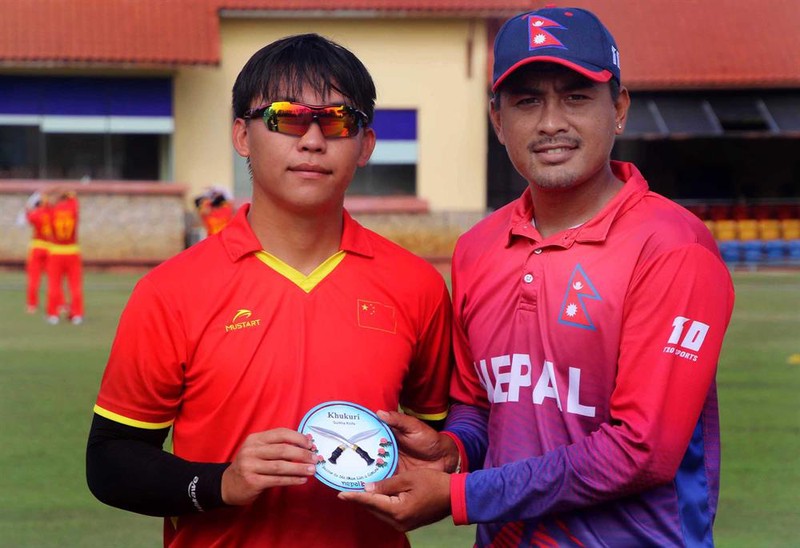 In the Eastern region games, Nepal defeated China by 10 wickets to reach the semi-final of the tournament. China was defeated by Singapore in their first match and they will return home without winning a match.
Singapore and Nepal won a match each and they reach the semi-final of the tournament. They will play against each other in the group stage match in July 5th which will decide the winner of the group.
Nepal won the toss against China and they elected to field first. China was dismissed in 23.1 overs in 53 runs. Nepal reached the target in just 5 overs. Pawan Sharaff scored an unbeaten 46 runs in 21 balls with the help of 6 fours and 3 sixes. He scored 3 fours and 2 six in the 5th over. Also another opener Rit Gautam scored 10 runs in 10 balls for Nepal with the help of a four.
In the first innings, Guhawo and Chen scored 13 runs each for China. Other batsman could not score in double figures. Sagar Dhakal took 6 wickets in 9.1 overs with the help of 3 maidens and giving 19 runs. Tilak took 3 wickets in 7 overs with the help of 3 maidens giving 15 runs. Kamal Singh Airi bowled 2 maidens by taking a wicket in 5 overs by giving 9 runs. Pratish was expensive, he gave 10 runs in 2 overs. Sagar dhakal was declared as the men of the match.