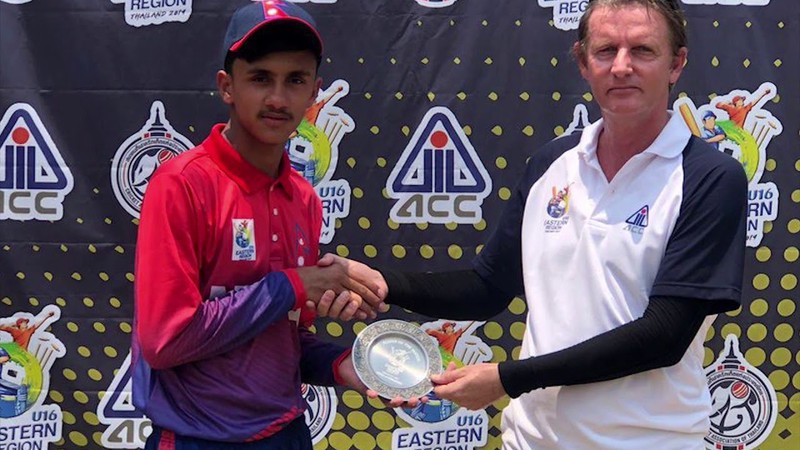 Defending Champion Nepal starts with the win in the tournament of ACC U-16 Cricket Tournament. Nepal played its first match against Myanmar and they won the match by 7 wickets. Nepal will play their second in April 24 against Malaysia while Nepal will play their third match against Thailand in April 25. After playing 1 match with each other, the top 2 teams from each group will be selected for semi final who will play against each other from the teams selected in next group.
Myanmar won the toss and batted first. They were all out in 58 runs. In reply, Nepal chased the target in 8.1 overs losing only 3 wickets. Dipak Bohara was out on 6, Subash Airi was out on 11 while the captain of Nepal, Bishal Bikram Kc was out on 3 as well. Nepal was 25/3 in 4th over. Prashant Mahat and Arjun Kumal made a partnership of 37* runs for Nepal to guide towards victory. Arjun scored 26 runs in 15 balls with 4 fours and Prashant scored 9 runs in 15 balls with a four. Tait took 2 wickets for Myanmar.
In the 1st innings, Myanmar lost the wickets from the 1st over. Nepal captain Bishal Bikram Kc took 2 wickets in the first over. It did not take much time to make Myanmar all out in 58 runs in 13.2 overs. The captain took 4 wickets while Ramesh Kurmi and Nikhil Kumar Singh took 1 wicket each.
In 2017, Nepal had beat Myanmar by 337 runs. At that match, Nepal made 350 runs in 35 overs while Myanmar were all out in 13 runs in 11.3 overs. In that match, Rit Gautam scored 106 runs for Nepal who is a member of U-19 Cricket Team of Nepal currently.
Nepal has a rare achievements against Myanmar in the past. In 2006 ACC Trophy, Myanmar made 10 runs in 12.1 overs losing all their wickets. In reply Nepal won the match in 2 balls. Mehboob Alam took 7 wickets while Binod Das took 3 wickets for Nepal in that match. In the total of 10 runs, Nepal had gave a extra of 5 runs.
Nepal also faced Malaysia ICC T-20 Asia Group B selection match. Sandeep Lamichhane took 4 wickets while Lalit Rajbanshi took 3 wickets for Nepal which restricted Myanmar for just 29 runs in 10 overs. Nepal won the match in 3 overs.