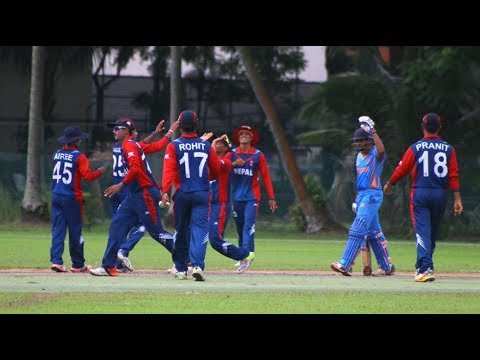 In the third match of the tournament for Nepal, Nepal played against the host Malaysia today. Nepal defeats Malaysia by 8 wickets, its the 2nd win in the tournament for Nepal.
Malaysia lost the toss today and they batted first. They gave a target of 93 runs to Nepal. Nepal chased the target in 13 overs losing just 2 wickets. Opener for Nepal Rit Gautam scored an unbeaten run of 39 while Ashif sheikh scored 26. With the loss target on the board, Nepal started the chase in a good note. Pawan Sharaff and rit Gautam made a partnership of 42 runs for the first wicket. Pawan Sharaff was declared the man of the match. He scored 19 runs for Nepal in 14 balls with the help of two fours and one six. After the first wicket of Pawan, Ashif sheikh came to bat for Nepal who made an aggressive partnership of 46 runs with Rit Gautam. Ashif scored 26 runs in 18 balls with 3 fours and 1 six. Rohit Paudel was the next to bat for Nepal who scored six in his first delivery for giving Nepal a win by a big margin. Rit Gautam was on the other end with 39 runs in 45 balls. He scored five fours in his innings.
After winning the toss, Nepal bowled first. Malaysia was started to lose their wicket from the first over. The second wicket for Malaysia fell down in 12 runs. They losed their wickets continuously from time to time. Eventually, Malaysia was all out on 33.5 overs in 92 runs. Pawan Sharaff and Kushal Malla took 3 wickets each for Nepal. Kamal Airi took 2 wickets while Sagar Dhakal took a wicket as well.
For the hopes of Nepal to be selected in the world cup, Nepal has to win all the remaining two matches as well as UAE has to lose at least a match. Nepal had defeated Singapore by 217 runs in the first match while Nepal lost to UAE by 1 wicket (D/L method) in the second match.
In an another match played today, UAE defeated Kuwait by 7 wickets. UAE still has to play with Oman and Singapore. UAE will play against Singapore tomorrow. Nepal will play against Oman and Kuwait in the remaining matches. Nepal will play against Oman tomorrow. Nepl does not afford to lose a single match from here while UAE also does not afford to lose a single match as their net run rate is lower than Nepal. In fact, its a Do or Die match for both Nepal and UAE, UAE having the advantage among the two.