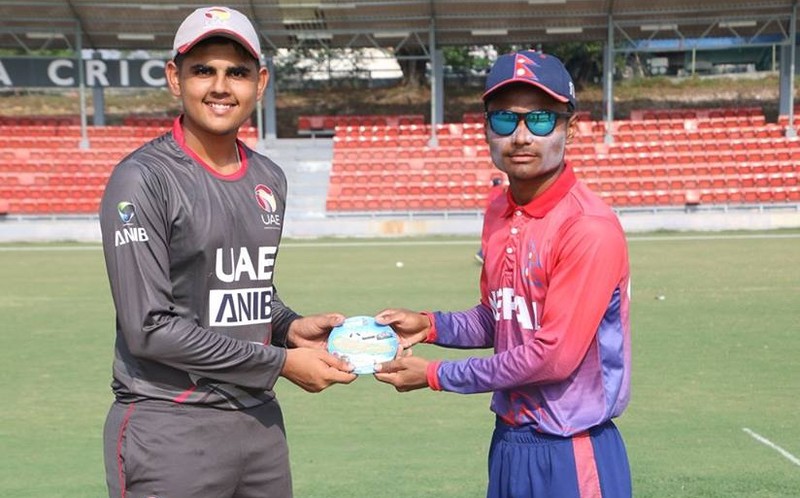 Nepal was unlucky to loss the match by 1 runs by D/L method. In their first match in the tournament, they defeated Singapore by 217 runs. With this loss, in order to get selected for world cup U-19, Nepal has to win all the remaining matches and Nepal will also be dependent on the result of UAE. UAE has to lose at least a match for Nepal to have any chance to top the league to be selected. If UAE wins all the matches, they will be selected for u-19 world cup to be played next year in South Africa.
Nepal will play its next match Vs. Malaysia tomorrow. Nepal will play against Oman in 16th April while against Kuwait in 18th April. UAE has already defeated the host Malaysia by 5 runs earlier in the tournament and with the win against Nepal, UAE has collected 4 valuable points for their team.
Nepal batted first and scored 247 runs losing all their wickets in 50 overs. While chasing the target given by Nepal, UAE scored 122 runs in 30 overs losing 3 wickets. UAE still needed 126 runs to win in 20 overs, but the rain did not let the play to be resumed and UAE were ahead in PAR score by 1 runs. So, UAE was lucky to be the match result in their favor. If the game was played, it would have been handy to score Nepal bowlers when the required run rate was higher than 6.
During chasing, UAE lost their first wicket in the 1st over while under 21 runs they had lost two wickets. The third wicket partnership for UAE was the game changing moment for them. A century partnership, 101 runs partnership was made. As soon as the 3rd wicket fell down in the 30th over, rain started and the match was not started again. It may have been the chance to bounce back to Nepal. Tandan scored 54 runs for UAE before he got out while Arvind was not out on 47 runs when the rain stopped play. Kamal Airi and Sagar Dhakal took 1 wicket each while the first wicket was runout.
In the first innings, Hari Bahadur Chauhan scored an unbeaten 67 runs in 74 balls. He scored 7 fours and he was the only person left in the crease till the last moment. Bhim Sharki scored 53 runs in 54 balls with the help of 4 fours and 2 six. Opener Rit Gautam scored 44 runs in 73 balls with 3 fours. At stage, Nepal had lost 5 wickets when they made 115 runs. Bhim and Hari made a partnership of 92 runs to rescue the batting scorecard of Nepal. Asif Sheikh scored 27 runs, Rohit Paudel scored 18 and Pawan Sharaff scored 12 runs for Nepal. Nepal got 16 runs as extras in their innings.