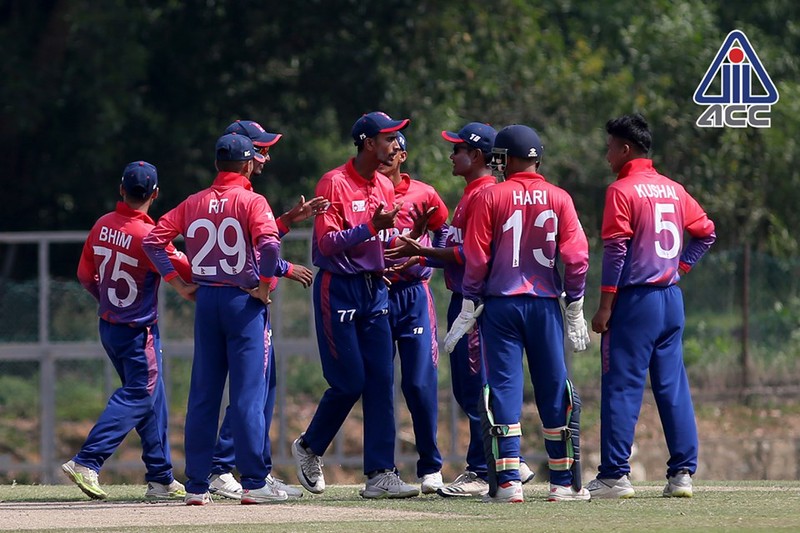 Nepal beats Singapore by 217 runs in ACC U-19 Eastern Region tournament. Nepal reaches the semifinal being the group leaders. With this win, Nepal has maintained their record to never lose with Singapore in a cricket match. Singapore also reached the semi final being the runner up of Group A.
In the first match, Nepal defeated China by 10 wickets. Defending Champion Nepal will play the semi final against the runner up of Group B in July 8th. Nepal batter first yesterday and made 326 runs in the scoreboard. Chasing he target, Singapore were dismissed in 39.1 overs in 109 runs.
In the second innings, Hari Krukeja scored 30 runs, sami scored 24 runs, Sridev scored 23 runs for Singapore. Nepalese bowlers Kushal Malla took 4 wickets in 9.1 overs bowling a maiden over and giving 14 runs in his spell. Tilak Raj Bhandari took 2 wickets in 31 balls by bowling a maiden and giving 9 runs. Sagar Dhakal gave 16 runs in 7 overs by taking a wicket. Rashid Khan bowled 2 maiden overs in 7 overs by giving a total of 12 runs and taking a wicket. Kushal took 2 wickets in the 37th over. The umpire made a mistake in that over and allowed him to bowl the 7th ball of the over and Kushal took a wicket in that ball. Maybe a bad luck for Singapore but umpires will be analyzed by the ICC on the basis of mistakes they make in the field. Nepal would have anyways won the match as Singapore was already far away from the match. It was a pretty one sided match from the beginning to the end.
In the first innings, Nepal made 326 runs in 50 overs. Pawan Sharaff and Rit Gautam made 92 runs partnership for first wicket. Pawan was out in 15th over. He made 45 runs in 41 balls with the help of 10 fours. Rit and Khadak made 131 runs partnership for the second wicket. Khadak batted to the U-19 team for the first time and he made 90 runs and got out in the 40th over. He played 90 balls and hit 12 fours. Bishal Bikram KC was out in 1 runs and Rohit Paudel was out in 7 runs. Rit and Kushal handled the remaining innings of Nepal.
In the match, Rit Gautam scored his first century for the U-19 team. He was the captain of the U-16 team in 2017 and had scored the century against Myanmar. Rit faced 137 balls to make an unbeaten 115 runs with the help of 10 fours and 1 six. Kushal scored an unbeaten 51 runs in 23 balls with the help of 4 fours and 5 six. Kushal scored 4 fours and 1 six in the last over. He also hit 3 continuous sixes in the 3rd, 4th and 5th ball of 46th over.