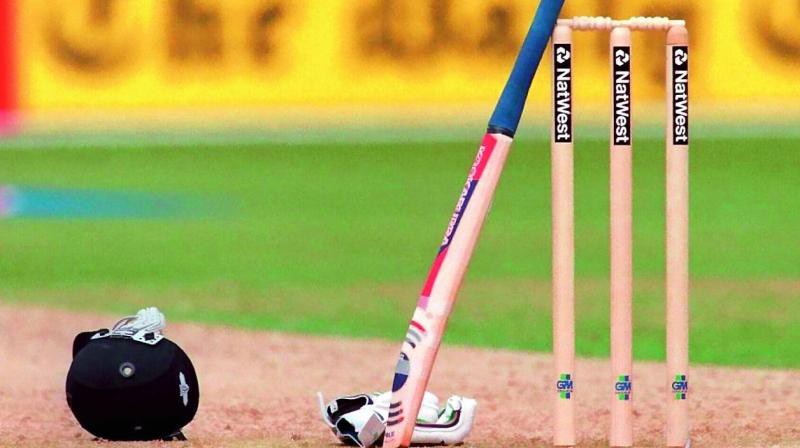 Arghakhachi Cricket Association (ACA) organized this tournament in the city of Arghakhachi SandhiKharka. This is the first edition of this tournament. The main motive of this tournament is to select best players from the district and train them more for the district level matches. A total of 3 municipalities, 2 VDCs and 5 other tems had participated in this tournament. All matches of the tournament was played in Ward. No 1. It is located in SandhiKharka Municipality, the tudhikhel of the ward was selected for the venue of the match.
Bhumikasthan Nagarpalika defeated Chhatradev Gaupalika by 10 wickets. Chhatradev won the toss and elected to bat first. They were dismissed in 80 runs in 17 overs. Manoj Thapa Magar and Smile Thapa made 12 runs each, Bishal Pandey scored 13 runs while the rest batsman could not score in double figures for Chhatradev. Bibek Pun and Kuldeep Saru took 3 wickets each. Arbi took 2 wickets, Sandeep and Kucky Bushal also took a wicket each for Bhumikasthan. Chasing the target, Bhumikasthan chased the target in 7.2 overs without losing any wickets. Laxman Raymajhi scored 42 runs and Anil Bhusal was also unbeaten in 37 runs. Bhumikasthan won the match by 10 wickets and Laxman Raymajhi was declared as h player of the match. In the last match, Chhatradev had defeated Maladevi to play with Bhumikasthan.
In the next match, SandhiKharka defeated Bhumikasthan by 10 runs. SandhiKharka lost the toss and they were opted to bat first. They scored 161 runs in 20 overs with the loss of 8 wickets. Prem Shrestha scored 71, Ramesh Shrestha scored 20, Bibek Banjade scored 15 and Prem Raymajhi scored 15 runs in the first innings. The rest batsman could not score in double figures. Ganesh and Arbi took 2 wickts each. Kuldeep, Bibek and Sandesh took a wicket each. Chasing the target, Bhumikasthan wer dismissed in 151 runs in 18.3 overs. Uttan thapa scored 48 runs, Laxman Raymajhi scored 38 runs, Sandesh scored 26 runs, Arbi scored 23 runs. Prem Raymajhi and Prem Shrestha took 3 wickets each. Bijay took 2 wickets, Bibek and Resham took a wicket each. Prem Shrestha was declared the man of the match for his all round innings of 71 runs and 3 wickets. In the last match, SandhiKharka had defeated Shitganga while Bhumikasthan defeated Chhatradev to play against each other in the final of the tournament.
Bibek Pun (Bhumikasthan) was declared the best bowler of the tournament. Prem Shrestha (SandhiKharka) was declared as the best batsman and best player of the series.