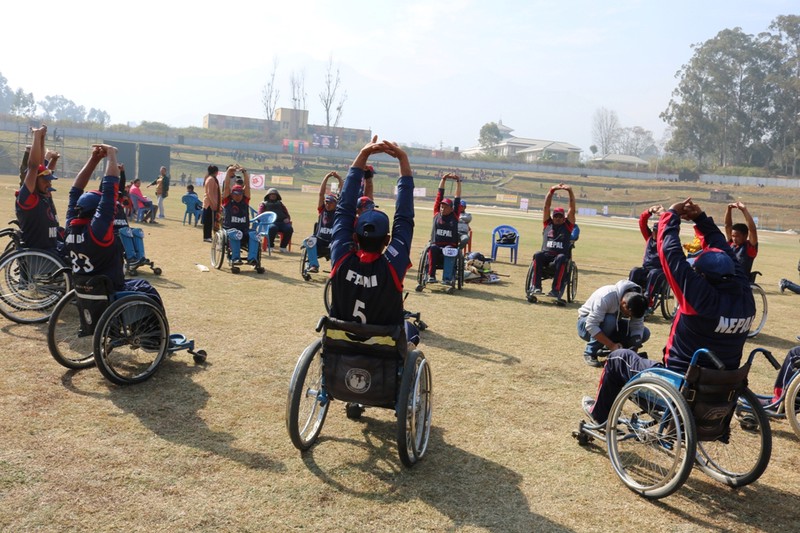 In the Wheelchair Asia Cup T20 tournament being played in Nepal, Nepal lost their first two games against India and Bangladesh.
In the match between Nepal and Bangladesh, Nepal lost the toss and batted first. Nepal was restricted in 148 runs in 19.1 overs. Digam Singh Chemjong scord 35 runs in 38 balls, Homnath Rai scored 36 runs in 30 balls, Dambar Magar scored 19 runs in 13 balls and Bishnu Pukar Shrestha scored 16 runs in 14 balls for Nepal. Mohidul Islam took 3 wickets for Bangladesh.
Bangladesh chased the target in 18.3 overs losing just 2 wickets. Sajjad scored 31 from 30 balls, Javed Mohammad scored 38 from 34 balls and Rippon scored 50 from 35 balls for Bangladesh. Digam and Super took a wicket each for Nepal. Ripon was the man of the match and Bangladesh won the match by 8 wickets.
In the another match played between India and Pakistan, India lost the toss and batted first. India made 193 runs in 20 overs losing 2 wickets. Parshuram scored 109 runs in 71 balls with 21 fours and Saurav Malik scored 61 runs in 44 balls for India. Adnan Nisar took 1 wicket for Pakistan.
Pakistan were chasing the huge target. They made just 176 runs in 20 overs losing 5 wickets. Mohammad Fiyaz scored 47 runs in 32 balls and Sajil Ali Abbas scored 88 runs in 57 balls for Pakistan. Sourav Malik took 2 wickets for India.
India is in the top of the table with 2 wins in 2 matches while Nepal is in the bottom of the table with 2 loss in 2 matches. Pakistan and Bangladesh are in the 2nd and 3rd position respectively with a win each in 2 matches with the run rate separating them.