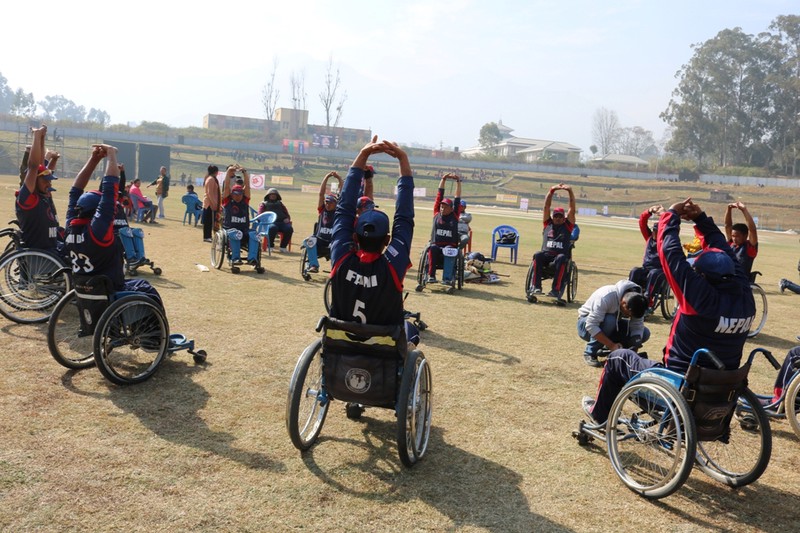 Wheelchair Asia Cup Cricket is all set to start. The tournament will be in a T20 format. Nepal will face India in the opening match of the tournament. The matches will be played in the Tribhuwan University Ground in Kirtipur, Nepal. The venue was announced to be in Pulchowk group earlier but as the Prime Minister cup cricket is postponed by a week so the venue was changer to Kirtipur for a better experience.
Digma Chemjong will lead the Nepal team and he has hopes to do good in the tournament. He says, we have played wheelchair cricket in the past and we know we can do our best in the days to come. We have a good preparation. We have practiced games in the closed camp and we can win the tournament as well.
Nepal has prepared for the tournament in Kathmandu Cricket Training Center's Ground as well as Diabled Hospital's Ground in Lalitpur and Jorpati. There were more than 15 players who participated in the training camps. Asia Cup will be played for 4 days. There are 4 teams that are participating in this Asia Cup. Nepal, India, Bangladesh and Pakistan are the 4 teams that participate in the tournament. Each team will play against each other and the top 2 teams will meet in the final.
In 2017, Nepal had won the series that was played between Nepal, India and Bangladesh. It was the first international wheelchair cricket played ever. It was played in Kathmandu.