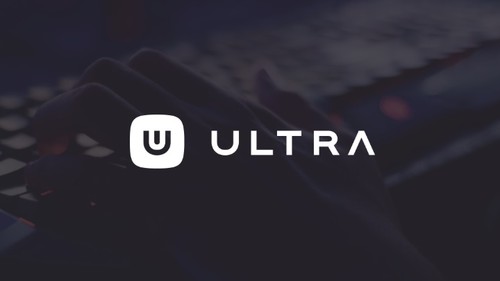 I'm always on the lookout for lower market cap projects that have a lot of growth potential. Sectors I believe are most ready for Crypto adoption are Gambling and Gaming. I recently discovered Ultra.io and I like what they aim to do to the point I started buying some UOS.

Blockchain & Gaming
I strongly Believe Blockchain which allows players to actually own their digital games and items will revolutionize the gaming industry. We are still very early on with Splinterlands being one of the best examples of how it can be done properly with a fair economy and scalable reward structure all while the game itself runs smoothly without transaction costs. I plan on taking a closer look at many of the Blockchain Gaming Platforms making a monthly Report keeping track of the latest news along with the price evolution simular to how it do it with all the Sports Betting Related Projects (See March 2020 Report)
---
What Is Ultra?
Ultra basically aims to become a competitor to Steam operating as a game distribution platform that also includes NFTS and many more other functions allowing players to be rewarded while taking less from Developers. It will be a fairly centralized platform build on a fork of the EOS Software, currently, the UOS token is an Ethereum ERC20 token which will be swapped when the main net launches.
---
Reasons I like Ultra
Things somehow clicked for me when I took a look into Ultra as it is something I could see myself actually using someday. With other projects like Enjin (Gaming) or Augur (Betting), I don't have this connection whatsoever. These are some of the things I like about Ultra...
Solid Team: If I learned anything the last couple of years it's that the team behind a project really matters. The team behind Ultra seems to have a lot of experience in the gaming world, knows what it takes to build a business, and has great connections. The main downside is that they seem to rely on outside developers for the blockchain coding which might get costly. It looks like part of the Scatter team moved to Ultra (Link)I rather have it this way than the other way around though.

Partnerships: The project has some really big partnerships with Ubisoft & AMD while it's also listed on Bitfinex. Ubisoft will become a block producer while AMD will include accounts and codes for free downloadable games with their hardware which will be massive for adoption. Steam has had a monopoly in the online game distribution sector for a long time and it looks like some of the bigger players are teaming up to try and break this with the Ultra platform.

Low Market Cap: Ultra is currently rank 298 on Coinmarketcap with the coins in circulation being worth ~11 Million dollars. Only 24% of the total supply is in circulation which is not optimal. For what they aim to build compared to many of the other projects, the price still has big upside potential even if they are mildly successful.

Good Visuals: The platform was shown already (see Video) and it all looks very clean very similar to steam. Making an account is also free and a very easy process just like people are used to. the ultra.io website also looks very clean. I am however not a fan of the logo which reminds me of the Nintendo Wii U Logo.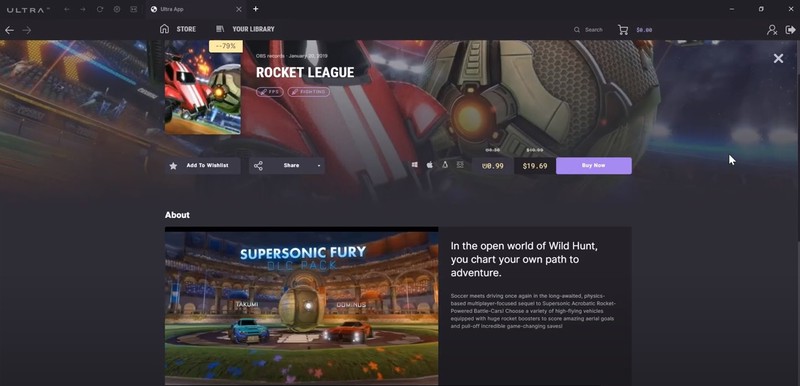 It's Still Under The Radar: Where there is a huge hype around Enjin, ultra is still very much under the radar and there is no hype just yet. The project is also still fairly new getting listed in August 2019 and there are no bag holders that got burned during the bear market which should give less selling pressure when there is another altcoin crypto-mania phase. It is also a project that could easily pick up a lot of hype.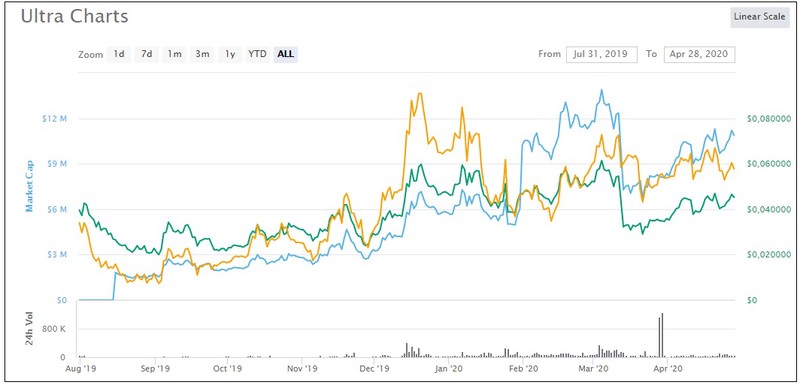 AAA Games: Crypto games right now generally are not very good. Most of them are made just with an eye to make a quick buck offering a reward scheme for its players that is nothing more than a Ponzi which dries up quickly. Ultra.io will also have Tripple A games available for sale on their platform possibly at a cheaper price. All sales are converted and done in the UOS token.

Ultra Solves Real Problems: There are some solutions the platform will offer like taking less of a cut from Developers (Steam takes a whopping 30% now), allow digital 2nd hand market which allows players to sell their digital games while Devs can earn a cut from each 2nd hand purchase, instant payments for developers, Players can earn by playing or making reviews and so on, NFTS give ownership, the ability to tokenize Esports players or teams, ...

Token Usecase: The UOS token will have a central part in the platform and be used for every transaction even though all prices will be listed in regular Dollar, Euro,... Similar to Enjin, in-game items can contain UOS giving them a guaranteed minimum value. Staking UOS tokes will also give out rewards. For more info on the token economics check here)

---
Overall there is a lot to like about Ultra at the current Valuation even though it remains a long shot. Many have tried to rival Steam but failed and Ultra will certainly be facing a lot of difficulties trying to achieve their ambitious goals. I like the risk-reward ratio on this one and am cost-average buying under 0.05$.

---
This is by no means financial advice. I have basically no idea what I'm doing and might be completely wrong on this. Always do your own research if you plan to invest. List of the articles and videos I watched to inform myself of this project...

Ultra.io Website (Link)
Ultra.io Medium Blog (Link)
Ultra Youtube Channel (Link)
Video interviews with CEO's (Youtube Link)
Video Ultra Review (Youtube Link)
Video Everything you need to know about Ultra (Link)
...
I'd love to hear more opinions and views on this project so feel free to leave a comment below...