Air hockey is one of those games you've just got to give ago whenever you pass your local arcade - usually in the UK at least these days that involves ten pin bowling (which I also love) as there's always an arcade attached to it and sitting at the centre of one is always a luring Air Hockey table. Whenever my eyes pass said table I can't resist the urge to hammer that puck - if I am playing against my twin what results is a game of terribly satisfying anger management as opposed to graceful timing and reflexes?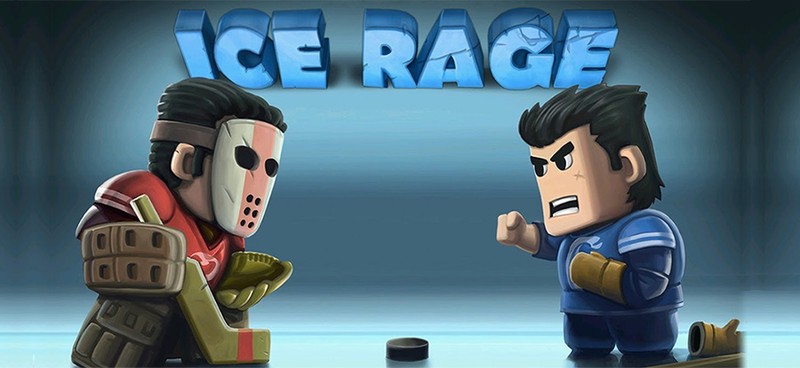 If ten pin bowling and arcade's are not your thing, thankfully there's a second option on your mobile device! Ice Rage Hockey Multiplayer is a two-player air hockey game and it doesn't need a big chunk of space to play. Over 4 million players agree that this title is tough to beat when it comes to local multiplayer madness. Play with one of your pals on the same screen, or take turns with the whole gang to turn it into a party game. Control one player and a keeper. Be quick on your feet or eat ice and lose. The game's rapid pace is sure to keep your fingers busy and eyes fixed firmly on your phone screen.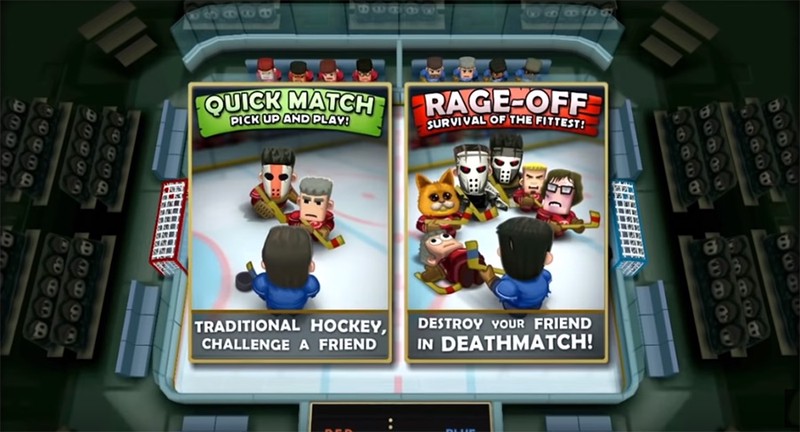 Rather play alone? That's fine too. Developer Mountain Sheep has you covered with a single-player mode that lets you upgrade your favourite character and dominate in the Leaderboards. As if that's not enough, there's also a Quick Match mode that, as its name suggests, lets you play games in short bursts. Learn to angle your shots and blocks, or play in Easy mode for assistance via AI. Once you've gotten the hang of the mechanics, you can play in Rage-off mode to see how far your skills have come.
Defeat a trio of foes, survive and rule the rink. Unlock unique characters like the intimidating Enviro-Bear or Antero who's quick on his feet. Better yet, get the help of goalies like good old St. Nick himself for hours of fun. With different modes to choose from, backed with smooth-running 3D graphics, it's no wonder Ice Rage: Hockey is at the top of the charts.
It's Automatic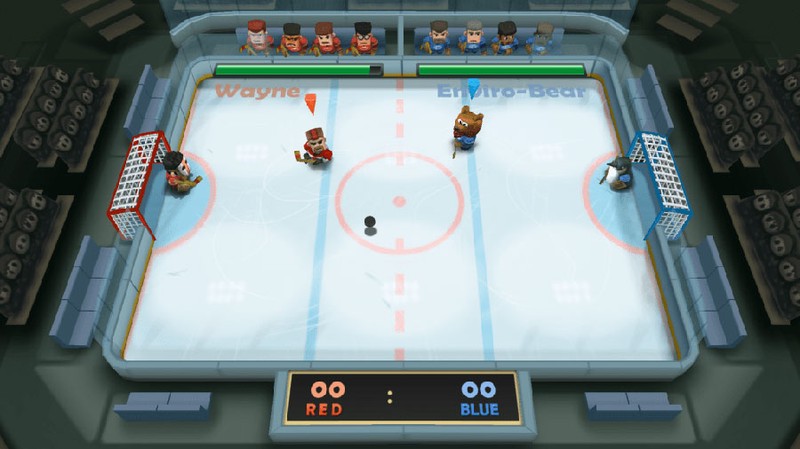 It's no secret. Sports game developers are streamlining the controls to make their titles accessible to a wider audience on mobiles. Gone are the days of dedicated buttons and mashing your way through tricks. Forget about testing skill through twitch taps and combos. Nowadays, it's all about offering variety, and part of that is giving players access to dynamic, multi-use controls. Even so, Ice Rage: Hockey is a stellar example of a novice-friendly sports title. Basically, there's a virtual joystick to the left and a button to right of the screen. The button dynamically changes its function depending on whether you're in control of the puck or not (shoot or check). Now, if you'd much rather focus on offense without having to move your character around manually, there's an option for that too. Keep things simple by pressing the button to get your shots in. The AI will take care of the rest.
In case you're itching for more of a rush, then you might want to take the difficulty up a notch. Whereas Easy mode makes for slower game play with the automatic goalies, the rest lets you to get your rage on as you battle for supremacy. Race around the rink and make all your shots count. Or, if the puck isn't with you, give your rival player a good smack or two until you gain the upper hand. The title says it all.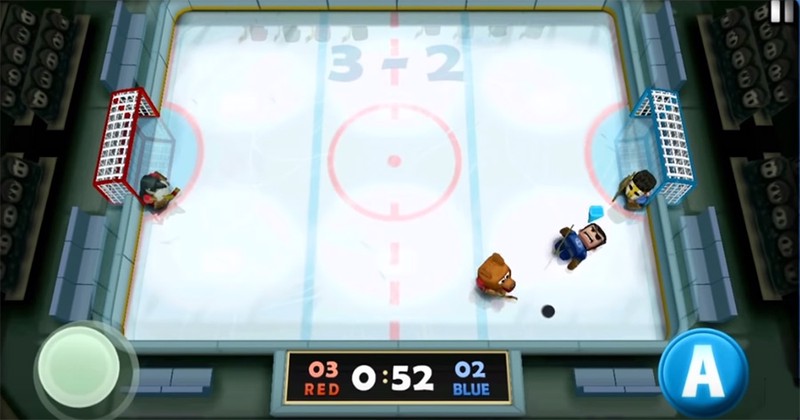 Play Quick or For Hours, Just Play Often
With arcade-style action and local multiplayer to boot, Ice Rage: Hockey definitely isn't your average hockey game. A variety of game modes ensure that there's something for you to enjoy, any time you're up for a game. It doesn't matter whether you're stuck waiting in line or you've just gotten home from a long day, you'll find something to enjoy here. On the downside, one-on-one matches can get a tad repetitive, especially if you're only playing solo. Depending on what you're looking for, the mileage for the game will vary. At most, you'll have a blast with Tournament mode, upgrading your character's attributes and techniques as you go through nine games. After that, it's off to the Leaderboards and you'll be struggling against your own limits to beat your score.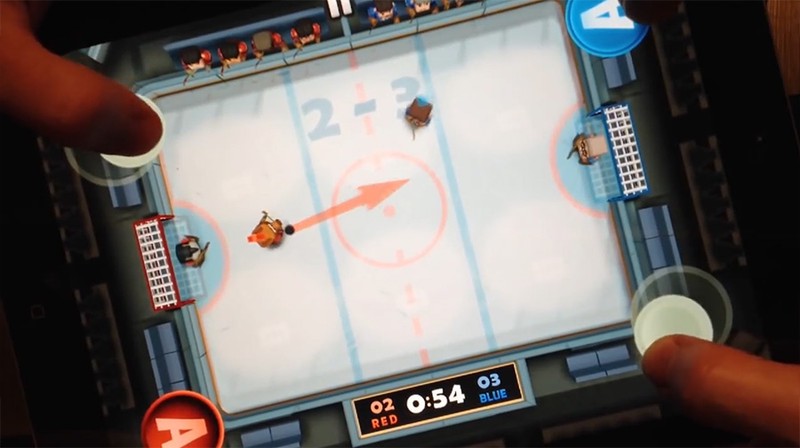 The game really does shine when it comes to its multiplayer offerings. Having the ability to play with a friend instantly is always a plus. I did find it a tad tricky to share a phone screen however, so you'll want to do this on a tablet. Now if only Mountain Sheep would add Game Center multiplayer into the mix -- that would be the icing on the cake.
Skeletons Rule
The roster for IRH will come as no surprise to those who have played titles from the developer prior. Included alongside your generic, blocky players are mascots such as Enviro-Bear, Bike Baron, John Gore and Skeleton. As a bonus, they even come with entertaining tidbits such as Skar's "nobody knows where he got his scars" bit. It's hilarious! The graphics complement the overall feel too, with players rendered as blocky characters and on-screen text having that comic look. Though it's by no means a reason not to play, we would have liked to see some sort of Mii-level character customisation here though. As fun as it was to play as a Skeleton, it would have been nice to have something else to do aside from playing matches. Having game goals and achievements wouldn't have hurt as well, as it could add some replay value to the game's spartan list of features.
So is Ice Rage: Hockey for you? If you're an air hockey enthusiast, looking for something to play in a pinch and you're looking for a game to enjoy in short bursts, then go for it. Mountain Sheep did a great job with their arcade-style approach to the sport. It's simple, fast-paced and undoubtedly addictive if you don't mind doing the same things over and over again. Thanks to streamlined controls, you can play and enjoy regardless of your skill level; and, presuming you're using a tablet, local multiplayer is one of the best we've seen.
On the other hand, you may want to take a rain check if you're looking for something lengthy. There's no online multiplayer to keep the replay value up either, so you may want to wait for a sale before giving Ice Rage: Hockey a chance.
Download the Game for Android or iOS Here
Check Out More Winter Sports Mobile Games Reviewed
Snowboard Party World Tour Pro (Android, iOS)