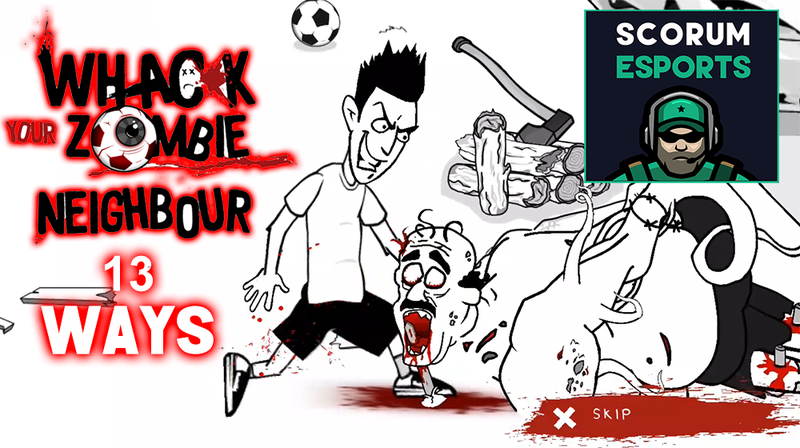 I am delighted to announce the release of the final version of the Whack Your Zombie Neighbour Scorum Edition featuring 8 more ways to kill your zombie neighbour.
The game features new Scorum branding dedicated to the eSports section of this blog and the 8 new ways are far more creative and outrageous than the five previous so we are expecting a lot more coverage on Youtube for the game from fans.
We took on board feedback of our players and decided for these 8 kills to remove the power bar feature as most of our players just like to click and watch the kills happen.
New Stats to Report...
Let me share with you some statistics for the game's success already:
It's been viewed on Youtube approximately 510,000 times though we are aiming for coverage of roughly 4 million views minimum and if the game gets picked up by just one of the bigger youtubers who have played three of our four previous games then who knows, we just love making these sorts of games so we don't just do it for the molah!
We really worked hard to ensure the new kills added will be eye popping enough to bring in more players.
In terms of play statistics for Android the game has been downloaded over 90,000 times and is roughly receiving 1,000 downloads per day and has an active player base of around 6,600 people per week. The web browser version is receiving roughly 150 plays per day at the moment.
You will be surprised just how much traffic it takes to break even on these sorts of games though, they are very expensive to make due to the high amount of animation involved.
The Scorum branding now looks clearer than ever in the web game and is more appealing to gamers to click on. The Scorum eSports logo remains constantly on screen throughout the in game experience.
Enjoy Playing the Updated Version Here in Your Web Browser - https://www.whackit.co/play-wyzn.html