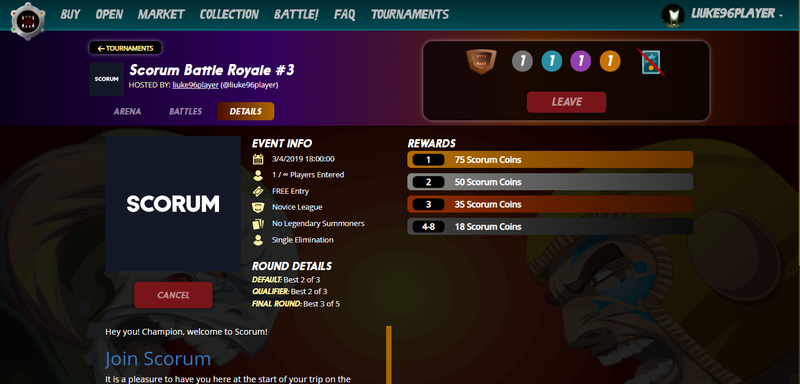 As I said, there will be 2 to 3 weekly tournaments to promote scorum in SteemMonsters.
For those who do not know SteemMonsters is the most popular game in the blockchain of Steemit, it is a collectible card game of monsters with which you can fight against other players in your daily missions and unlimited tournaments!
Join SteemMonsters
Now the basic package that is perfect for my tournament will only cost you $ 10 is a relatively low price, so if you participate in my tournaments designed for novices you could be recovering the investment without problems in scorum.
This beginning of the week I will be giving away 250 Scorums distributed in 8 places, the participants that do not collect their prizes will be used for next tournaments. Because there are people that I have talked to who do not have time for another blog, or just do not call attention to joining Scorum.
But they are few, compared to the ones that do. On the other hand from the next tournament the positions will be distributed to more people, so that there are more people who can join scorum with their first coins.
---
Well at this point I will be distributing an average of 300 Scorum per week assuming that there are people who do not pick up their prizes, although I always talk to all the winners. Remember that they are tournaments for novices and with the legendary permabanned summoners because they are very strong, so everyone can participate.

I appreciate that you support this initiative, I will soon come with more ways to promote scorum in other webs, not only in SteemMonsters.