Ok, keep up with me and you can surely make money with Splinterlands, much more than with other Dapps, I assure you.
Today, you'll see why you should use your other cryptos or Fiat money to buy The Mysterious Potion on SteemMomsters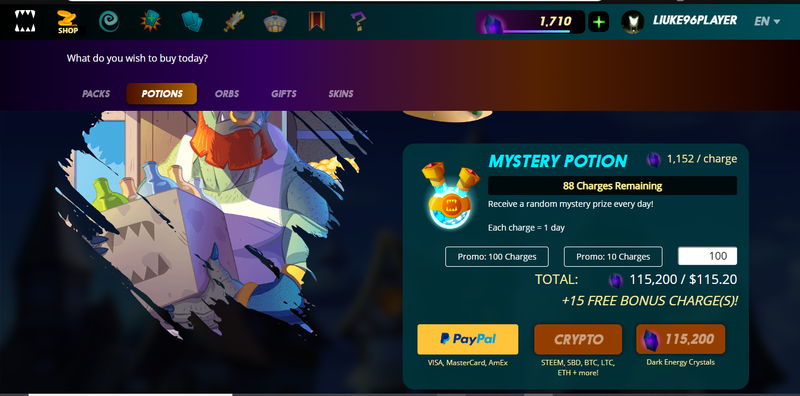 What is the mysterious potion?
It is an Item of the game that for me is a lottery, but there are occasions like today in which it has an added value.
For a $ 1.20 you will receive a charge of this potion, this will give you for each charge a mysterious gift. Then I leave the value you could expect to receive if you buy it.
Untamed pack - $ 1.36
orb $ 1.86
Legendary Potions $ 0.38
Golden Potions $ 0.45
Mysterious Potion $ 1.20
Potion Quest $ 0.75
Reward Letters (Average) $ 0.75
Prince Julian $ 900
Excluding the prince julian you will get, $0.96 as a Daily Value (Yeah i know that theres a 24 negative cents gap)
BUT THIS CHANGES WITH:
The Guild Discounts for example i can buy each one for $1,15 thanks to the guild level.
You must buy the 100 Pack (+15 free), in my case that reduces the gap in only 15 cents (negative because we are excluding the possibility of getting a prince Julian)
And what changes the game totally is that you can buy it in a fixed price in DEC, in my example
100 Potions + 15 FREE = 115200 DEC
115200 DEC =$85
boom!!! $85, and you will get in an average 0.95 cents for 115 days, excluding the prince Julian and any gold epic or legendary. that means
$109,25 - $85 = NOW THE GAP IS POSITIVE AND ARE NOT CENTS, THEY ARE $24.75
#THIS NOT WORK IF YOU DONT BUY IT WITH DEC
Recommendations to increase this: Take advantage of the DEC Price, HOLD UNTAMED AND ORBS because their price always goes up in the future.
---
There's no quest today, because i have 3 active in the previous posts, so check them now!!!