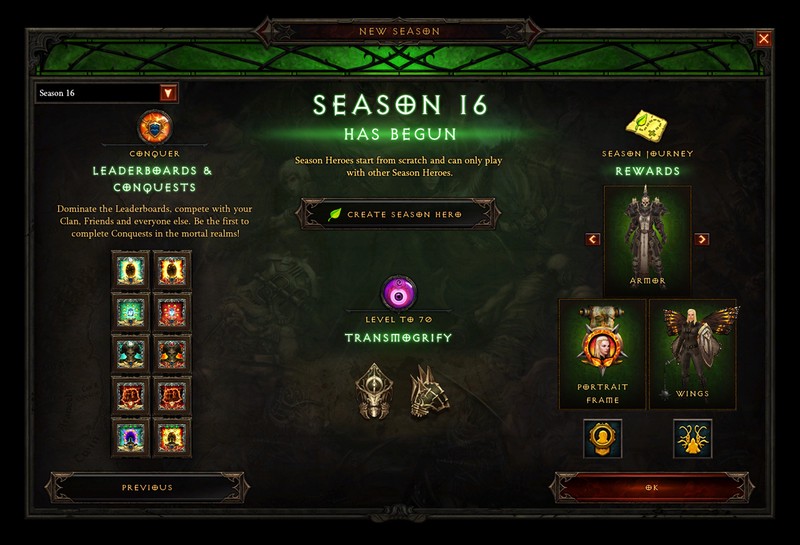 Blizzard Entertainment, Inc. announced that its new season of the action-RPG game DIABLO III and the expansion Diablo III: Reaper of Souls, the "16 seasons" will begin and not only PC players, but also Xbox, PlayStation 4, Nintendo Switch and all other console players can enjoy the new season.
This season's theme will introduce a new reinforcement effect that will change the way it plays with authority. During the 16 seasons, the legendary ability of "Ring of the Royal Family" applies to all of the characters.
The "Ring of the Royal Family Authority" reduces the number of items needed to receive the effect of a set item. You can wear a ring or extract the ability by using a canoe.
In addition, new decorations, journeys, and political clique will be applied. First of all, you will be able to win the "exclusive conqueror" set, the shoulder area, the latest adventure theme portrait, and the wings of Lempo. In addition, achieving the ''repellent'' will give you four additional storage box tabs.
BLIZZARD TO DEVELOP 'DIABLO 4', RECRUITING DEVELOPERS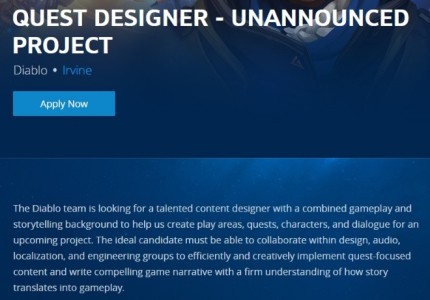 There are predictions that Blizzard is recruiting game developers to develop 'Diablo 4'.
Blizzard recently posted a notice on its website of hiring Unopened Project related to Diablo. The project is a separate project from the "Diablo's Immotal," and foreign media are predicting that the project will be "Diablo 4"
The rationale behind the undisclosed project can be found under the conditions that Blizzard wanted. Blizzard needed "knowledge of Blizzard's world and game play, especially Diablo's Gothic fantasy and a firm understanding of Gothic RPG styles."
Foreign media said the secret project regarding the conditions and Diablo indicated Diablo 4, the official sequel to Diablo 3.
Blizzard also mentioned a variety of 'Diablo' projects. In November last year, Alan Adham, then vice president and general producer, said, "A number of teams besides 'Diablo's Emotal's are working on a variety of 'Diablo' projects," adding to the credibility of the development of 'Diablo 4'.
Blizzard's recruiting force is in need of people in a total of six areas: art/animation, engineering, and game design. The positions will be assigned to Irvine, where Blizzard's headquarters in California, the United States is located.
Thanks For Reading
@mycr7, The 🎮 Boy