Don't qoute me on it, but if my timeline is correct and based on how fast Netmarble work on their releases.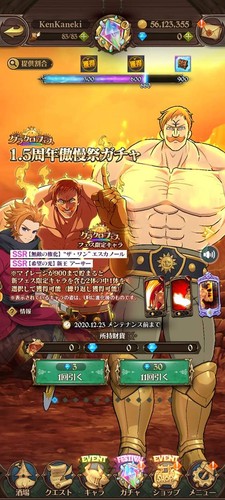 The One Escanor is coming early than what some guys are anticipating as opposed to those 3 months predictions.
12-01 (Gloxinia Banner End)
12-08 (Hawkslo/Matrona/G.Liz Banners End)
Which means things can go this way:
12-01 - Drole Banner is coming after gloxinia and it will end in 12-08 together with Festivals Banners.
12-08 Possibly Step Up Banner "Evil Lilia"
12-15 Winged King Banner (Christmas Banner and New Years Countdown)
12-22 Step Up Evil Lilia Banner End
12-22 Ludociel Banner till 12-29
12-29/1-5 (Free)
12-31 -The One Banner (As opposed to JP New Year Red Escanor released)
Again this is just a speculation, anything are possible. But this will help some F2P to be very careful with their resources! Because Netmarble are surely need those 💵 for their Christmas payoff! 🤣
Rest in peace DIEGO MARADONA