Unity Technologies (CEO John Richtello) unveiled Unity 2018.3 which is the final version of its game engine Unity 2018.
Unity 2018 has carried out two updates this year and has improved its ability to enable high-quality graphics and excellent performance.The new version of Unity 2018.3 includes more than 2,000 new features, fixes, and enhancements, enabling developers and artists to increase productivity and implement richer, realistic content.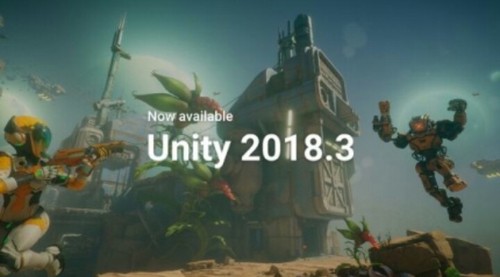 First of all, 'prefabrication workflow' has been improved mainly for re-useability, control, and safety. This increased productivity by allowing pre-fabs to be divided into multiple entities and multiple parts of contents to be worked at the same time through support of Nest function.
As core pre-fabrication workflows are newly changed, teams of all sizes can utilize pre-fabs in a safer and more efficient way.
Visual Effects Graphs (Visual Effects Graphs) that help implement beautiful visual effects are also available as preview versions.
It is built with a flexible node-based system that is easy to use based on VFX (Visual Special Effect) tools that are used in movies and others and is able to produce unique VFXs for projects such as games in real time. Millions of particles can implement a variety of complex effects, and are suitable for creators who want to use advanced features, including APIs for custom node creation.
'Terrain' system was also updated to provide improved performance and usability to developers. Work speed is faster as work is done on GPU, and size of brush is bigger and brush preview function is improved.
The 'seam-stitching' function, which automatically handles the boundary area smoothly, allows for the entire terrain tile surface to be painted, and supports high-resolution render pipelines (HDRPs) and lightweight render pipelines (LWRPs). Updated terrain systems are also compatible with built-in render pipelines and existing Unity Terrain systems.
In addition, "FPS Sample Project," the first sample game project of Unite L.A. introduced in October, was released. By utilizing this technology, game developers can access source codes of connected multi-player FPS environment and learn how to utilize state-of-the-art technologies such as HDRP or utilize these as basic sources of related games.
Unity plans to continuously update the FPS sample project so that it can demonstrate new features and offer new ideas to creators.
Unity introduced Unity 2018.1 in May and Unity 2018.2 in July this year, improving many of its major functions. Innovative features such as scriptable Render Pipelines, entity component systems, and C# Job systems have enabled the user to implement the highest level of graphics while making the most of hardware performance, while also adding and enhancing the ability to easily produce content and produce better results.
Thanks for reading, 🎮🎮😁
@mycr7 the gameBOY 😁