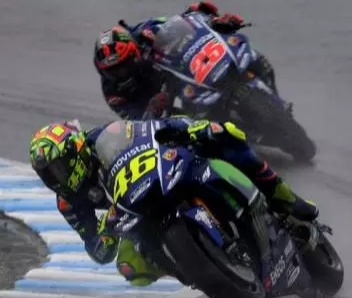 Movistar Yamaha Team boss Lin Jarvis said he was disappointed with the results achieved by his team at the 2018 MotoGP event. The reason is that until the ninth series race, the team which was driven by Valentino Rossi and Maverick Vinales was unable to win even one victory.
Even since the Dutch MotoGP 2017, Yamaha has not won a single one. Yamaha's last victory was earned by the Doctor-Rossi nickname at the Assen Circuit in the Netherlands in 2017. After that they won no victory to date.
Jarvis said Yamaha needed a victory. History has proven that Yamaha is a great team and always accustomed to a victory.

But it is a bit difficult after a variety of problems about the motor hit them since the middle of last season. Now they are aiming to win in the Czech Republic MotoGP which is their newest sponsor sponsorship race next season that is Monster Energy.

We have to win and that is our goal here. Our partners want to win, our fans want to win, Yamaha Motor wants to win. I'm disappointed we have not won for a year, because we're used to winning more in the past and we are a winning team, "Jarvis said, quoting from Crash on Friday (3/8/2018).
"Our last championship win was a few years ago, but we've won several world championships consistently over the years, so we know we have the capacity to win again. So I'm disappointed because we lost a bit of it, "he concluded.