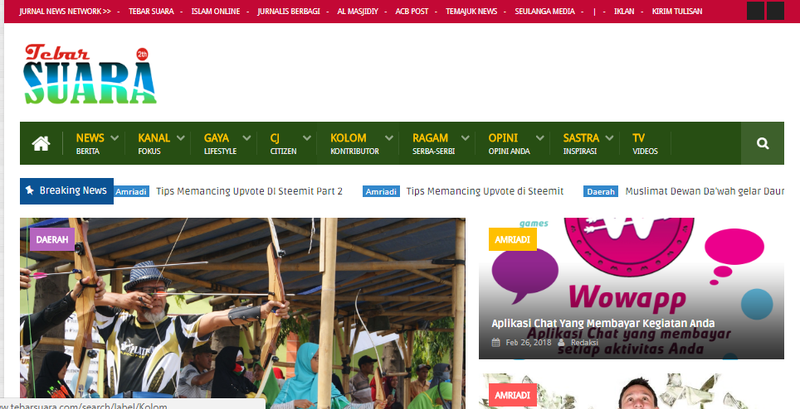 @tebarsuara is an online media name with the address www.tebarsuara.com founded by @amriadits. He is a journalist from Aceh who lives in the city of Bekasi-West Java Indonesia. Apart from being the founder of Portal @tebarsuara, he is also trusted to lead @majalahsahabat.
Here @tebarsuara directed by @amriadits as the main admin and there is no new admin. Therefore in this Scorum @tebarsuara only focus on Sports News.
Tebarsuara.com has been around since 2015 ago. Standing on the initiative of friends of environmentalists in the city of Bekasi. Therefore the logo Tebarsaura.com as a whole describes the greening of the earth.
The red color on the word "Tebar" as a symbol of courage. Blue as the color of the sky, the line on the cutting of the writing representation of the earth with the green color as the greening color of the Environment.
That is the origin of @tebarsuara. Now, tebarsuara.com no longer active on the web, because of some technic that we may not tell here. But in the near future, tebarsuara.com will re-exist via steempress.io
Maybe this edition of the introduction we made. Hopefully, in the next edition, you will get the latest sports update news about Asian Games Jakarta-Palembang. So thank you see you later.
Greetings From Us
@tebarsuara