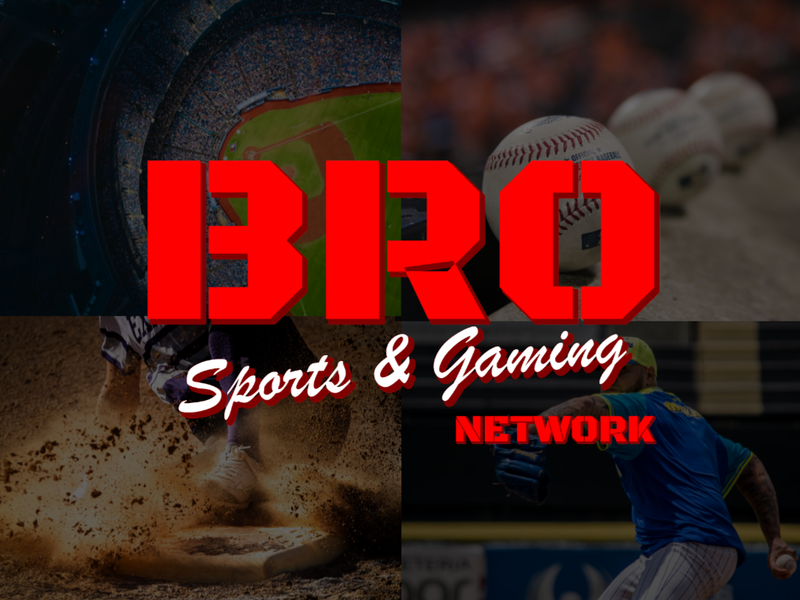 Have you ever dreamed of owning your own MLB Team?

Well now you still can't!

But you can simulate "owning" one by joining BRO League Baseball (BROLB)!
What Is BROLB
BROLB is a simulation baseball league that is run using MLB The Show 18. We are using an All-Time Greats Roster file, which means every single team will be loaded with some of the best players in Major League Baseball history!
Prize Pool

League 1 : 750 SCR Prize Pool
League 2 : 1500 SCR Prize Pool
League 3 : TBD

League 4 : TBD
League 5 : TBD
---
Sample Game

How Does It Work
I'll be honest with you ... I'm winging it as usual. :) That's where you come in. We've run a test season and everything went fine, so I don't really expect any hiccups, but they do happen (just ask @tadas). But I need some help in running some more test to get this perfected.
Details
You can pick up to 2 MLB Teams. (See List of Teams below)
Your Entry Fee must include the Team(s) Name(s) & League # in the Memo to be confirmed. (See Entry Fee below)

The blockchain will determine teams on a first come, first served basis.
Team list will be updated as often as possible. Use the blockchain to check for teams taken prior to sending your entry fee.

Full Entry Fee for a team = confirmed. (See Entry Fee below)

You can only own 1 Team in each League AL or NL.
You can participate in multiple BROLB's.
The same simulation will be used for all BROLB's. This means choosing the same team(s) in multiple leagues is not to your advantage.

There will be a streamed AI Fantasy Draft to start the BROBL season.
AI controls team roster/lineup/rotation.
No human trades or roster moves.
No AI trades.
DL in Both Leagues cuz we're progressive like that.

No requirement on you to do anything but watch, have fun & hopefully win The Show!
---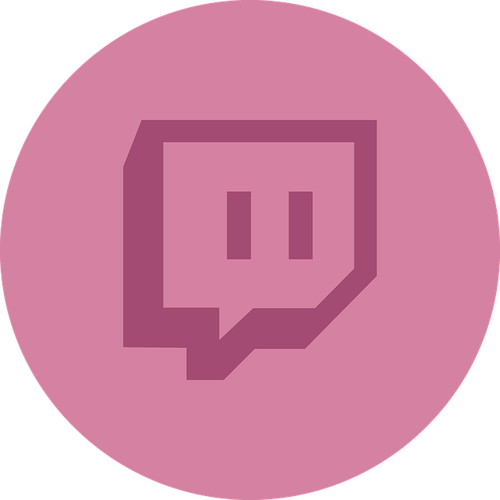 Live Streaming

Regular Season Stream : Opening Day for all teams.

Regular Season Stream : 1 late season game per team in contention for Playoffs.

All Playoff Games Streamed.

Regular Season Stream Type - Fast Sim (~1 hour games)
Playoffs Stream Type - Hybrid Broadcast (~1:45 hour games)
World Series Stream Type - Full Broadcast (~2:00 hour games)
---
Start & Duration

The BROLB Season 2 will start the AI Fantasy Draft on or before February 25th depending upon how many leagues fill between now and then.

Approximate completion time : 2 Weeks.
Entry Fee

League 1 : 25 SCR per Team (limit 2)
League 2 : 50 SCR per Team (limit 2)
League 3 : Opened and Entry Fee set by 1st Owner to send Entry Fee.
League 4 : Opened and Entry Fee set by 1st Owner to send Entry Fee.
League 5 : Opened and Entry Fee set by 1st Owner to send Entry Fee.
Team List

Check the blockchain to see if your team is taken prior to submitting your picks.
I will update this list as often as I can, the blockchain has final say.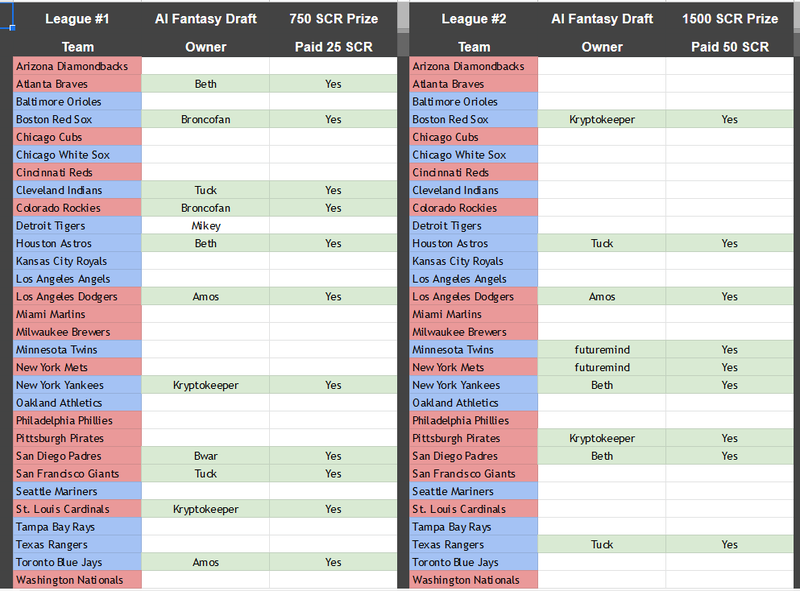 Future

In the near future I hope to have a Discord bot to handle all of this. For right now this is going to have to do while I get everything laid out. Sorry for the mess, it will get better each time (I hope)!
UPDATE 2/25/19

The League did not fill so I have returned the funds to bethalea, bwar, amos811, broncofan99 and kryptokeeper. We will do this a different way in the future or just continue doing it as a private thing in Discord when time allows.