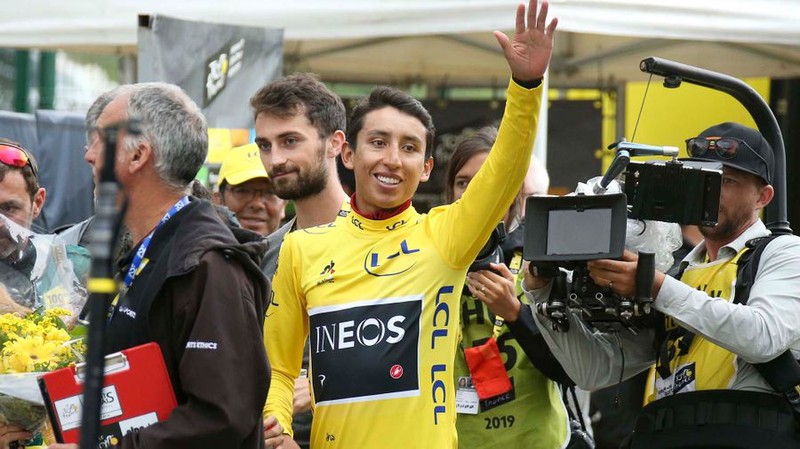 Things did not go as planned for French cycling in the past 48 hours. Friday saw an abrupt halt to any hope France had of winning the Tour de France. Alaphilippe's hopes were dashed when he couldn't match Egan Bernal. Thibaut Pinot had an even worse day, being forced to withdrawal over a leg injury that he's not even sure how it happened. France's Tour was over.
Columbia on the other hand will be celebrating as Egan Bernal is poised to become the first Columbian to ever win the Tour de France and the youngest winner since Francois Faber won the Tour in 1909. At 22 years of age, Bernal wasn't even supposed to be the leader of his team, he was a contender for the white jersey and a support rider for defending champion Geraint Thomas. After an impressive final week, Bernal climbed up the ranks to soldify himself as Tour de France champion. Bernal was 2'52" behind Alaphilippe after the time trial on stage 13 and was sliding out of the conversation as a potential winner. He clawed his way back all week, pulling to 2'02" back after stage 15, 1'30" back after stage 18 and into second place, before finally taking the lead on stage 19. None of his competitors could match Bernal and today on stage 20, as he crossed the line beside his teammate Geraint Thomas, the Tour crown was his. A historic day for Columbia and for cycling.
My heart does break for Alaphilippe and Pinot, especially Pinot since he was taken out of the race by injury. A battle between Pinot and Bernal over the final few days would have been very exciting to watch. The French fans could taste victory this year and to have it ripped away so close to the end of the race was brutal. Sometimes it feels like we will never see a Frenchmen wearing the Yellow Jersey as the Tour de France rolls into Paris.