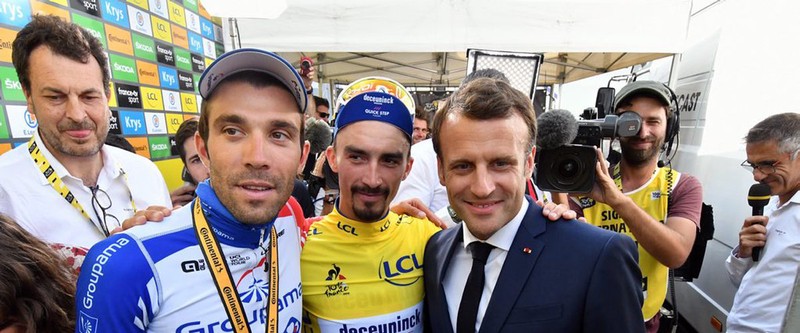 What a great weekend of cycling we've just witnessed. Julian Alaphilippe was looking like he had a solid grasp on the race, and then cracked today. Thibaut Pinot looks to have the best form but, lost considerable ground earlier in the race due to a bizarre cross wind. Geraint Thomas has just done enough to hang around. And we still have six riders in position to contend for a victory in a weeks time.
I fully expected the general classification to sort itself out this weekend. That did not happen. I fully expected Julian Alaphilippe to lose his Yellow Jersey. That did not happen. I fully expected Geraint Thomas to show the race he was the man to beat. That did not happen. It's going to be a very interesting week.
The two biggest remaining stages will happen on Friday and Saturday. Friday's stage features three big climbs, two of them being over category climbs. The stage is not a mountain top finish so riders will be able to attempt to recover on the final decent of the day. Hard to say how the stage will play out, the riders who gain time on the final climb should be able to hold most of that lead to the finish line. We could also see a scenario where riders who are better on the descent find a way to gain time on their competitors. Saturday will have a mountain top finish but the final climb isn't as brutal as many others on the tour this year. The final kilometer is very flat as well so we likely won't see a classic finish at the top. This final climb of the tour will be the final opportunity for riders to get onto the podium in Paris and I fully expect there to be lots of attacks.
Julian Alaphilippe still holds the Yellow Jersey but the bunch behind him has tightened up a bit. There is a group of five riders all withing 2'14" of Alaphilippe and after seeing the Yellow Jersey show his first signs of weakness today, they should be in range of snatching victory. Geraint Thomas sits 1'35" back and is in second place. After Thomas we have Steven Kruijswijk, Thibaut Pinot, Egan Bernal and Emanuel Buchmann. Pinot has ridden the best out of that group and will need huge performances on Friday and Saturday to make back the time he lost after going around the wrong side of a roundabout and getting caught out in a cross wind, he lost 1'40 that stage and without that loss he would only be 10" back from Alaphilippe.
It won't be easy to catch Alaphilippe at this point in the race but todays stage showed everyone that it is possible. I can't wait to watch everything unfold over the coming week.