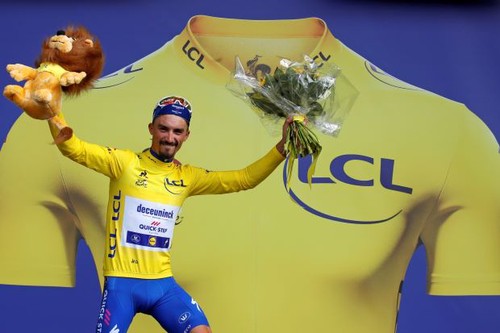 Julian Alaphilippe has just sent a message to the rest of the Tour de France. He's not just trying to hang onto the Yellow Jersey for a few extra days, he's here to win the entire race.
The conversation leading into today's time trial was about how much time Alaphilippe would lose to Geraint Thomas and if he would be able to hold onto the Yellow Jersey today. Alaphilippe wasn't having any of that as he went out today, won the stage and extended his lead.
The end of the time trial was intense. Geraint Thomas was on course posting the fastest time at every checkpoint and two minutes later, Alaphilippe would come in ahead of Thomas. Alaphilippe wasn't supposed to be able to compete with Thomas in the time trial but even Thomas blowing away every other rider in the field, Alaphilippe was still better.
Todays results ramp up the excitement for the rest of the weekend. Geraint Thomas and Team Ineos have even more work to get done tomorrow if they want victory in Paris next weekend. They can't waste anymore opportunities to close the gap on Alaphilippe, especially when all their efforts so far have resulted in Thomas losing more ground.
The rest of the field also whittled down the number of riders with a legitimate chance to earn a spot on the podium in Paris. Only 15 riders remain within five minutes of the race leader after the time trial as Alaphilippe's result stretch the general classification right out. Thomas is the only rider within two minutes of Alaphilippe sitting 1'26" behind.
Tomorrow is going to be a fantastic day of racing and I can't wait to see the drama unfold. Will France finally win the Tour de France after a 34 year hiatus? We will find out as everything unfolds on the way to Paris a week from Sunday.