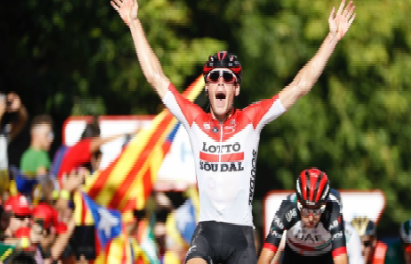 The stage that reached Egea de los Caballeros was propitious for the winner to come out from among the platoon's velocists, and the course of the day did not seem to be to avoid it.
A small break was formed with three cyclists, Sven Erik Bystrom (Emirates), Jelle Wallays (Lotto-Soudal) y Jetse Bol (Burgos BH). The Bora team controlled at all times so they did not take too much time and the flight did not seem to have much future, but the distance did not end up shortening and the goal line was approaching. Sagan's team squeezed late but the effort was unsuccessful.
Sagan was launched in the last kilometer for them but could only be third, victory deserved for Wallays.
Yates retains the red, stalking Valverde and the young Enric Más.