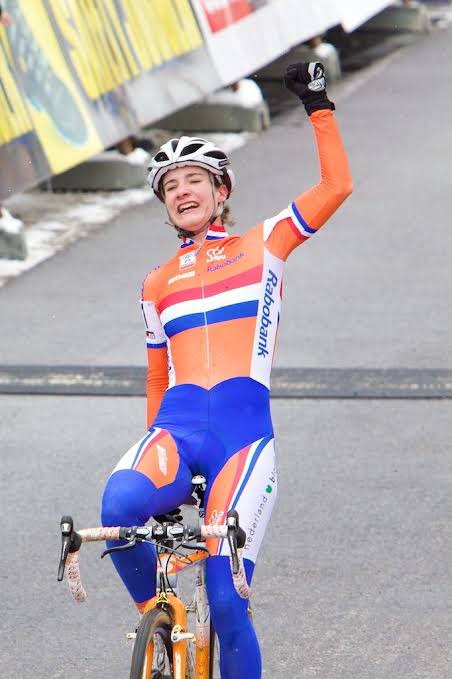 Marianne Vos wins first World Cup cyclo-cross
Marianne Vos has won the World Cup cyclo-cross for the first time in her rich career. The Brabantse won in Pontchâteau the eighth and penultimate cross from the cycle and thus secured the final victory.
It could almost no longer go wrong for Vos in France. Due to the unsubscription of the Belgian Sanne Cant, the top four in Pontchâteau was enough to win the world cup for the seven-time world champion.
Vos drove attentively from the first lap and beat in the final lap. Then she drove away from her last competitor Denise Betsema, who finished second. Maud Kaptheijns made it a third place in the third place.
Vos thus achieved her fourth victory in a competition for the World Cup. The 31-year-old all-rounder won this winter in the American Waterloo, the Swiss Bern and the Belgian Heusden-Zolder.
"The overall victory in the World Cup is very nice, but the goal was to do well in this race, and I'm glad that we succeeded", said Vos in a first reaction against Sporza .
In the last lap Vos put the acceleration just before a strip with bars. "It went well up there, I knew I could take a few meters there, Betsema has a fast sprint, so I certainly did not want it to come."
FINAL SCORE WORLD CUP WOMEN
1. Marianne Vos (Ned) - 494 points
3. Sanne Cant (Bel) - 358 points
4. Kaitlin Keough (VSt) - 334 points
5. Denise Betsema (Ned) - 330
---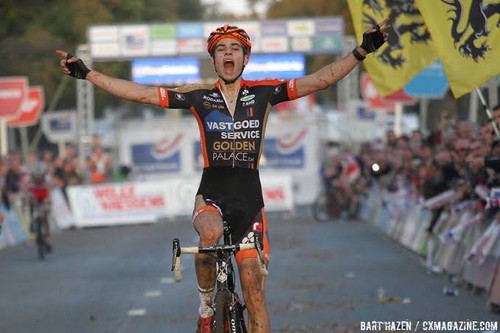 Van Aert wins Van der Poel in the absence
In the men Wout van Aert drove to victory. The Belgian benefited optimally from the absence of Mathieu van der Poel.
De Brabander, who won the last nineteen field rides he participated in, stays in Spain for a training camp in preparation
Reigning world champion Van Aert won a victory in the World Cup for the first time this winter in Pontchâteau. He was just ahead of his countrymen Toon Aerts and Michael Vanthourenhout.
Van der Poel rules this season; he won the previous five field trials in the World Cup cycle. Because of his absence the spectators saw a rare and exciting race, in which no rider really stood out.
Van Aert, Aerts and Vanthourenhout only managed to get away from the rest in the last round. "It is quite a relief, I really needed this victory", Van Aert said at the finish.