Peter Wright has been one of the most charismatic players in the world of Darts ever since his metamorphose. For those who don't know, before this metamorphose Wright looked like average Joe (Photo).
Whenever he looked like average Joe, his career was not going as well as it has been going since his makeover. With the new look the confidence came, and with the confidence, the results came in as well. From an average darts players, Wright quickly climbed to the top in popularity and in the rankings.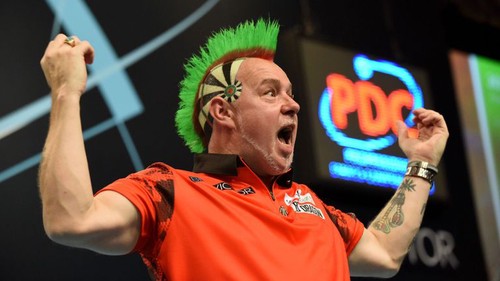 The stand-out part is obviously his haircut. Every tournament, sometimes even multiple times per tournament his hair color changes. I cannot remember ever seeing him perform in the same hair color as he had before. The bright colors and the spiked mohawk are now considered his trademark.
There's always a drawing of a snake's head on the left side of his face, matching his nickname Snakebite. The secret behind all these different looks is to be found at his home, specifically to two of the most important ladies in his life. First of all, the inspiration of the look came from his daughter, who loves different hair colors as well. His wife has been a hairdresser for many years and also owns her own salon. This results in spending two hours together for every televised match Wright has been playing ever since this became a habit.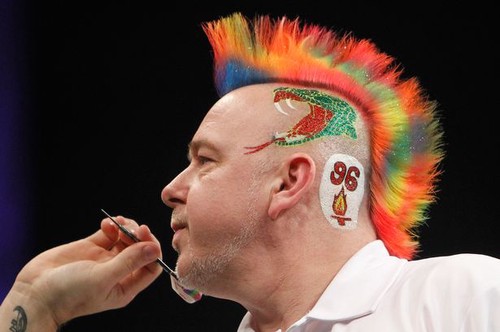 Later he has been aiming to complete his look by also choosing some of the fanciest trousers one can think of. Probably one of the most remarkable outfits he ever had was the pineapple outfit during the World Matchplay final in his match against Phil Taylor. His mohawk was green and yellow, the Snakebite head of course on the left side and a couple of pineapples on the right side of his face. His shirt and trousers were white, filled up with a whole bunch of pineapples.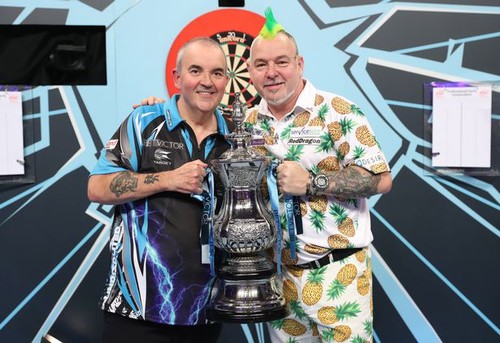 Yesterday Peter Wright chose for an outfit that is even special for Peter Wright-standards. In an interview prior to his match against Toni Alcinas from Spain, he had already announced that he and his wife had prepared something special, and special it was.
He walked up on stage in a complete Santa Claus outfit, even including the belt around his waist, and of course, the mohawk was red and white this time. He walked onto the stage and did his standard ritual dancing move.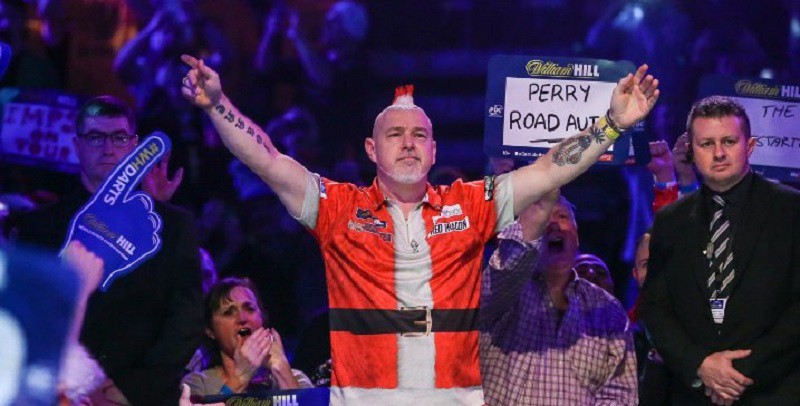 Set 1
Toni Alcinas was to throw first and took the first leg, finishing 85 points on double 5. In his aim to equalize the set Peter Wright struggled. Alcinas struggled as well, as both players missed a couple of doubles. In the end, it was Alcinas throwing the double 4, to break Wright and to take a 2-0 lead.
The commentators at the television were at this stage already saying something in the trend of "Did Peter Wright overdo himself with this outfit?" and "Don't you think that Peter should focus more on the game, rather than his outfit?"
To me, these arguments have no value at all. Wright has been proven to perform better when having this sort of preparation and look. Without it, he was not even half as good as he is now. Of course, practice and experience play an important role in that as well, but I believe that in his case working on his image, gave him an extreme confidence boost, which in the end got him this far.
Wright came back in the set, breaking Alcinas' throw with a 167 finish. Then in his own leg, he was down to 155 and almost hit that straight away as well. He was just a few millimeters away from the target. He came back and finished the leg with double 8 to bring the score back to 2-2 in legs. In the deciding leg, Wright continued to pressurize Alcinas, however, the Spaniard checked out 109 points finishing with double 16.
Set 2
Also a strong start by Alcinas in the second set, but he just missed out on finishing a 108 score. Wright then converted the double 4 to take a 1-0 lead in the set. With plenty of chances to take a 2-0 lead, Wright failed at double 2, after which Alcinas made it 1-1 through double 5.

With a 180 score, Alcinas put Wright under pressure at his own throw. Wright had to finish the 110 score he had left but missed. Alcinas then finished it off with double 14 this time. The next leg was also his when he finished with double 20 to take a 2-0 lead in sets.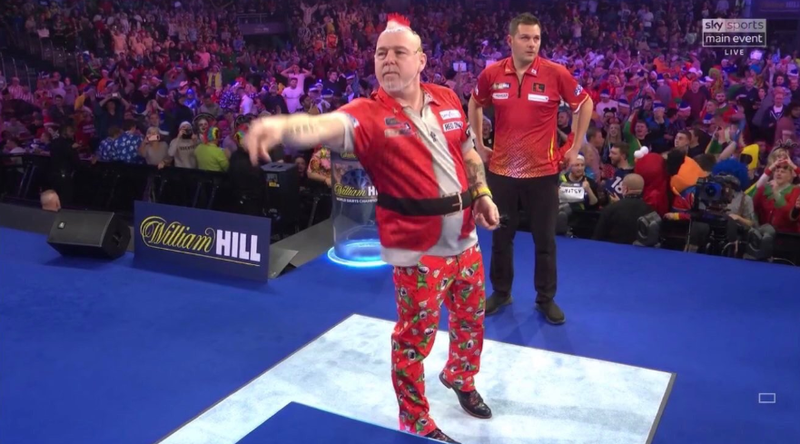 Set 3 & Set 4

The third set was all for Wright, finishing a 54 score in the first leg to break Alcinas immediately. He threw a 180 and a 171 score in the second leg to finish that one with double 8. Another 180 score in the third leg helped him to take his first set of the match after he hit double 6.
It seemed like Wright was on his way back to trouble Alcinas and to steal away the win in the fifth and deciding set. However, Alcinas didn't feel that would be the best way to end this game. With a 180 from his side, he took advantage in the set. Still, Wright was the first one to throw a dart at the doubles. His first aim at double 20 was good enough to take a 1-0 lead.
Wright then put Alcinas under pressure in the second leg but was unable to convert this time. Alcinas finished his score of 80 points after two darts in the 20 and then a double 20. Wright then took the lead back finishing double 3, after meeting three darts at that double. It was clear the tension took the overhand of the players at this stage. With Wright leading 2-1 in legs, he only needed one more to bring the match to a deciding 5th set. Unfortunately for him, he did not succeed in that. Alcinas got the set to 2-2 finishing 78 with double 9, and then took the win by putting Wright under a lot of pressure in what was a must-win leg for Wright. The way to victory for Alcinas came through double 16.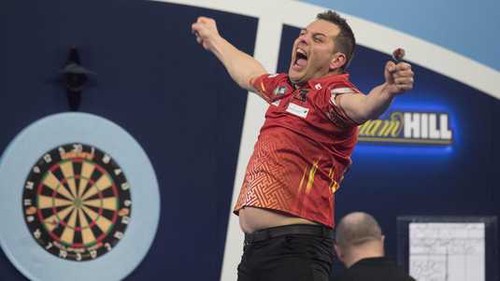 Alcinas jumped in the air of enjoyment, uncovering his belly in the process, a sight not often seen in darts. Maybe even more unlikely than a funny outfit of Peter Wright, after all, that is the standard nowadays.
The Christmas outfit was very special and it is sad to see Peter Wright losing the match while wearing this outfit. I don't think Peter Wright's outfit has anything to do with his loss in this game, but I know quite some people will think otherwise. To me, if it was to blame on the outfit, then Peter Wright would never have been able to climb up to the third position in the world of darts, a position he holds for a couple of years now.
I am sure Peter's Christmas will not be as nice as he had hoped for. Being beaten by a Spanish guy, while wearing such an outfit, creates the final phrase of this article.
Feliz Navidad, Peter!
I wanna wish you a Merry Christmas, from the bottom of my heart!