Introduction
Are you getting sick of my darts reports already? Please, hang on! There's only a few more to come for a while. Tonight is the final of the PDC World Championship between these to Michaels you see pictured above. Then expect somehow a post on the winner later on, and within a couple of days, my post regarding the "Best of Darts 2018".
What will tonight bring? Will Michael van Gerwen lift the trophy for the third time in his career, or will the Bully Boy finally grow up, and become a Bully Man? One thing is for sure, Michael van Gerwen will be the favorite (as always), and Michael Smith will be that oh-so-dangerous underdog.
In the semi-finals, both players were in a tremendous form, Smith beating new kid of the darts Nathan Aspinall 6-3 in sets with a cracking 105+ average. Van Gerwen in the classic of darts completely outplayed Gary Anderson in a 6-1 win. His average was however slightly lower than Smith's with 104+. If the averages will be that close to each other again tonight, it can be a very tight match and an extremely long night. We then might need all the sets to be played in the most possible legs, each and every set.
Tonight will not be the first time these two players meet in the final of a massive event. In May 2018 this was the final of the Premier League of Darts. A competition which starts with the 10 best darts players in the world, who meet each other in a round-robin format. Two will then be eliminated from the pack, after which the remaining players will meet once again. Then the top four gets into the semi-finals, after which the final is played. In this final, Michael van Gerwen had an average of 112+. It may not be a surprise that with that average the win was fairly easy for him that night, winning 11-4 in legs.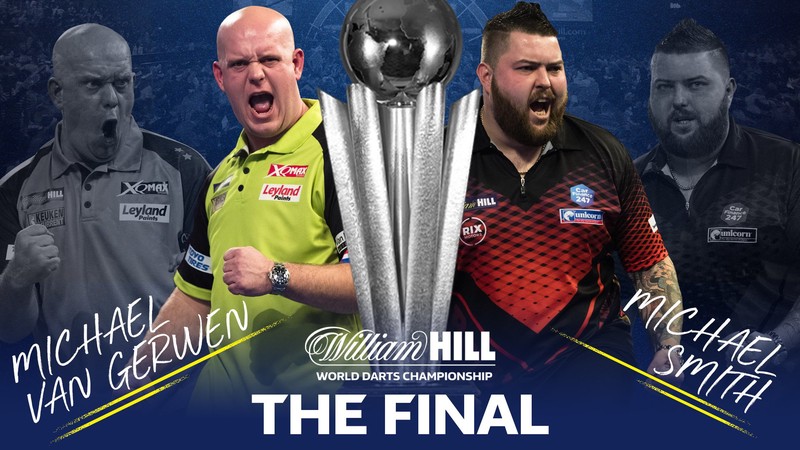 Michael van Gerwen
If Michael van Gerwen wins the trophy tonight, he will be only the second player ever to lift this trophy for the third time. The only other player managing to do that was Phil Taylor. The only difference here is that Taylor would do that for a total of 16 times during his career. Despite how good Van Gerwen currently is, I don't think there will ever be someone who is going to have more of these trophies than the legendary Taylor.
Michael van Gerwen had no difficulties reaching the final. What happens from time to time is that he loses his focus whenever he is miles ahead of his opponent. That will then result in one or two sets in which he is slightly off the pace and starts throwing less good. Whenever that happens, he's most of the times able to recover from such spells quickly and raise the level again. As a result, you can see that despite his tournament average of 103.72 in five matches, he still lost a set in each and every match. He has now recorded eighteen consecutive matches at the World Championship in which he had at least an average of 100+. His checkout percentage of 46.25 shows that he hits at least two out of every three darts he throws at a double to finish the leg. He only threw 32 times the maximum 180 scores so far, even though he has the highest tournament average. This means he threw a lot of 120+ scores throughout the tournament. The 170 checkout is the highest possible in darts and he has done so for the last three years at the World Championship. Out of the 54 legs his opponent started first, he won the leg 29 times. This is an extremely difficult task, as the opponent has a three-dart advantage to finish the leg.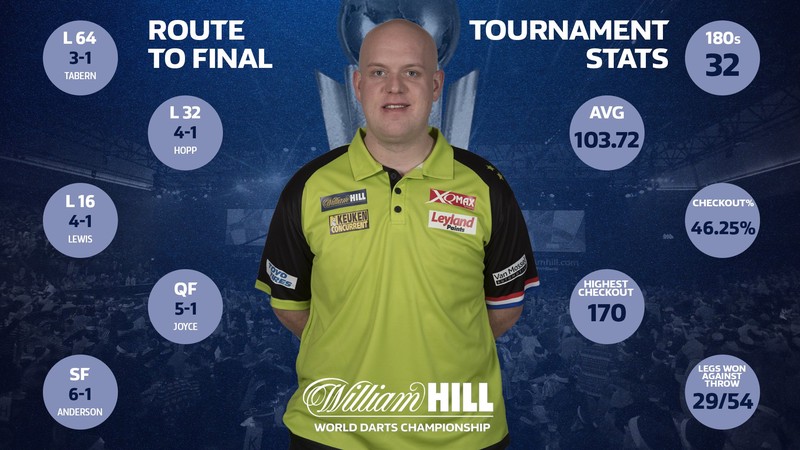 Michael Smith
For Smith, it will be the first ever major televised event he would win. He has been around for quite a few years now, reaching late stages of almost all major tournaments there are. It will surprise me if it would take much longer for him to achieve a win in a televised event. Personally, I don't see him do it tonight, but who knows? He might surprise me, and actually, do it. There is no doubt that he has the potential to do so.
Smith is more a high-scorer than Van Gerwen is. You can see that when it comes to the thrown 180s. Van Gerwen only threw 32 of these so far, whereas Smith already did that 51 times. With these two facing each other, we can expect a lot of 180s though. Also, Smith lost at least one set per match against his previous opponents. In total, he lost three sets more than Van Gerwen, two of which were in the semi-final against Nathan Aspinall, and another one against John Henderson in round 3. Where Smith threw quite some more 180s than Van Gerwen, you can see that all the other important statistics are slightly lower than Van Gerwen's. This may be a key factor in the end, especially if Michael van Gerwen does lift his game to a higher level and starts averaging 110+ throughout the match.
Final word
In the head-to-head records, Van Gerwen leads Smith with quite a margin, as he won 25 times of the 31 earlier matches they played against each other. One proof that Smith's career is in the lift comes from the fact that he has won two matches against Van Gerwen in 2018. The most important one out of those two wins was his win in the Shanghai Masters final.
For me, Michael van Gerwen will win this battle. Yes, it's easy to back the favorite, but it would be weird to always back the underdog instead, especially if you don't think the underdog will win. Smith will have a fair chance to win it, absolutely. He's got the skills and the mindset to do so. Van Gerwen has been downgraded a lot in 2018. Many people felt like he lost his "vibe" by only winning three of the highest ranked tournaments. What those people then forget is that winning three of these is still two more than all the other players that won such a major tournament.
Let's bring it on!!!
Thank you again for reading.