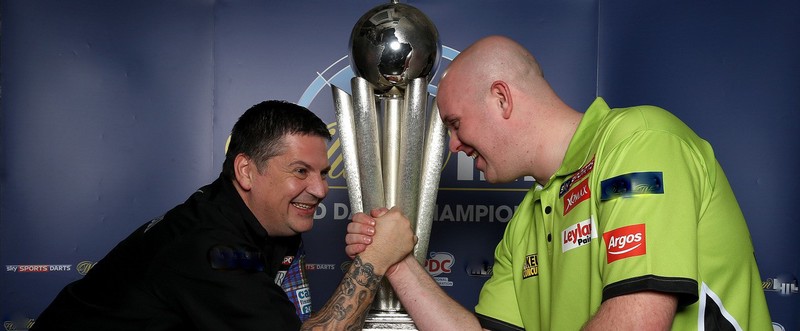 The quarter-finals of the World Darts Championship are over. All the four winners I predicted are through to the Semi-Finals, unfortunately for me, I only won one of the bets I placed yesterday, due to the handicaps I selected.
The Classic of Darts
What this means is that tonight, when the semi-finals will be played, the two best darts players will face each other in their aim to reach the final. Without taking away any credit of the players in the other semi-final, this is what most people will see and consider as the real final. Michael van Gerwen and Gary Anderson both have won the World Championship twice so far. Anderson did that in two consecutive years, whereas Van Gerwen managed it again after not winning the competition for a couple of years.
As there are so many darts tournaments throughout the year it is not a unique line-up tonight. In fact, it will be the eleventh time they will meet each other in 2018. In total, it will be the 57th time they meet each other in a professional darts competition. The first time was in 2005 when both players were still active in the BDO, rather than in the PDC. It was in the round of 16 in the British Open. Gary Anderson won that match 3-2 in sets. Half a year later Van Gerwen beat Anderson for the first time in his career 2-1 in sets in the semi-final of the German Open. In total Van Gerwen has won 36 of those matches, two of them ended in a draw and 18 were won by Anderson. When it comes to that Van Gerwen should be considered to be the clear favorite, as basically seen, he wins two out of the three matches they play each other.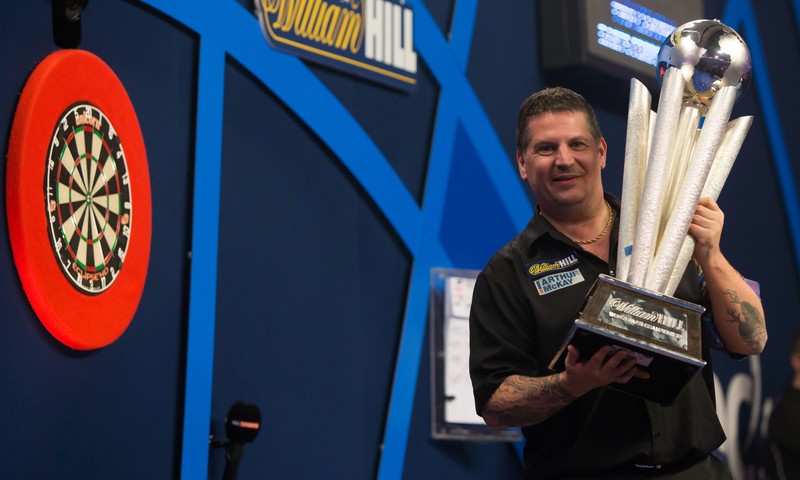 Out of the ten matches they played in 2018 we pretty much see the same percentages, as Van Gerwen won seven times, in comparison to three wins by Anderson. If Anderson wins the match tonight, he will bring those percentages closer to each other. They met three times at the World Championships already. In 2013, in the round of 16 Van Gerwen won it with one set advantage. In 2015, also in the semi-final, Anderson was the winner, even with an advantage of three sets. This was one of the years in which Anderson would win the title. The last time, however, they met in 2017, and that time it was in the final. Van Gerwen was just impressive in the match beating Anderson with four sets advantage.
Personally, I am going to stay away from betting on this match. The bookies have ranked this match exactly as I described above, 66.6% in Van Gerwen's favor, and 33.3% chance for Anderson. Looking at the statistics from earlier this tournament, as well as the ease with which Michael van Gerwen has won his matches so far, he is indeed the favorite to win the match, but even though Gary Anderson has been struggling from time to time, he is always going to be a force to cause the upset. In fact, whenever Gary Anderson wins against Van Gerwen, it would not be considered as an upset, but in that case, he was just the better man on the day.
All I know is that we're up for a treat and that this has the potential to go all the way into a final and deciding set. Van Gerwen has so far the highest averages at the tournament, as well as the highest checkouts in numbers, but also in percentages. Anderson, on the other hand, is the best 180-hitter of the tournament, already scoring 40 of these so far. One thing is for sure, in order to win this match, they would need to have an average of well over a hundred. Averaging just a hundred or less, will without a doubt result in a loss.
If you have never watched a game of darts before and you would like to give it a try, then I would recommend you to go and watch this one tonight. I can guarantee that you will not be disappointed.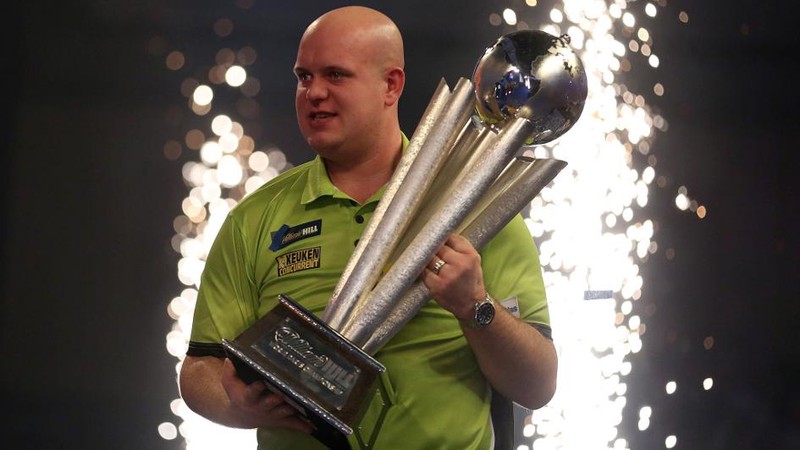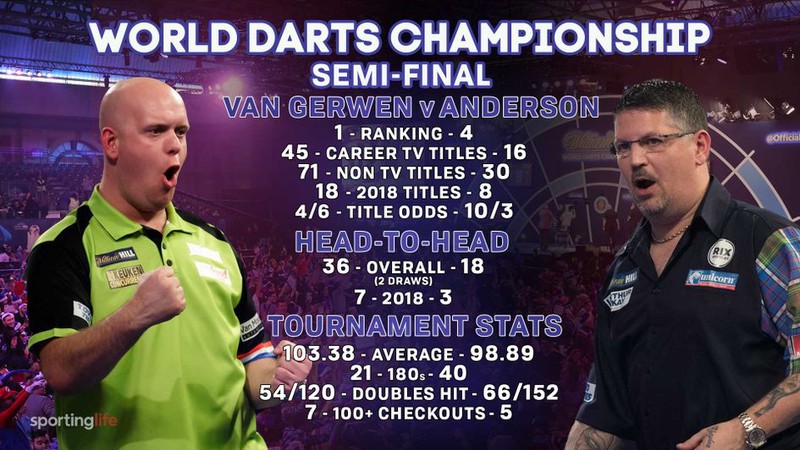 The other semi-final
Yes, you would almost forget there is another semi-final at stake. This will be a match between newcomer Nathan Aspinall, who easily won against Brendan Dolan yesterday. I expected him to win, but I would have expected a much tougher game for him. Dolan wasn't anywhere near his best performance and couldn't come up with high scores and finishes enough. Aspinall upped his level of performance once again, to reach the final.
Michael Smith won his match against Luke Humphries, the guy that knocked-out defending world champion Rob Cross. I already questioned if Humphries could do it again, and the answer was a clear "no". He still delivered a decent game, but couldn't match the standard produced by Michael Smith, who clearly had the upper hand in this match. His experience on the big stage helped him a lot.
Smith is the favorite to win this clash between him and Aspinall, I honestly don't see him lose this one, despite the emotional part. They are friends and live only 18 miles apart. Smith is professional enough not to let that come in the way and produce some quality darts. It could be a good game if Aspinall can enjoy himself on the stage. If he doesn't it could easily be a whitewash.
Thanks again for reading, and stay tuned, the final will be up after this.