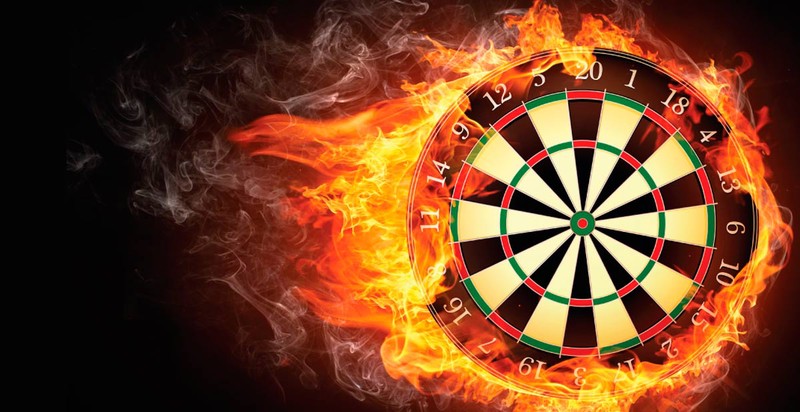 Now it's time to get excited, the darts are on fire!
It's been a while since my last darts update, in the meantime the PDC World Darts Championship has continued and now we are down to the last eight players. Today the Quarter-Finals are at stake, tomorrow the Semi-Finals and on the 1st of January it will be the Final.
In the last couple of weeks, we have seen surprises, upsets, confident favorites and a lot more. We have yet to see a 9-dart finish, the most difficult achievement to reach in a darts match. Several players have come close, but nobody kept their nerves at the deciding moments. With seven matches to go, containing the best players of the tournament, there's certainly still a chance one or more 9-darters will be thrown in the next couple of days. We could also finish the tournament with none at all. Does that then mean the tournament was a failure? No, not at all! It has been a tremendous darts tournament with a lot of interesting matches.
Two players (Brendan Dolan and Michael van Gerwen) managed to finish a 170 outshot, the highest possible. Van Gerwen managed to do this for the third consecutive year, a remarkable achievement. Both of them are still in the tournament.
Before we go to the Quarter-Finals preview, a small round-up of what has happened between 13 and 28 December, when the round of 16 came to an end.

Early upsets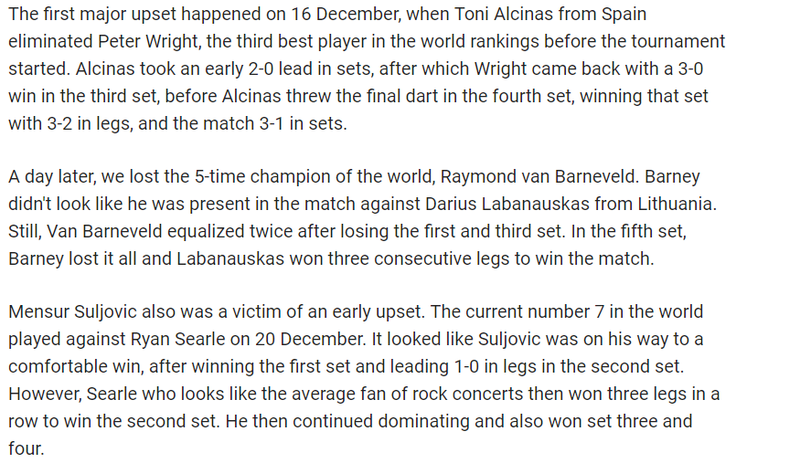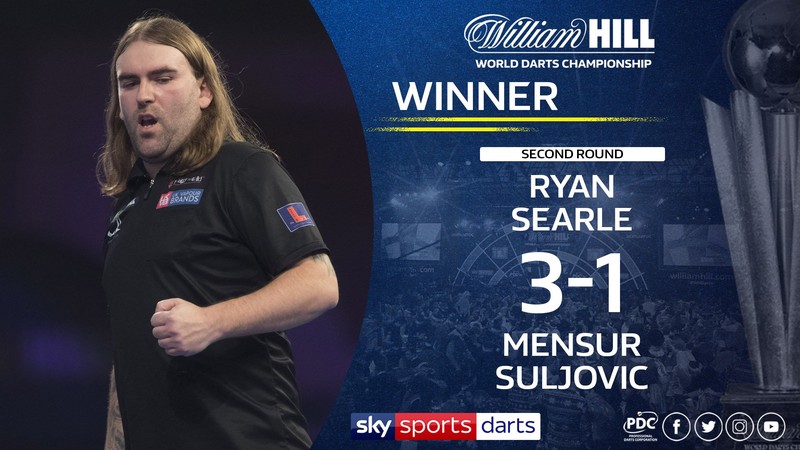 Other remarkable moments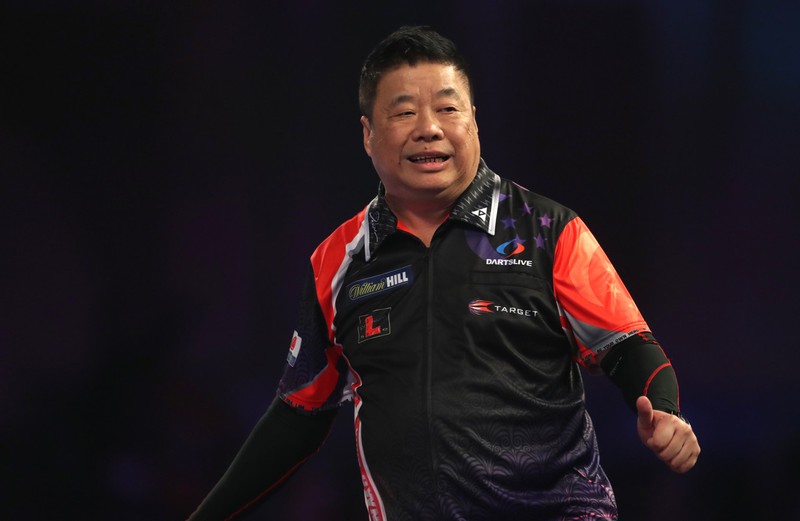 Classic Matches

A detailed write-up about this match I wrote here: Happy Moan-day at the Darts.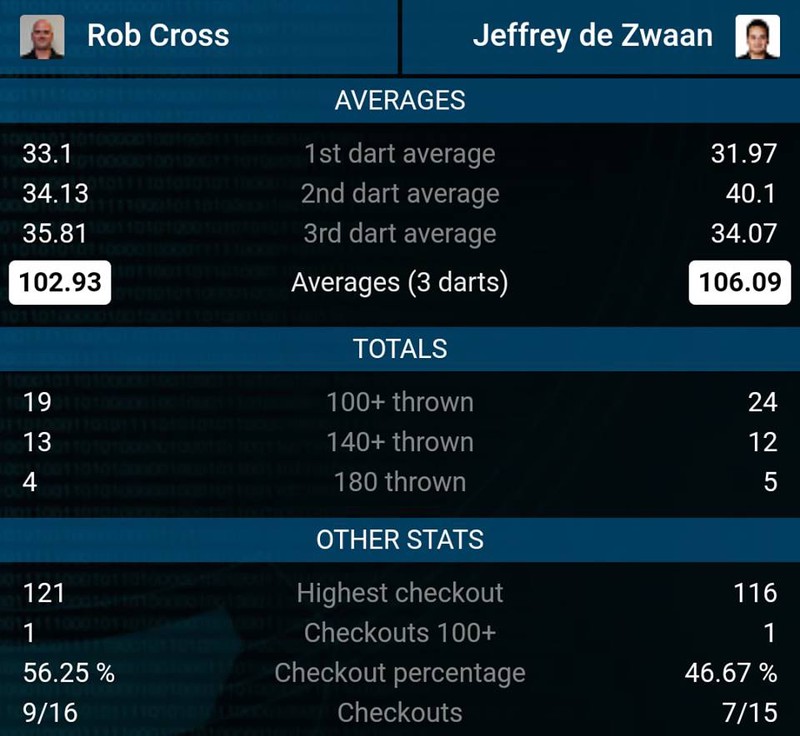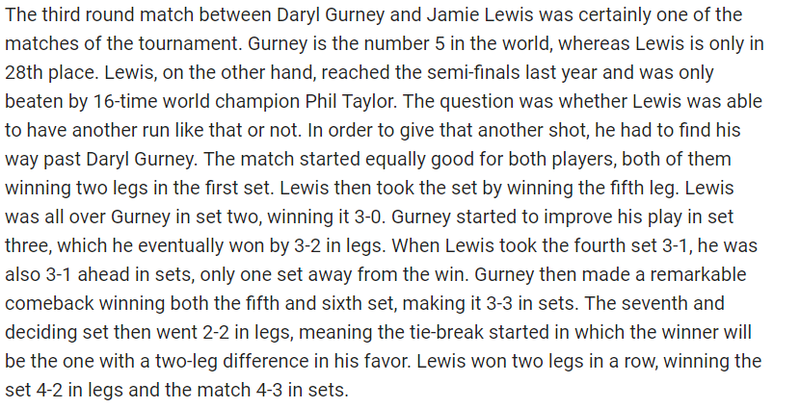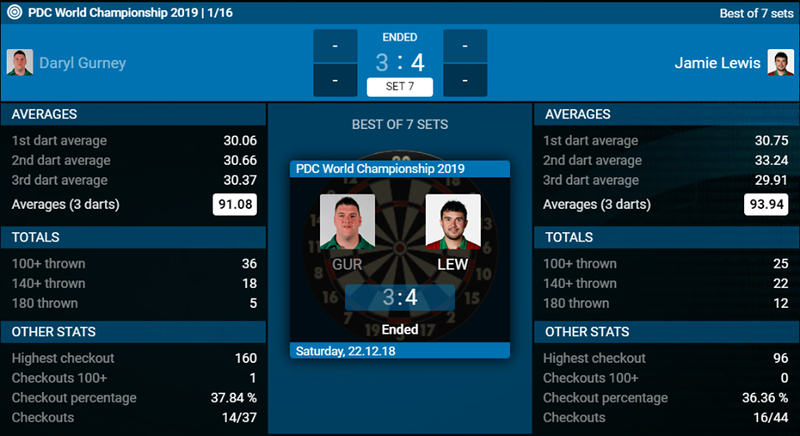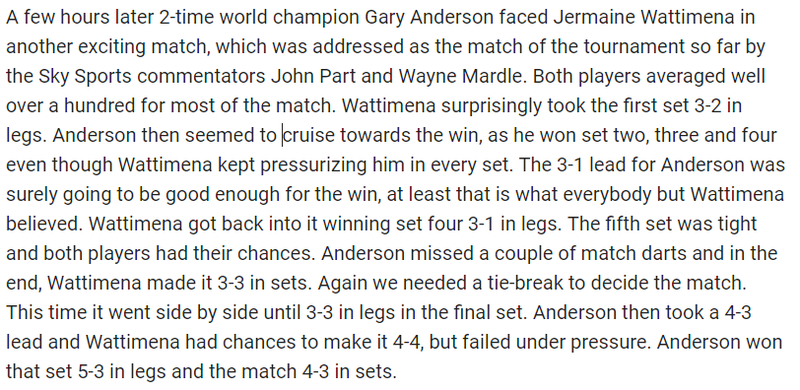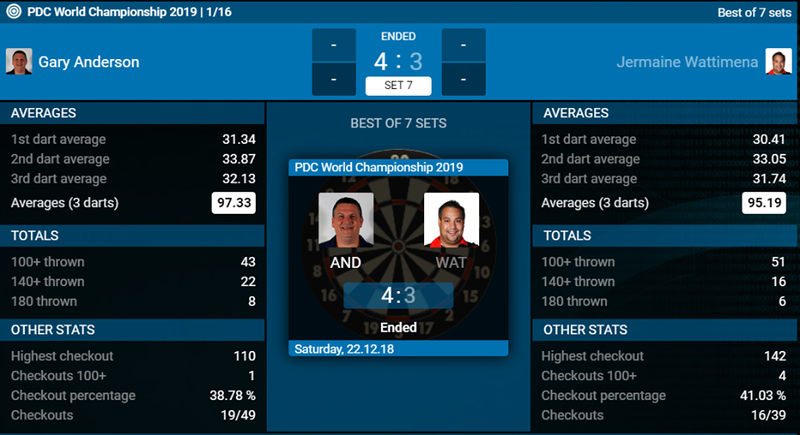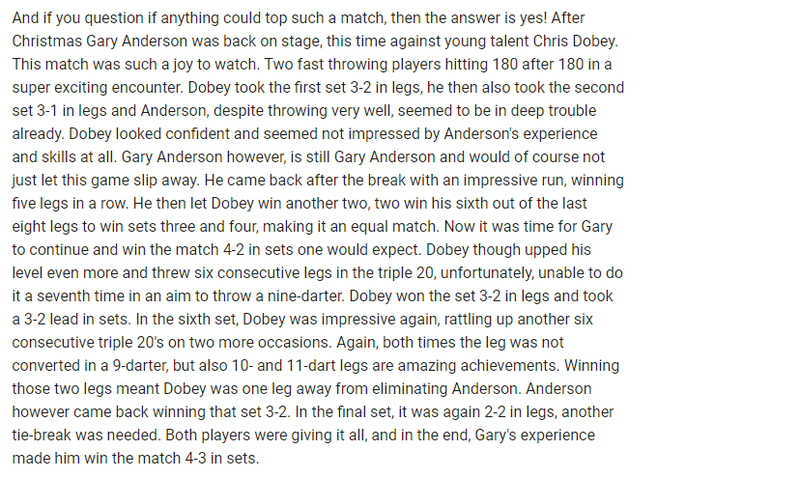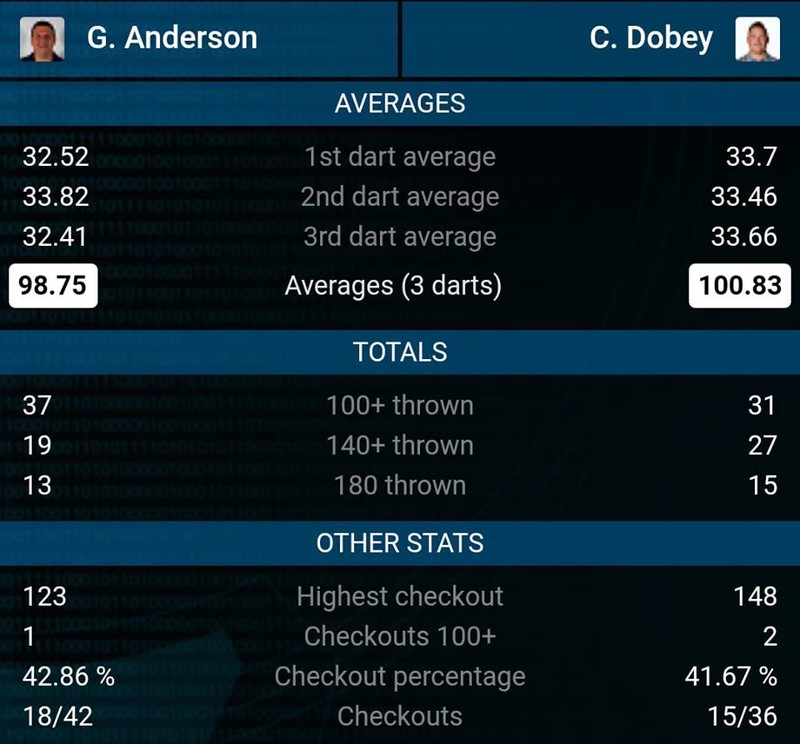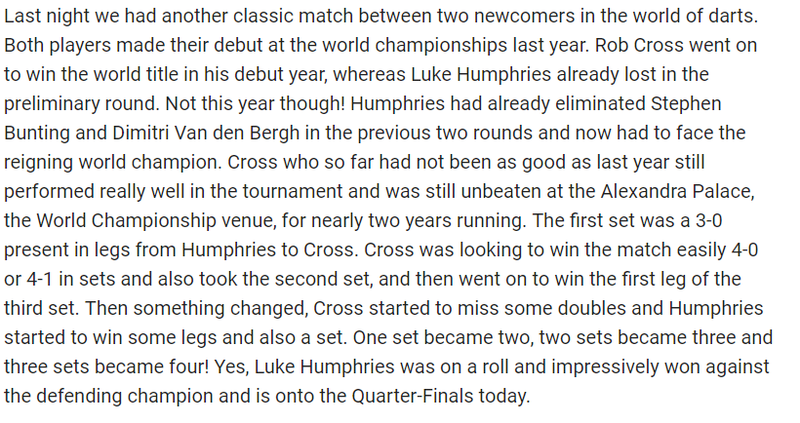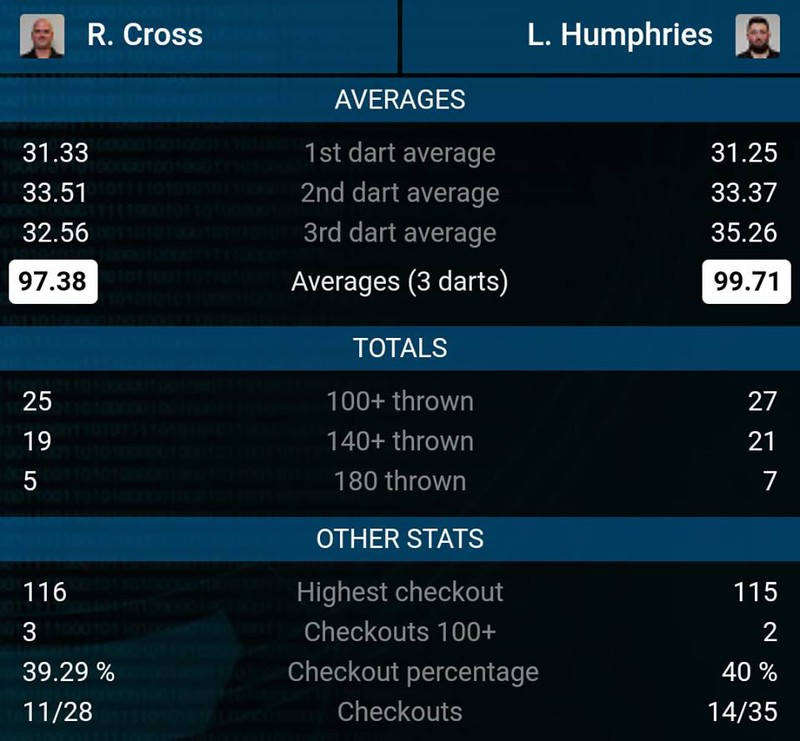 The Quarter-Finals
Today, the Quarter-Finals are on the menu, and we're up for a treat. The eight players that are still left in the tournament seem to be a perfect mix of what are known to be the best in the world, experienced contenders and upcoming talents. The best of the world, Michael van Gerwen, and Gary Anderson were expected to be there, but especially Gary Anderson had to face quite some challenges in order to get here. Michael Smith, Dave Chisnall and Brendan Dolan have been top professional darts players for years. They are generally seen as part of a large group of players called, "The best of the rest", behind Van Gerwen and Anderson. Nathan Aspinall, Luke Humphries, and Ryan Joyce are the so-called newcomers that have been overachieving earlier this tournament.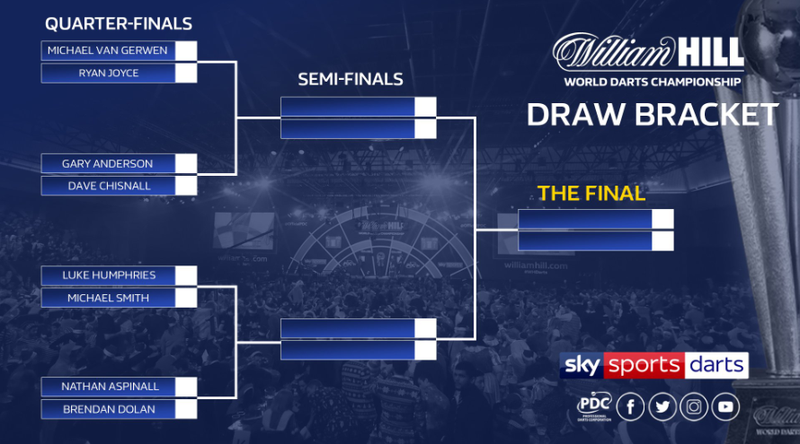 If everything goes as expected (which is unlikely looking at all the results so far in this tournament) we are up for the super classic of the current darts world between Michael van Gerwen and Gary Anderson. If you have never really watched any darts, then that would be the one to watch. I can already tell you, that if that will be the semi-final match, it will overshadow the final. Different in comparison to the previous rounds is that the Quarter-Finals are going to be "best of 9" matches rather than "best of 7" matches. This means that the players will need to win five sets to win, in comparison to four sets until yesterday, or three sets earlier on in the tournament.
Nathan Aspinall vs. Brendan Dolan

We start off with the new kid in town Nathan Aspinall, nicknamed the Asp. Nathan is only 27 years old and is currently 91st in the world rankings. Reaching the Quarter-Finals, we can be sure that he will climb up the ladder after this tournament. He will walk onto the stage with Mr. Brightside by The Killers. This is his World Championship debut, and what a debut it has been so far. As a debutant, Aspinall started off in round one in which he easily won against Geert Nentjes, 3-0 in sets. In the second round, he eliminated the 6th ranked player in the world Gerwyn Price. This match was not included in the early upsets mentioned above but could have easily been part of it, if Aspinall would not have made it this far. Having averaged 88.42 in his first-round match and 92.28 in his second round match, he improved during the tournament as in the third round he averaged 96.17 per three darts during the match in which he eliminated Kyle Anderson. Anderson produced an average of 98.52 that match but still lost to Aspinall, 4-1 in sets. In his fourth-round match, Aspinall kept about the same average when he won 4-3 against Devon Petersen with a 95.76 average.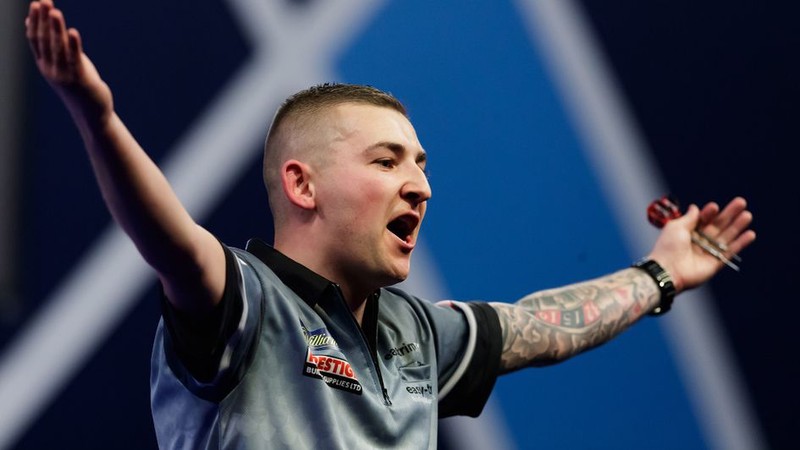 Brendan Dolan was nicknamed The History Maker in 2011 after the World Grand Prix tournament in Dublin. Coming from Northern Ireland, he receives a lot of support in the Republic of Ireland too. The World Grand Prix is a unique tournament in the world, in such a way that it is the only top event in the world in which the players start and finish with a double. Dolan made history in 2011 during his match against James Wade, becoming the first player in history achieving a 9-dart finish on television in this format.
The write-up above should be enough to understand 45-year old Dolan has been around for a while. It also shows Dolan has the ability to throw a 9-darter, and whoever can throw a 9-darter has the ability and skills to beat any player in the world, simple. Dolan is currently ranked 36th and walks on stage with I'm Shipping Up to Boston by Dropkick Murphys. That said, Dolan has been struggling the last couple of years achieving good performances on televised tournaments. However, this year he has been working on a comeback, with this place in the Quarter-Final as a confirmation of that. Dolan's road to the Quarter-Finals started with an easy 3-0 win over Yuanjun Liu for which an 86.63 average was enough. In the second round, he upset 14th seed Joe Cullen 3-0 in sets with a 92.72 average, followed by a 4-2 win over Mervyn King with an average of 95.73 per three darts. His fourth-round match against Benito van de Pas yesterday was a 4-1 win for which he only needed an 89.77 average.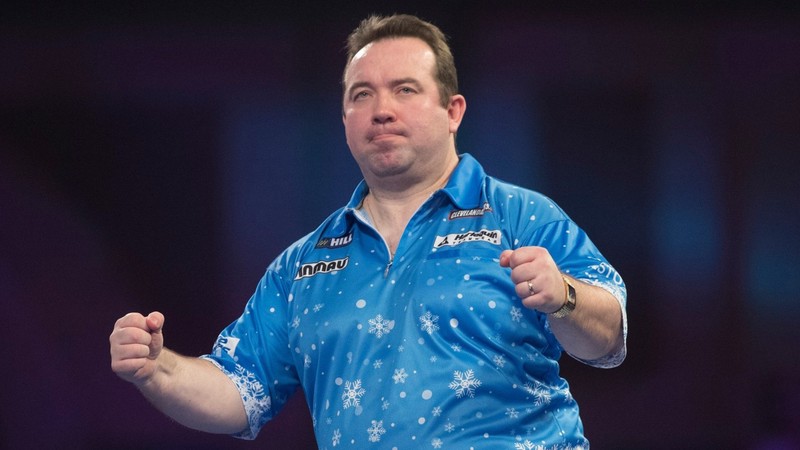 Prediction: Nathan Aspinall to win
I believe that Nathan Aspinall will win this match. Dolan has been struggling at his doubles yesterday against Van de Pas, whereas Aspinall starts believing in his own abilities more and more. This confidence boost, will in my eyes be enough to make Dolan fail under must-win-by-experience-stress.
Dave Chisnall vs. Gary Anderson
Two years ago this was also a Quarter-Final at the World Championship. In what was an amazing match back then Dave Chisnall took an early lead and had darts to make it 4-3 in sets in his favor that he then missed. Anderson then won the match 5-3 in sets in the end. With Anderson already been involved in two exciting matches this tournament and the growing form of Chizzy, this could be another cracker.
Dave Chisnall is ranked 12th in the world but is a former top-10 and Premier League player. His performance so far will make him a contender for next year's Premier League as well. Chisnall walks on stage with Dizzy by Vic Reeves. As the 12th seed, he was allowed to start his World Championship campaign in the second round against Josh Payne. He lost the first two sets, but then won the three afterward, in a high-quality match (98.49 average by Payne and 95.58 by Chisnall). Chisnall then faced Belgian former top-10 player Kim Huybrechts and knew he could not afford losing two early sets again. He started off really well and kept his composure throughout the match, winning 4-0 with an average of 97.60 points. Chizzy then won against Jamie Lewis yesterday, beating him 4-0 as well with a 98.50 average. This means that after losing the two sets against Payne, Chisnall has not lost a set since, but in fact won all eleven sets he played afterward. Anderson is certainly warned and should be aware.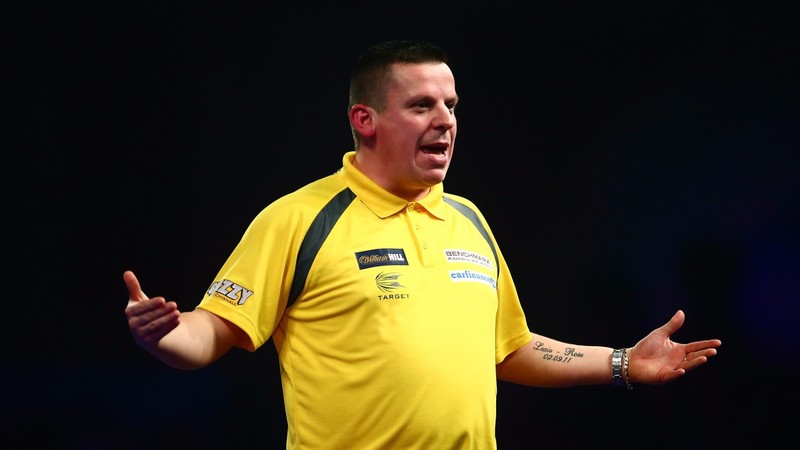 I already described two of Gary Anderson's matches above, in which he struggled, but kept his cool and threw the right doubles at the right time. Gary walks on with Jump Around by House of Pain and won the World Championship in 2015 and 2016. The Flying Scotsman is the 4th seed, during this tournament, but is seen as the 2nd best darter behind Van Gerwen. Currently Rob Cross and Peter Wright are above him in the rankings, but they might soon be overtaken by Anderson again. Prior to the matches against Wattimena and Dobey described above, he played against Kevin Burness, which he won 3-1 in sets with a 94.92 average.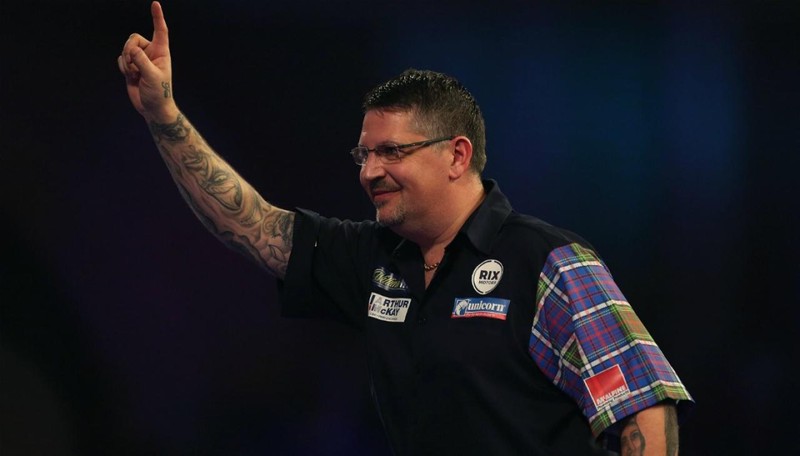 Prediction: Gary Anderson to win
It's hard to believe that a player who won eleven sets in a row, would lose five of the maximum nine next sets to be played, but I believe that is what is going to happen. Both players know that averaging the same 98 average that helped them so far, is not going to be enough against each other. This match could go over a hundred average for both players and could go either way really. A value bet, if you can find it on Chizzy would be possible, but I believe Anderson will win it, just like two years ago.
Luke Humphries vs. Michael Smith

Luke Humphries is the 94th ranked person in the world and will, just like Aspinall climb these rankings with ease after the tournament is finished. Cool Hand Luke is his nickname, and from what we have seen so far from him is that this nickname would suit him better than Lucky Luke. His walk-on song is Cake by the Ocean by DNCE, and he is currently just 23-years old. Above I have already described how he won against and eliminated the defending champion of the world Rob Cross, Dimitri Van den Bergh and Stephen Bunting. In his first round match, he won against Adam Hunt. The averages so far of Humphries have been amazing, with 97.58 against Hunt, 95.56 against Bunting, with 89.64 against Van den Bergh and with 99.71 against Cross. He will need to produce something similar or higher if he wants to be a threat to Michael Smith today.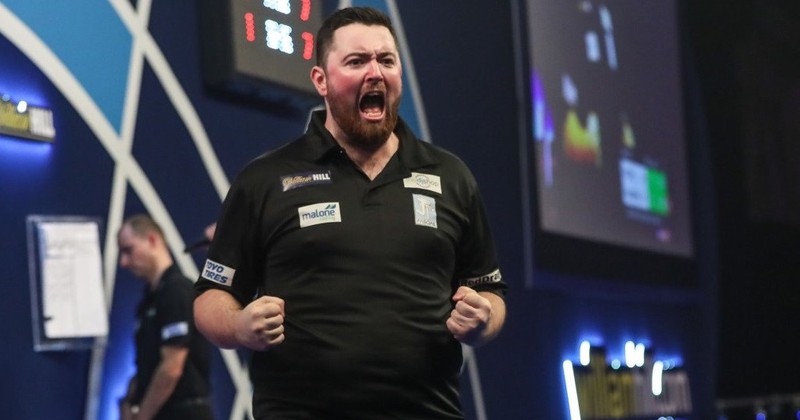 Michael Smith is now 28 and has been around for a couple of years now. He is the current 10th ranked player in the world and was a finalist in this year's Premier League. Bully Boy walks on with Shut Up and Dance by Walk the Moon and is the PDC World Youth Champion of 2013. Smith started off this year's campaign against Ron Meulenkamp. He won that match 3-1 with 94.07 average. In the second round, John Henderson produced a 94.65 average against Smith, what resulted in a 100.47 average by Smith and a 4-2 win in sets. Against Ryan Searle yesterday he cruised to the Quarter-Final, in a match against one of the impressive players this tournament. One thing is for sure, Bully Boy is in form.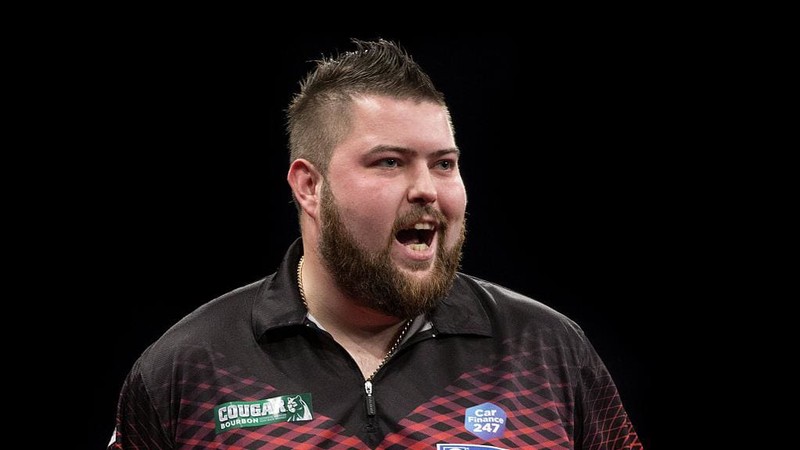 Prediction: Michael Smith to win
Both players averaged nearly the same in their matches last night and this certainly will be a cracking match. The question is if Humphries can cause two massive upsets in consecutive days. I believe that will be a bit too much to ask for him, and I fear his campaign will end here. Smith has the capability to get that average up to well over a hundred, whereas this is not something we have seen from Humphries yet. Still, also Rob Cross could have done that, but he didn't. Who knows, perhaps Humphries can do it again, but for me, Bully Boy is the most likely winner here.
Michael van Gerwen vs. Ryan Joyce
Michael van Gerwen is currently 29-years old and was the youngest winner of the World Championship aged 24. There are currently two players that could take that record away from him, but he is still there himself to prevent that from happening. That day, however, is not today already, as he plays a bit older newcomer n Ryan Joyce. Mighty Mike, or The Green Machine, is now a 2-time world champion and is determined to add a third one to his tally. He knows he is the best out there, but has been unable to show that at the World Championship last year, when he was beaten by eventual winner Rob Cross. Van Gerwen walks on with Seven Nation Army by The White Stripes. He has been showing great form during the tournament so far, and was only tested in his fourth-round match, but succeeded with charm. In his second-round match against Alan Tabern, he averaged 102.59 points per three darts. With 101.51 he recorded a slightly lower, but still amazing average in his match against Max Hopp. In the fourth round against Adrian Lewis, who is also a 2-time world champion he was indeed tested. Lewis produced an average of 101.16, which could potentially have threatened Van Gerwen if he remained playing at the same level as in the previous rounds. Michael didn't and produced a quality average of 108.08, the highest of the tournament so far. Only Jeffrey de Zwaan in his second-round loss against Cross came close with his 106.09 on day one of the tournament.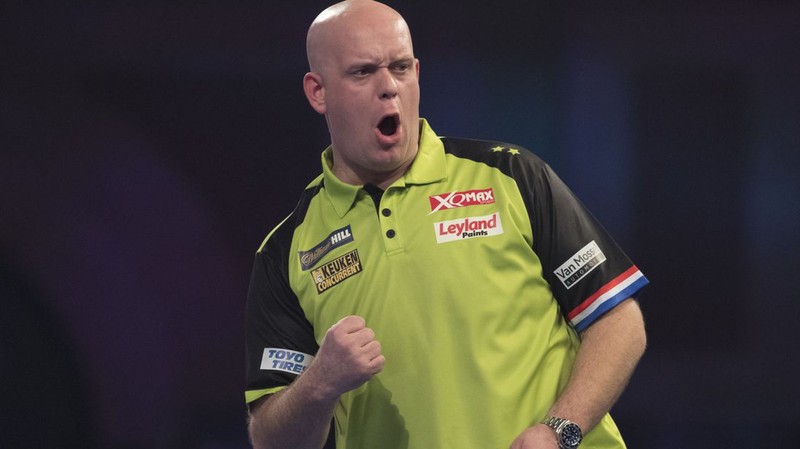 Ryan Joyce is currently in 78th place in the PDC rankings, making him the third player with a sub-70 ranking in the Quarter-Finals. Joyce will be over the moon to have reached this far, and he eliminated quite some quality names on his journey. He walks on with Another Night by Real McCoy and is nicknamed Relentless. He was relentless against Anastasia Dobromyslova in his first-round match. The second woman participating at this event was set aside 3-0 with a 90.34 average. He then went on to beat 8th seed Simon Whitlock 3-0 in sets as well with a 90.40 average, a very consistent level. His average dropped a bit to 87.74 in his third-round match against Alan Norris. This resulted in him losing three sets that match but still winning four himself. He then faced James Wade in the fourth round. Wade is arguably seen as the best player who never won the World Championship, and will keep having that title for at least another year. Despite his 90.77 average against Joyce's 87.69, he lost 4-3 in sets yesterday afternoon.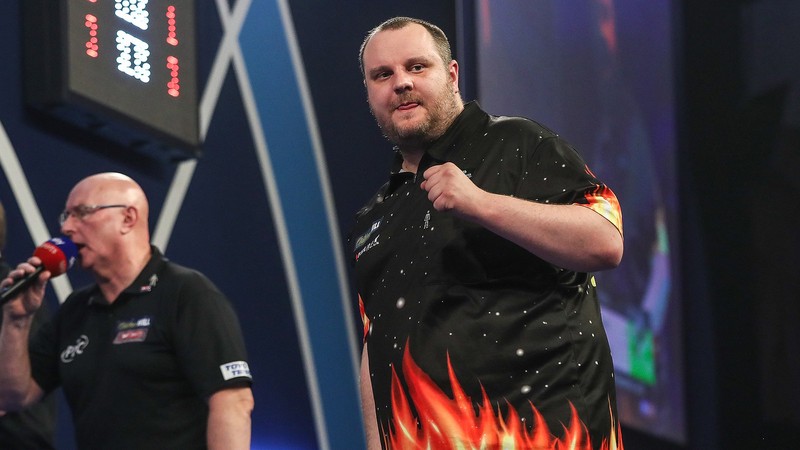 Prediction: Michael van Gerwen to win
I cannot see Michael van Gerwen lose this match. His averages have been outstanding throughout the tournament and if needed he can be pushed to even higher levels. Joyce has squeezed through and eliminated some good names, but those good names did not have their day when it happened. Of course, it can happen that Van Gerwen won't have his day too. I believe that if Van Gerwen doesn't have his day, he will still beat Ryan Joyce.
Bets
I have placed one bet per match, let's see if these go through:
The reason why I bet on Aspinall has been explained above. I am not confident enough in him achieving that with a handicap, however, therefore the straight win option.
I believe the Chisnall-Anderson match will be a good one and there is no doubt for me that either player wins at least three sets. As five sets are needed to win the match, the over 7.5 sets is a very valuable one.
I don't see Luke Humphries beat Michael Lewis, but I do see him giving him a game and win at least three sets. Giving Humphries 2.5 sets extra will make him than the winner.
Ryan Joyce, sorry mate, but you're going to lose 5-0 in sets against this Green Machine. I cannot see it go the other way around. There's for sure going to be a leg or two in his favor, but at this stage of the tournament, he's not going to stand a chance against Van Gerwen.
Nathan Aspinall straight win at 1.65
Dave Chisnall vs. Gary Anderson Over 7.5 sets at 2.05
Luke Humphries +2.5 sets handicap at 1.70
Michael Van Gerwen -4.5 sets handicap at 2.15
Some parts of the text have been changed into a photo of the text I wrote due to issues with the plagiarism checker. Thank you for understanding.

As always, thank you for reading. My apologies, I know it was a long read.