The Auckland Dart Master was held at The Trusts Arena in Auckland, New Zealand from 3–5 August 2018. Michael van Gerwen successfully won the title after beating Raymond van Barneveld 11-4 couple of days ago. So who is Michael van Gerwen? The dart master who has won many series of dart championships, and currently he is placed at the number one dart player in the world. It was a long time ago since I was introduced to dart, a small missiles sport that takes a lot of practises to throw at a circular dartboard on the wall. It especially trains you to fully concentrate before hitting the target. This game involved mind and the accurate hand along with the way to hold the small missiles/arrow between the finger. Then, I came across the performance of Michael that encouraged me to write a brief story about him and his professional darts career.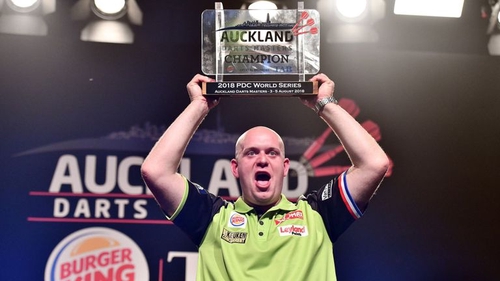 Michael van Gerwen was born 25 April 1989 in Boxtel in the Netherlands. Before he becomes a dart player, Michael was fond of football and he involved into it with the position as a defender at the early age. At 12 years of age, Michael switched his fondness into a dart, and he began to play dart regularly at 13. In following year, Michale had shown the best performance in the Youth Dart Event and he went to final in 2003. It seemed that was a good start for Michale, in 2005, he successfully grabbed the youth title including the German Open, German Gold Cup, Norway Open, Northern Ireland Open, Swedish Open and the Dutch National Youth Championship which he also defended in 2006. Not only these competitions put him as the youth dart master, Michael also won both dart championship in Norway and Northern Ireland Open in the same year.
The Youngest Dart Player
At the youngest age, Michael van Gerwen was known as the best darts player on this planet and he was embedded as the most talented youngest dart player. However, after this initial burst onto the darting scene, Van Gerwen struggled for consistent form until his breakthrough year in 2012, then he was placed in 38 at the start in 2012, he made this incredible way to place the number four in the beginning 2013 wherein this year, Michael was included his first Major PDC titles at the Grand Prix and at the final World Championship in 2013. Interestingly, at the age of 24, Michael was recorded as the youngest winner of the PDC World Championship and a two-time World Youth Championship finalist who own the incredible dart skills in the early years of the PDC's Youth Tour - having initially joined the PDC circuit in 2007 - Van Gerwen has been the dominant player on the PDC circuit since 2013. In the next year, precisely in 2014, Michael collected the World Series title in Singapore and teamed up with van Barneveld right before a memorable October that led him to collect the second World Grand Prix Champions and he also succeeds to win the European Championship.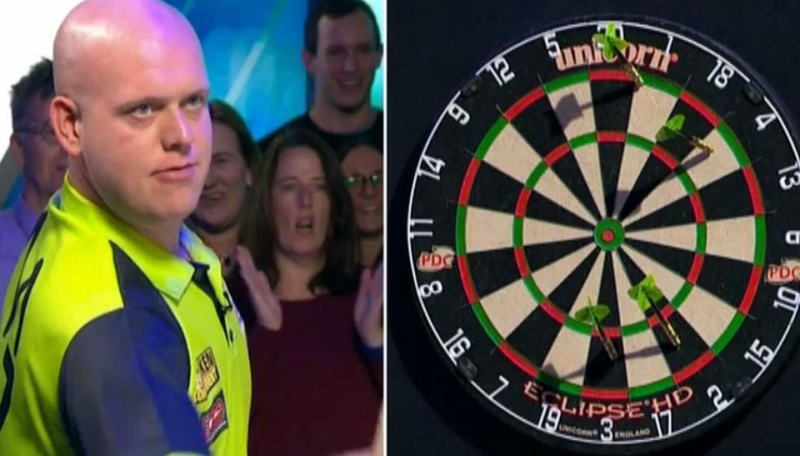 The success of Michael in dart did not stop there, he also won the title World Championship, the Masters in Milton Keynes in 2005, following wit a European Tour Even and three UK Open Qualifiers. Michael showed the amazing run after winning 42 games out of 43 during February, just before then Michael won again the UK Open TV Finals in March. Michael still defended his title by winning European Tour, in Gibraltar, Germany, and Holland, and two Players Championship triumphs, while he also finished at the head of the Premier League table for a third straight season, only to lose out in the final to Gary Anderson. In 2016, Michael successfully overcomes Lewis in Final but he was knocked out by his rival Van Barneveld.
Michael continued his incredible years competing in World Matchplay, glory in the Perth Darts Master and coming out as the winner at the third World Grand Prixas he bounced back from a loss to Taylor in the Champions League of Darts final. Might Mike, was addressed to him as his incredible achievement in the dart championship which also sealed a successive Masters final to open 2017 in style as well as known he wins more than most. In the past two years, his prize money of NZ$3,271,992 is more than double that of Peter Wright, the Scotsman who is ranked No 2 on the Professional Dart Corporation's order of merit.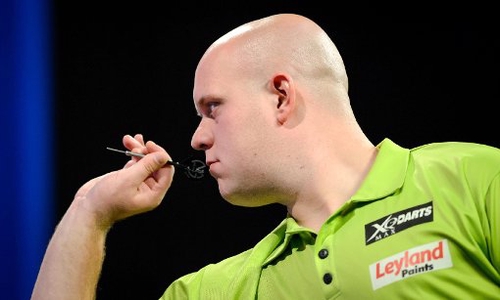 The Way He Plays
Michael van Gerwen is known with the skill of throwing at a very fast pace where he can score heavily meaning which allow him to build up momentum over his opponents in a matter of seconds. He is also best known for hitting the purple patches during the match where he is able to elevate his game to exceptionally high levels. Wikipedia
He did so in winning the first three PDC major titles of his career, firstly in the 2012 Grand Prix final he came back from 1–4 down in sets to triumph 6–4 and in the 2013 Premier League final he came from 2–5 down to win five successive legs and eventually won 10–8.Thirdly. He is also capable of taking out big checkouts to win matches when his opponent is well placed. The most striking examples of his ability to date include setting a televised average world record of 123.40 in the 2016 Premier League in a 7–1 victory over Michael Smith. Having started with four 11-dart legs or better in the first six legs, he missed double 18 three times for an average of over 130 which would have earned a shutout win had he found the double. He was also a double 12 away from hitting back-to-back nine-dart finishes in the 2013 World Championship semi-finals.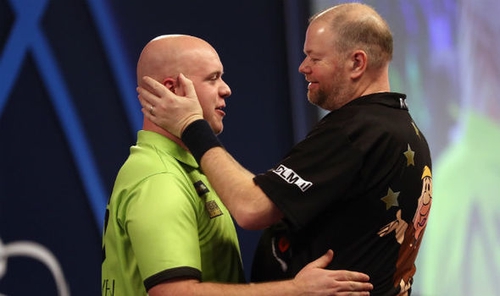 Most Recent Titles
In recent World Dart Series Championship, Michael successfully secured his title after beating Barneveld 11-14 and won the Auckland Darts Master in 2018. He came back after dropping seven legs across two games, and after he failed to win four televised tournaments including a shock opening-round defeat at the World Matchplay in Blackpool. He said,
I'm delighted to win this title for the first time," Van Gerwen said.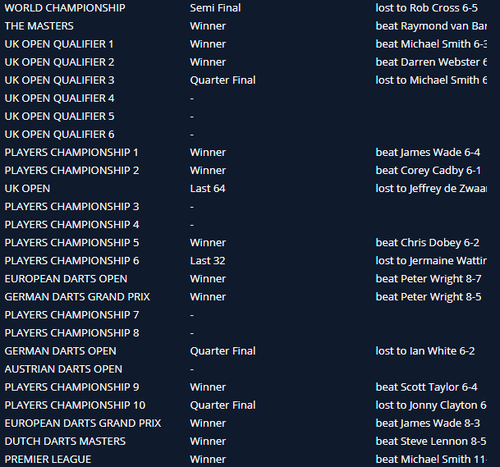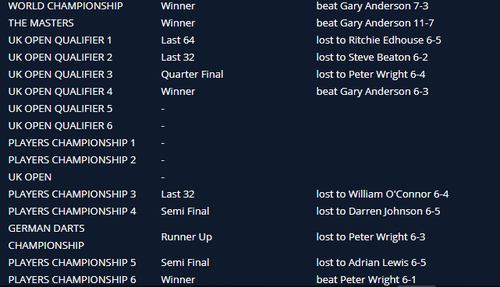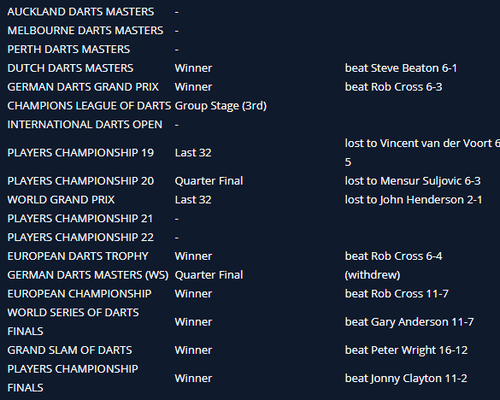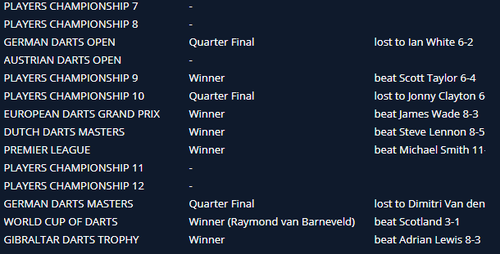 References
PDC TV Players Michael van Gerwen