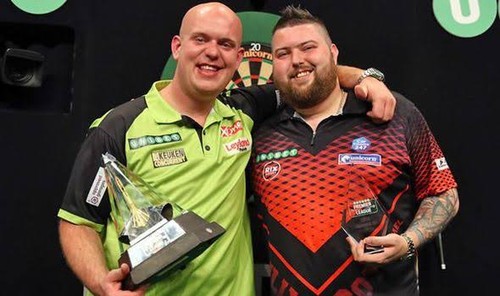 Michael van Gerwen thinks Michael Smith does not like to play against him. The number one in the world in Brabant hopes to use the positive balance in mutual encounters against the Englishman in the final of the World Championship darts in London.
"He is lying a bit when he says he does not care if he has to play with me or Gary (Anderson, ed.) I was in the throw-in room with him on Sunday and then he indicated that he really prefers to play Gary" according to Van Gerwen.
"That is not surprising, because he has won nine times against him from the last ten times, he can not say that about me, I hurt him a lot in many different tournaments."
Van Gerwen and Smith had already faced each other 31 times. 'Mighty Mike' scored 25 times in the longest, including 11-4 in the final of the Premier League of Darts in May 2018.
"That match was not very exciting, but we have already played some great games against each other, the most important ones were always for me, I hope I can continue that line", he says.
"Smith's definitive breakthrough has certainly taken too long, but I have to take him seriously, if I do not, he can punish that mercilessly, because his scoring power is really phenomenal."
Van Gerwen: 'I have done a lot of pain in the past in Smith' Van Gerwen: 'I have done a lot of pain in the past in Smith'
'He is not used to this pressure'
Van Gerwen is already in his career for the fourth time in the finals of the World Championships (victories over Anderson and Peter Wright and a defeat against Phil Taylor), while for Smith it is only his first final battle in a ranking major.
"He is not used to this pressure, so I can take it with him, so I definitely want to use the experience I have, and I have to hurt him in the beginning," he says.
"Michael was of course also in the paper easier part of the schedule, there have been many surprises, but he just did pretty well, and he got through it relatively easily."
Van Gerwen and Smith were hardly ever able to finish this World Cup. Van Gerwen against successively Alan Tabern, Max Hopp, Adrian Lewis, Ryan Joyce and Anderson in all five and Smith against Ron Meulenkamp, ​​John Henderson, Ryan Searle, Luke Humphries and Aspinall eight.
"There are seven for him and three for me because I am going to win 7-3.I will come back 4-0 and then it will be 4-1, 5-1, 5-2, 6-2, 6 -3 ... No kidding, we're going to see it, I feel very good about it ", Van Gerwen concludes.