Michael Unterbuchner reaches quarter finals - the darts hero out of nowhere
Actually I have to admit I used to like playing Darts but I did not consider this as sports same as chess, poker or similar pub stuff :-) - know some will disagree. But now the awareness grows here in Germany given a German darts players is better as usual here in a "Sports division" dominated by other countries.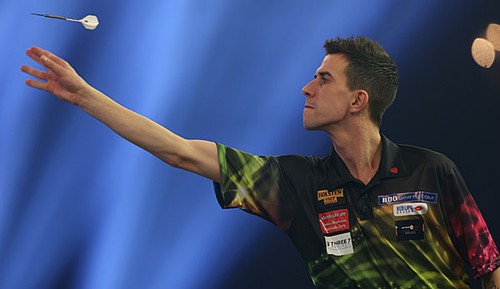 Michael Unterbuchner - a new messenger for a new sports in Germany?
This guy plays his way from nowhere into the hearts of German darts fans. But how does the sensational success come about? And what happens next? Such a success seems new to the guy. The new German darts hero raised his water glass shyly towards the raging crowd, greeted once briefly with his hand and then made his way - with an incredulous smile on his face and emotionally moved - from the stage of the Aldersley Leisure Village in Wolverhampton.
Previously, Unterbuchner had defeated the two-time Grand Slam winner James Wade, who had been undefeated in 13 consecutive darts matches in front of TV cameras, 10:6 and had sensationally reached the quarter-finals of the last major tournament of the PDC season.
On Saturday, - now he faces another high caliber with Gary Anderson. Nail him, beat him, make us proud Unterbuchner lol!
Unterbuchner belongs to the BDO (British Darts Organisation - strange enough as a German - but read on it becomes more complicated). Boxing has a similar bollocks in terms of "associations". So they have PDC and BDO - seems PDC is the Championsleague abd BDO for the losers? At least more and more professionals switch to the younger of the two associations which is PDC, or ....
The two organizations have their own tournament series, each with its own world championship as a season highlight. The Grand Slam is the only competition in which players from both federations participate. Due to his strong year 2018, in which he reached the semi-finals of the BDO World Championship and sixth place in the rankings, Unterbuchner qualified for the Grand Slam. Since the level at the BDO is considerably lower than at the PDC, which is also reflected by striking differences in the prize money, Unterbuchner's success cannot be rated high enough.
In the round of 16 Unterbuchner played a strong average with 93.57 points. Averages over 100 points are the exception at BDO. The record average in a World Cup final is 97.14 points (Richie Burnett, 1998 against Raymond van Barneveld). For comparison: Since the World Cup finals of the PDC, there have been 15 players with an average of more than 100 points per recording on board.
Come on Unterbuchner!