It was a legendary rally and the only win of Francois Duval from Belgium who was a Citroen works driver at that time and a big hope of the rallying world. He was signed at the end of season 2004 for the big money but also on the one year contract.
The problem was that Duval was crashing too much and he was also replaced in the middle of the season by Carlos Sainz sr for a few rallies and then Duval came back to his seat.
At the end of that story Duval won in Australia when nobody expected that from him in a rally where all the favorites had an offs or retired.
That rally was the last rally of Škoda works WRC team and from then they didn't have a WRC program.
In that last rally for Škoda, Colin McRae had a brilliant performance and fought for the win until the last service where mechanics made a terrible mistake with the clutch change and everything was gone.
McRae had to retire and that was it. Duval won but that was also the last rally for him in a Citroen colors.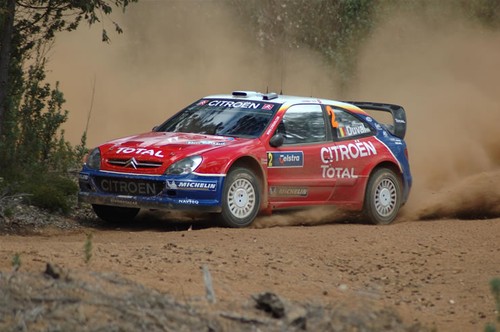 photo and video from Rallye-Info and Youtube