When a winter #bike🚲 race on a mountain #ski track looks like a mario kart game #xtreme #sport extreme bicycle mountain bike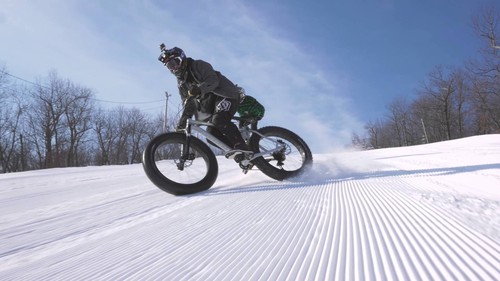 The top speed may vary between 55-65km/h on tracks such as Mount Sainte Anne up to around 80km/h in Pietermaritzburg which is known for high speeds achieved. Of course all assuming good weather...

Cold weather cyclists face a number of challenges. Urban commuters on city streets may have to deal with snow, slush, salt, and sand, which can cause rust and damage to metal bike components. Slush and ice can jam derailleurs. Some cyclists may bike differently in winter, by slowing down on turns and braking gradually in icy conditions. Gaining traction on snow and ice-covered roads can be difficult. Winter cyclists may use bikes with front and rear fenders, metal studded winter tires and flashing LED lights. Winter cyclists may wear layers of warm clothes for ear, face and hand coverings may be used. Specialized winter bikes called fatbikes, which have wide, oversized tires that are typically inflated with low pressure, are used in snow trail riding and winter bike competitions.