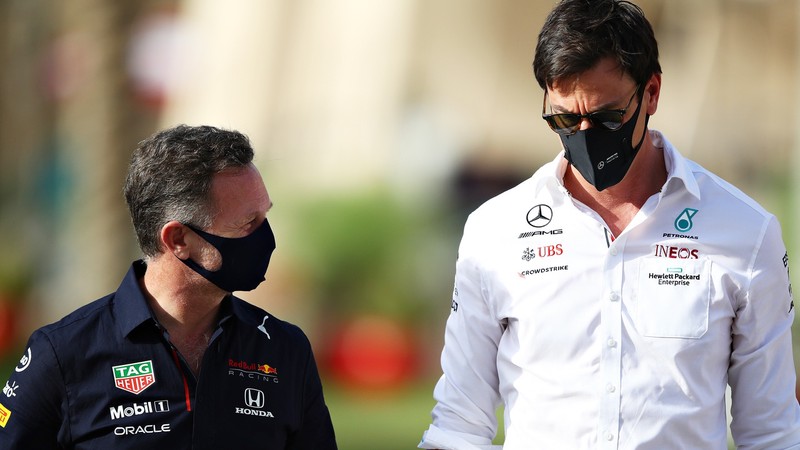 It is not uncommon for Formula 1 battles to extend beyond the racetracks. Battles are also fought in the garages and factories. And in this kind of inter-team rivalship, regulations and the FIA's offices come into play. When a team has an advantage in its car, however small it may be, it is always watched closely by its rivals.
The case of Brawn GP in 2009 and that of Mercedes with DAS more recently are well known. When a team does well, it always arouses the suspicion of the others. This season it is happening with Red Bull. At first, it was the flexible wings. After the FIA intervened in favor of Mercedes' complaint, everything remained the same.
Now the controversy involves pit stops. Red Bull has been dominating in this area for years and in fact, the six best pit stops this season have been made by them. They also achieved a record of 1.82 seconds in 2019. In pit stops, they are unbeatable. And that is what Toto Wolff's team is now focused on.
Mercedes has succeeded in getting the FIA to implement a new regulation on pit stops that will come into effect at the Hungarian Grand Prix. With this new regulation, pit stops will be slower and Red Bull will lose that competitive advantage. All of that under the reason that pit stops will be safer and there will be no risk of accidents due to an incorrectly set wheel.
This new decision is controversial. It is the second measure applied by the FIA in the middle of the season, the second that harms Red Bull and the second that supposedly benefits Mercedes. And in this case, the pretext of safety is not very well understood.
Why was Mercedes allowed to use the DAS all season and not allowed with Red Bull's rear wing? Why is the FIA suddenly concerned about the safety of pit stops? How many accidents have occurred in the pit lane because of a wrong tire?
Indeed, there are also risks in the pit lane. But there is more risk in the spin that Valtteri Bottas made last week in second gear than in a wrong tire. Most of the time, the mechanics realize it in time and rectify the mistake.
The FIA should have more criteria in this aspect. It seems that in recent years there is a tendency to benefit the dominant team and harm the other ones. Safety is very important, but in the matter of the pits, it does not make much sense. Those in charge must demonstrate impartiality and neutrality. Otherwise, the rumor that Mercedes' best signing has been Michael Masi will become true.