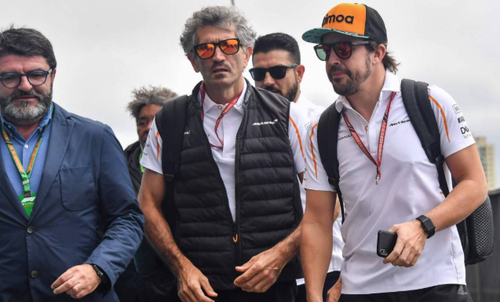 In the place of his greatest successes and where he lived some of his greatest disappointments ... Fernando Alonso has a lot of history. In Interlagos he achieved his titles as world champion and he stayed very close in 2007 and 2012. Now he arrives in his penultimate F1 race if time does not remedy it and with a view to a future far from this sport. At least some journalists believe that they asked for the Indianapolis 500. The Asturian and his irony ... "No, no news. Do not run until May. I have not bought the tickets yet, or anything, "he said.
Well back to F1 and this Interlagos GP in which he hopes to be able, at least, to finish. "The objective is to have a clean race on Sunday and being in the points is the main objective. He had an eighth potential in Austin and a seventh potential in Mexico, so we hope to have some points this weekend. Maybe Abu Dhabi is a bit more complicated, because the circuit is not so favorable. Here we have a good opportunity to add to the Constructors' World. "
The certain thing is that McLaren began with a great fifth of Alonso and that position that promised (Alonso dixit) to be the worst of the season has turned out to be the best if fortune does not remedy it. What happened? "It's something private of the team, but we took some directions in this project that did not give the results we expected. Some commitments were made in the car, where there were many hopes in terms of performance, but it did not come and we went down. I think the lesson has been learned for next year. "
Fernando will not be next year, but Carlos Sainz and the astur are dedicating themselves to leaving a good car for 2019 in the last races. He is optimistic. "The 2019 car will be more competitive insurance. Since July we have been testing some experimental parts for the car next year and there is great optimism in the team, as to the direction taken by the car in the last two months. We have understood our problems and why last year's car was much more competitive, from the point of view of the chassis. We have done tests with GPs, regarding the speed in curve and we have understood where we have lost. I think that next year the team will be in a better position and I am happy for them, "he said. Let's hope it's true.
But this week they have declared since Ferrari that this has been their best year since 2008, when Massa was about to win the World Championship and Hamilton took it off at the penultimate corner, remember? Well, Fernando has something to say. "It's hard to have an opinion from outside. I think they have been very strong this year, very competitive. They won several good races and even Singapore seemed very strong. Then they lost some ground and Mercedes did a great job and Hamilton also, at times like the lap of the Singapore lap, which maybe changed the direction of that weekend, but it's hard to know. They say that this has been their most competitive car in recent years and their best season and I agree, but in 2010 or 2012, we were champions with ten laps to go. " He fought for the title until the last race with a lower car. And that is a truth, what are we going to do?