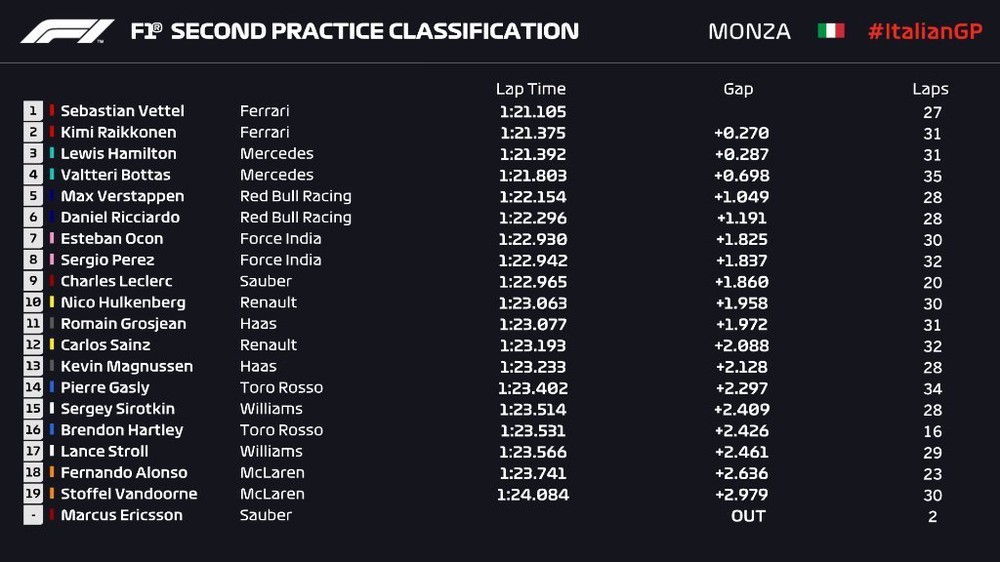 Thus, the Second Race in Monza have finished. Sainz duodecimo and Alonso 18º, with the two McLaren are in the back of the table
S. Vettel (S) Ferrari 1'21 "105 17

K. Raikkonen (S) Ferrari 1'21" 375 +00 "270 14
L. Hamilton (S) Mercedes 1'21 "392 +00" 287 15
V. Bottas (S) Mercedes 1'21 "803 +00" 698 17
Mr. Verstappen (S) Red Bull 1'22 "154 +01" 049 15
D. Ricciardo (S) Red Bull 1'22 "296 +01" 191 11
E. Ocon (S) Force India 1'22 "930 +01" 825 16
S. Perez (S) Force India 1'22 "942 + 01 "837 15
C. Leclerc (S) Sauber 1'22" 965 +01 "860 15
N. Hulkenberg (S) Renault 1'23" 063 +01 "958 13
R. Grosjean (S) Haas 1'23" 077 +01 "972 8
C. Sainz (B) Renault 1'23" 193 +02 "088 18
K. Magnussen (S) Haas 1'23" 233 +02 "128 15
P. Gasly (S) Toro Rosso 1'23 "402 +02" 297 16
S. Sirotkin (S) Williams 1'23 "514 +02" 409 19
B. Hartley (S) Toro Rosso 1'23 "531 +02" 426 16
L. Stroll (S) Williams 1 '23 "566 +02" 461 13
F. Alonso (S) McLaren 1'23 "741 +02" 636 18
S. Vandoorne (S) McLaren 1'24 "084 +02" 979 13
Mr. Ericsson Sauber 55'55 "55 5 + 54'34" 450 216.27 The two Mercedes have lost the vertex in the curve 2 (first chicane), without consequences.
15.20. So are the maximum speeds is late.
15.18. Only the injured Ericsson has worse time than the two McLaren. A drama.
16.17. Alonso remains at 2.6 from the head, but follows the 18th. The MCL33 is going to hit bottom, literally, this weekend.
16.16. The McLaren are bouncing right now, which is a very bad sign almost always. They lack tip and try to correct it with this exercise.
16.08. Vettel in the pits and mechanics checking his car.
16.07. Alonso has improved his time with the soft, but not his position. Sainz progresses too