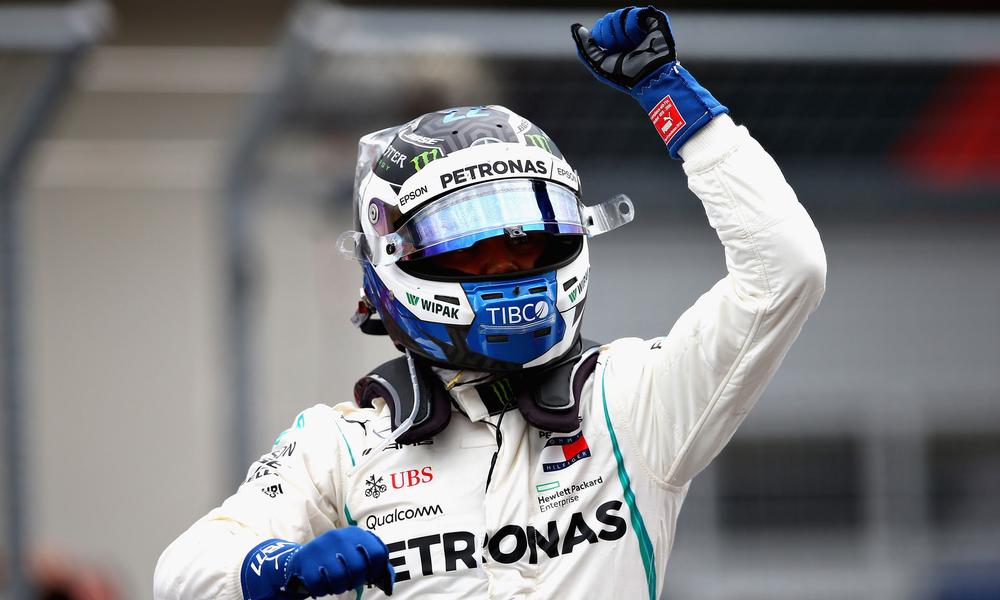 The qualifying sessions in the Red Bull Ring had it all. Including a few controversies. Let's start off with the top of the pile, it was another superb session from both the Mercedes drivers as they locked out the front row yet again and like last year, it will be Valtteri Bottas who will be starting from pole position, he is sort of becoming a specialist in Austria. Starting from second will be his teammate Lewis Hamilton who is looking good to extend his lead over Vettel come Sunday. Both the cars were significantly faster than the Ferraris and the Red Bulls which can lead us to believe that we could have a Mercedes 1, 2 tomorrow.
Coming to Ferrari, the team thought they had locked out the 2nd row with Sebastian Vettel qualifying in 3rd place followed by Kimi Raikkonen in 4th place in the other Ferrari. However, Sebastian Vettel was handed a 3place grid penalty for blocking Carlos Sainz' lap in the later stages of Q2 and will hence be starting the race from the 6th place which is a major blow to both Sebastian Vettel and Ferrari. Though, if Vettel can go on an overtaking spree like he did at Paul Ricard, it won't make much of a difference.
The home team i.e. Red Bull looked lacklustre in the qualifying, to put it mildly. Both drivers did not look competitive enough in front of Mercedes and Ferrari, so much so that Max Verstappen who qualified 5th and Daniel Ricciardo who qualified 7th got split by the Haas of Romain Grosjean. To add on to a 'not so good' showing, both drivers were found arguing in Q3 about who is going to drive in front. Red Bull do this thing called towing where both cars lap one behind the other during qualifying which provides a power boost to the car behind. They do this to make up for the lack of power in their car. In Q3, Ricciardo was driving in front with Verstappen following him, however, Ricciardo slowed up and waited for Verstappen to overtake him and provide him with the tow, Verstappen refused which led to the team ordering Verstappen to overtake Ricciardo but to everyone's surprise, Verstappen did not budge and was adamant in continuing with Ricciardo ahead of him. In the post-qualifying interviews, Ricciardo was visibly disappointed with what unfolded. Max Verstappen later clarified in his interview that the team usually decides who is to drive in front before the weekend begins and it was Ricciardo's turn to drive in front as Max had driven in front the entire time at Paul Ricard last week.
From the most negative part of the session, we come to the most positive part of the session which would be Haas' performance. They definitely looked the best of the rest and have in all honesty managed to provide Red Bull with a real scare. Both drivers made it to the top 10 with Romain Grosjean qualifying 6th(will start from 5th as a result of the penalty to Vettel) and Kevin Magnussen qualifying 8th. This might just be the weekend where Grosjean breaks the jinx.
Renault was as consistent as they have been all season with both Nico Hulkenberg and Carlos Sainz making it into the top 10 qualifying 10th and 9th respectively. A very positive result and considering the reliability of the Renault drivers, it will not be very unsafe to assume that both drivers will end up scoring points.
It was sort of a mixed bag kind of a session for Force India with Sergio Perez surprisingly not making it into Q2 and ended up qualifying 17th which is not at all expected from him. In his defence, his laps were kind of ruined due to traffic on the track. The saving grace for the team was Esteban Ocon who qualified 11th and will be looking to score points tomorrow if he can have a good start, well, anything apart from a start like the one at Paul Ricard last week.
Toro Rosso had a positive session with Pierre Gasly qualifying 12th and showing good pace. However, in spite of all the upgrades added to his car, it was another disappointing outing for Brendan Hartley as he ended up qualifying 19th on the grid, I don't think it will be long before the rumours about Toro Rosso replacing him start again if he continues under-performing like this.
McLaren was here and there when it came to performance this week. Not much was expected from them and as expected, they did not deliver much. Fernando Alonso did make it into Q2 though, qualifying in 14th place while Stoffel Vandoorne once again failed to make it to Q3 qualifying in 16th place. For the time being, points look distant for McLaren.
Coming to Sauber, Marcus Ericson had a very dismal session only managing to get the 20th place on the grid. Their prodigy Charles Leclerc though put in another bright performance qualifying 13th but will be awarded a 5 place grid penalty for a gearbox change which had to take place after Leclerc had a gearbox failure in Free Practice 3 and hence will be starting the race in 18th place. It will be exciting to see him battle through the back end and fans are waiting to see if he can manage that and finish in the points once again. Exciting times ahead.
Last and this time definitely not the least are Williams, who according to the standards set by them this season had a very bright session with Lance Stroll making it into Q2 and qualifying 15th on the grid. Sergey Sirotkin tried his best with what he had and managed to qualify 18th but will be starting from 17th due to the penalty to Leclerc. Can they manage a point after a long time? Only time will tell.
All in all, we are set for Sunday and an interesting race awaits us.