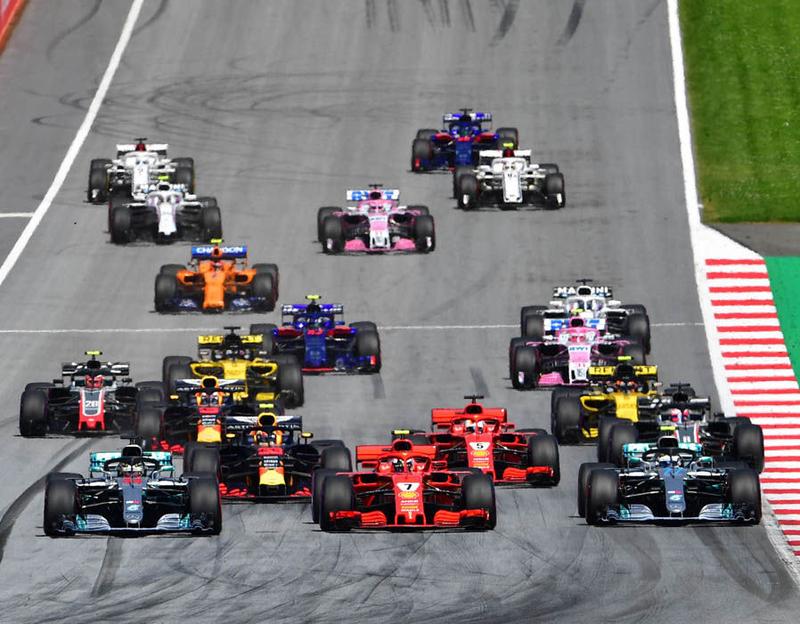 In what can be termed as one of the best races of the 2018 season, it was not a Mercedes or a Ferrari driver standing on the highest podium but it was Red Bull's Max Verstappen who probably drove his best race of the 2018 season to get the win with a Red Bull car at the Red Bull Ring on Sunday. While almost every other driver on the grid struggled with either team strategy or tire management, it was an almost perfect race for Max. You would think it was just about a perfect weekend for Red Bull but no, the other Red Bull of Daniel Ricciardo, who at one point was in 2nd place, had difficulty managing the tire blistering and eventually had to retire from the race after his car started exhaling a large amount of smoke and he started losing power. So, what could have been 43 points for Red Bull ended up being 25. Not perfect but team principal Christian Horner was happy.
Coming to the team which took the remaining podiums, Ferrari looked absolutely on point on Sunday. Kimi Raikkonen had an unbelievably strong start and was aggressive throughout the race, whoever said Kimi has lost his fire must be in a room eating his\her own words. The Finn kept pushing and closing the gap on Verstappen right until the final corner on the 71st lap eventually ending up with the fastest lap of the race and creating a new lap record for the circuit, in the post-race interviews Kimi said that if there were a few more laps, he could have won the race. Coming to Ferrari's main man Sebastian Vettel who finished 3rd, even he drove a fantastic race after starting from 6th and for the first time this season, provided some action between him and Lewis Hamilton where Vettel pulled off a fantastic overtaking move. Maybe he could have been the winner had he not been awarded the 3place grid penalty on Sunday, who knows.
Where was Mercedes you might ask, well, it was not a perfect start by any means as even before reaching turn 1 Valtteri Bottas was down to 5th. Lewis Hamilton started alright taking the lead early and it did look like Lewis was going to pull away like he did at Paul Ricard. Before the end of the first lap though, Bottas had recovered and got himself into 2nd place. But lady luck seems to have deserted the Finn as Bottas had to retire from the race pretty early with a hydraulic issue which brought in the Virtual Safety Car (VSC) which then allowed both the Red Bulls to pit without losing position or time. Hamilton was left out and it came back to bite him as when he made his pit stop, he came out in 4th place with Vettel right on his tail. It did not matter however since a few laps later Hamilton also retired from the race with an engine issue leaving Mercedes with 0 points from Austria when it looked like 43.
With both Mercedes cars not finishing, it was a blessing for the midfield teams who were desperate for points and the team which made the most of the situation was Haas. Romain Grosjean finally got off the mark in the 2018 season and he did so in style with a 4th place finish. Everyone will be hoping this is the start of a big points haul for Grosjean because Haas is looking very fast. The icing on the cake for Haas was Kevin Magnussen finishing 5th which gave Haas the most amount of points they could have hoped for and now all of a sudden, Haas is no longer a one-man team and I can assure you the most relieved man right now is Kevin Magnussen.
Force India, after their dismal showing in Saturday's qualifying, was hoping for things to turn around and they did turn things around quite magnificently. Esteban Ocon finished 6th while Sergio Perez fought his way through the back and finished 7th. In the last few laps, both the drivers helped each other with DRS, at times exchanging places and almost caught up to Kevin Magnussen. Team Principal Bob Fernley was really happy with the performance of both the drivers.
One team which was looking to make the most amount of impact among the midfield teams was Renault. After a satisfying qualifying session on Saturday, things took a horrible turn on Sunday as Nico Hulkenberg became the first retirement of the race with a reported engine failure. Carlos Sainz was running very well up until the point he made his pit stop, after which it was clearly visible that he was not able to manage the tires and they were blistering heavily. In the post-race interviews, Sainz described the car as "undriveable" after the pit stop. He eventually finished 12th and Renault ended up with nothing from Austria.
Now McLaren wasn't really hoping for something spectacular from this race and they didn't get any from Stoffel Vandoorne who had front wing damage at turn 3 on the first lap and ended up retiring towards the end, but it was Fernando Alonso who produced a magnificent drive to finish 8th. It is even more spectacular considering Alonso started the race from the pit lane. Fans would be hoping McLaren can come back harder next week at Silverstone inspired by Alonso's performance.
It was for the first time this season that both the Sauber cars finished in the top 10. Charles Leclerc once again produced a good performance finishing in 9th place after starting the race in 17th place due to a grid penalty. His teammate Marcus Ericson probably drove his best race of the season to come from 18th and eventually finishing in 10th place, even challenging Alonso for the 8th place for a few laps. An extremely positive and unlikely result for Sauber this week.
Toro Rosso had an extremely disappointing race as Brendan Hartley retired from the race with engine issues, he was looking good up until that point but it just keeps getting worse for the Kiwi, he was very positive about next week in the post-race interviews though. Pierre Gasly also had a disappointing race as he was running in the top 10 for the majority of the race but eventually couldn't manage his tires. He was overtaken by the Saubers and eventually ended up just outside the points in 11th place. In the post-race interviews, Gasly mentioned that this was one of the most difficult races for him this season.
There was nothing new so far as performance was concerned when it comes to Williams. The only positive being that in a race which had as many as 6 retirements, both the Williams drivers managed to finish. Lance Stroll finished in 13th place while Sergey Sirotkin finished in 14th place. But after the race, Stroll was awarded a 10-second penalty for ignoring blue flags which eventually led Sirotkin to finish a season-best 13th while Stroll was classified as 14th.
Up next is Silverstone, perfect for Lewis Hamilton and Mercedes to turn things around after the disaster here.