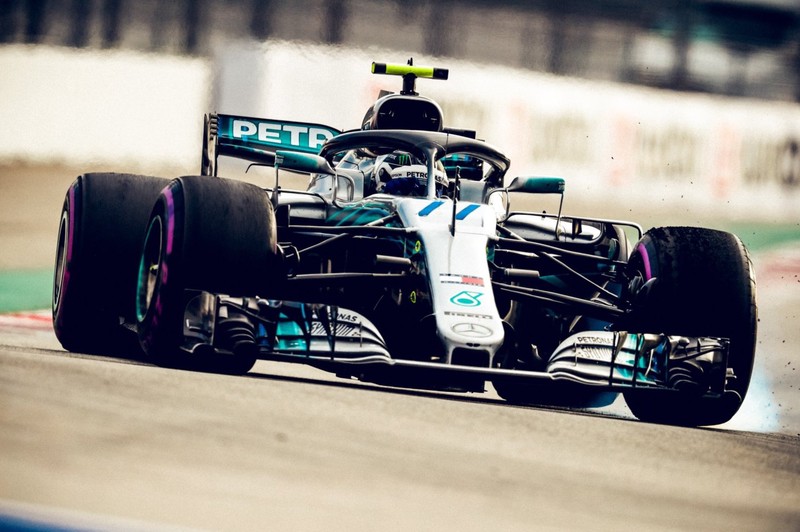 GP RUSSIA TRIONFO HAMILTON
The Mercedes from team orders to Bottas to win Hamilton his 70th career GP and sees his fifth world title approaching. Now in the standings the Englishman has 50 points ahead of Vettel. Good race for Verstappen (5th) and LeClerc (7th).
TOUR 53: Lewis Hamilton triumphs the GP of Russia in front of Valtteri Bottas and Sebastian Vettel.
ROUND 51: E 'fight at home Mercedes, Bottas makes the fastest lap and approaches threateningly to fellow Hamilton
TOUR 49: Mercedes seems in absolute mastery and the shotgun is in the air
ROUND 44: Inevitably Verstappen must return to the pits and return to fifth place, Hamilton becomes the new leader
ROUND 41: Verstappen remains in the lead on Hamilton, followed by Bottas and Vettel.
ROUND 40: The Australian Ricciardo returns to the pits, but places himself on his way back to LeClerc
TOUR 38: The good race of LeClerc continues, the French maintains the seventh place
TOUR 27: Hamilton in front of Bottas and Vettel. Verstappen's Red Bull continues his solo race.
TOUR 25: Team orders at the Mercedes Bottas house passes his team mate Hamilton
TOUR 19: Verstappen incredibly in the lead after the stop of Raikkonen who returns to fifth place on the return
ROUND 16: The strategy has brought Vettel ahead of Hamilton, but the German gets overcome by the English
TOUR 15: Return to the pit of Hamilton, returning to the track fifth place behind Vettel
TOUR 14: Hamilton in command, followed by Raikkonen, Verstappen and Bottas, Vettel in the pits.
ROUND 13: Take the big Bottas is the first to stop, falls behind Verstappen
TOUR 12: Ricciardo goes up to the seventh square, taking advantage of the various pit stops
ROUND 10: The first tire changes start, keeping the Bottas record with an excellent pace, Hamilton to follow.
ROUND 8: fifth place now to the prerogative of Verstappen who ranks behind Raikkonen
TOUR 6: the show is guaranteed by a wild Vertsappen that continues to go up the slope and approaches LeClercc. The forward positions remain the same.
ROUND 4: Fast lap of the race for Hamilton, who already has an advantage of 1.9 on Vettel
ROUND 3: behind the big the future Ferrari LeClerc makes its way to the fifth place. Verstappen, despite starting from the back manages to gain already the ninth position.
TOUR 1: Hamilton at the start is aggressive trying to overtake the partner of brand Bottas; Vettel on the other hand has a good idea, but is unable to attack the Mercedes, but maintains the position on Raikkonen.
Everything is ready on the starting grid, the reconnaissance lap begins.
The pole of the Finnish Valtteri Bottas, ahead of team mate Lewis Hamilton. The great rival for the title Sebastian Vettel, will start from the third place with Ferrari and Kimi Raikkonen with the other car of the horse
Welcome to the Russian Grand Prix, race number 16 of the Formula 1 World Championship 2019.