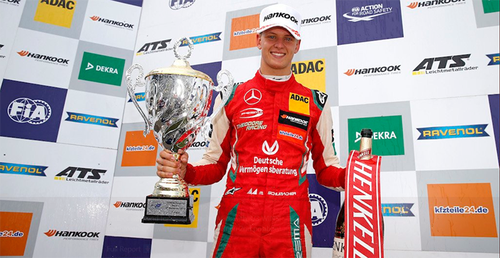 Euro F3 Mick Schumacher champion in the name of his father
The 19 year old son of the great Michael at Hockenheim wins the category title with the Prema: the 2nd place in race-2 after an accident in the first run makes it unattainable for the rival Ticktum. Now he is likely to jump in F.2
The world of motorsport is celebrating: there is again a Schumacher in the golden league of a championship. Merit of Mick, son of the seven times Formula 1 world champion: today he is a champion of the European Formula 3 championship. Thanks to the second place in race 2 of the last season race at Hockenheim, in Germany, the 19 year old from Prema has consolidated the record in the standings and became arithmetically champion in front of Daniel Ticktum (Motopark), which in the last race scheduled tomorrow will no longer reach him.
BRIVIDI - The triumph arrived in the afternoon because in the morning heats, won by the team mate in Prema, the Chinese Guanyu Zhou, Mick had closed only 12th place. Starting from the seventh position, fatal had been a shivering contact with his teammate Marcus Armstrong, after which he had to replace the nose and start from the last position. The furious comeback with bursting overtaking, however, stopped outside the points: not bad because Ticktum, 5th, has gnawed only 10 of the 49 points he had in dowry. In race 2, which Mick started from the second row of the first row (Ticktum started 15th), for the German an easier race. He tried to undermine the Motopark Estonian Juri Vips, who was on pole and eventually won, and on the 7th lap he attempted an attack: but he went wide and understood that it was better to bring home the precious placement, protected behind the teammate Ralf Aron.
ALLORO - And so, the moment that many fans were waiting for has arrived, review the surname Schumacher at the top of a drivers' standings. The same fans who always pray for their father, fighting for a difficult rehabilitation after the serious head injury after the fall on the skis, on the snows of Meribel in December 2013. Mick was skiing with him when it happened, he was only 14 years, and he had just started his pilot career with traditional kart races. Natural, almost obvious, that the doors have opened more easily for Schumacher's son. But the young Mick, without any budget problems behind him, however, is seriously committed and today came the first major award in the curriculum, even two years earlier than Dad, who became a Formula 3 champion at 21 years.
PERFORMANCE - The turning point was certainly the meeting with the Prema. The Italian team run by René Rosin, who recently launched in Formula 1 guys like Lance Stroll, Pierre Gasly, our Antonio Giovinazzi and Charles Leclerc, proved to be the ideal environment for his professional growth. With Prema Mick in 2016 he played the Italian and German Formula 4, finishing second. Last year instead he tasted the hardness of the European Formula 3, finishing in 12th place. It might seem a sign of difficulty, but this year the boom has come. From the Spa race onwards, the German raced in series victories (as many as 8) until today's final triumph.