Qualifying
Qualifying in Formula 1 is a relatively simple process. There are three qualifying sessions (Q1, Q2 and Q3). All drivers participate in Q1 where the fastest 15 drivers progress to Q2. In Q2 those 15 drivers are then narrowed down to the fastest 10 drivers that partake in Q3. The fastest times in Q3 determine the starting positions of the top team, while the drivers knocked out in Q1 and Q2 start in the position that they finished in those sessions.
Qualifying 1
Track evolution played a big factor in the first qualifying. Times set early in the session were easily beaten by those teams that decided not to put in laps close to the end of the session. This was evidenced by laps set by Giovinazzi and Kyvat who finished 4th and 5th respectively in Q1, just 0,4s off Charles LeClerc in first. An unfortunate victim to this was Pierre Gasly in the Red Bull. Gasly did not set a fast enough time and the car expected to reach Q3 with ease was eliminated in Q1.
Williams woes continue as they were a full 1,3s from safety with Kubica being 4s behind P1. Lance Stroll from Racing Point and Carlos Sainz from McLaren put in weak performances compared to their team mates which saw them being eliminated as well. The eliminated drivers in Q1:
16. Lance Stroll
17. Pierre Gasly
18. Carlos Sainz
19. George Russell
20. Robert Kubica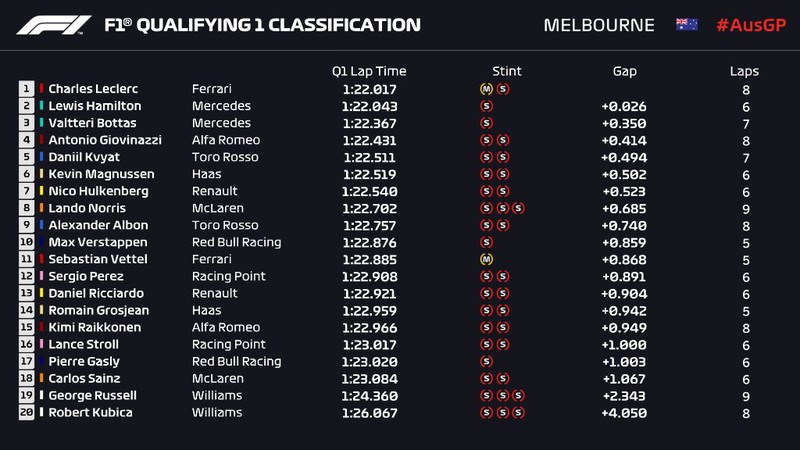 Qualifying 2
Qualifying 2 saw the top teams begin to stretch their legs and put in times of 1 second quicker than their Q1 times. Mercedes, Ferrari and Haas managed to get both cars into Q3. Verstappen too moved into Q3, while the surprise knockouts were the Renualt F1 team. Both Hulkenberg and Ricciardo missed out on Q3 but 0,03 seconds. The Renault team thought they had the pace but unfortunately not.
Sergio Perez moved into Q3 while his teammate went out in Q1. Another big suprise was Kimi Raikkonen in the Alfa Romeo securing 8th and Lando Norris, the 19 yead old securing a Q3 spot in his F1 debut. The eliminated drivers in Q2:
11. Nico Hulkenberg
12. Daniel Ricciardo
13. Alexander Albon
14. Antonio Giovinazzi
15. Daniil Kyvat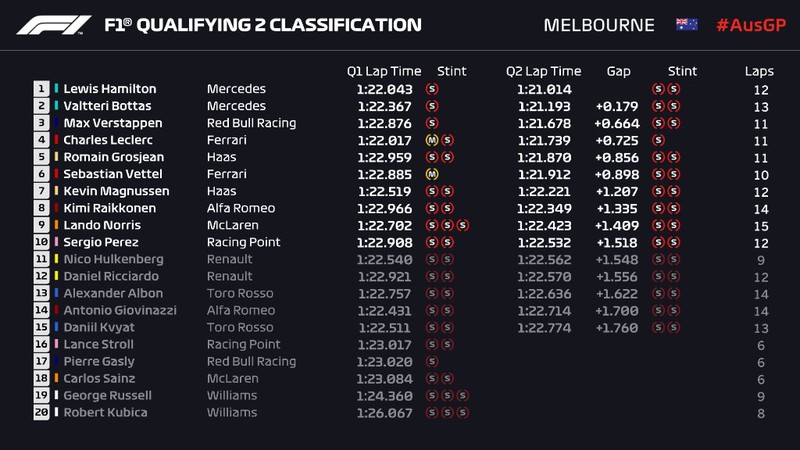 Qualifying 3
After the first stints in qualifying 3, Bottas looked in a strong position for pole as he was 0,4 seconds ahead of teammate Hamilton. Vettel and LeClerc were in 3rd and 4th while Verstappen was in fifth. The final stints, however, saw Hamilton do what he does best and he once again put in an outstanding final lap to which Bottas had no response. Vettel and LeClerc failed to improve their times while Verstappen improved to go 4th and split the Ferrari's.
Haas secured 6th and 7th which is a result they will be pleased with while Norris is reviving McLaren's hopes by finishing 8th followed by Raikkonen in 9th and Perez in 10th.
Hamilton has now earned 8 pole positions in Australia matching Schumacher and Senna for the most Pole Positions at a single circuit.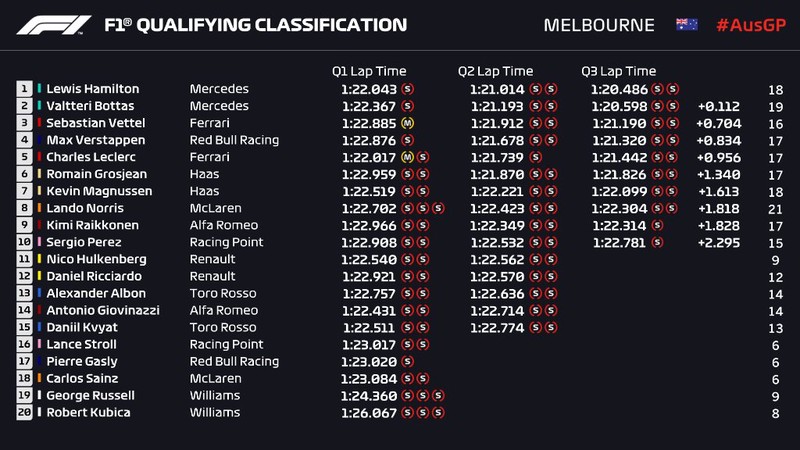 Race Preview
Track
The Australian Grand Prix has been hosted at Albert Park since 1996. The track is situated in Melbourne, Australia and is 5,303 KM (3,295 mi) long and encompasses 16 turns. The Australian GP will be 58 laps and cover a total distance of 307,574 km (191,071 mi). The track feature two DRS zones where drivers can open their rear wing to reduce aerodynamic drag to assist overtaking the driver ahead of them. The track is a street circuit and developed around public rounds.
Some Interesting Facts:
Race Lap record is held by Michael Schumacher at 1:24,125 minutes and was set on 7 April 2004.
Pole Lap record has just been reset by Lewis Hamilton at 1:20,486 and was set in Q3 on 16 March 2019.
Tobacco advertising at this race is banned since 2007. Ferrari was required to remove the branding of "Mission Winnow" and the logo for the 2019 Australian GP as it was said to resemble Marlboro cigarettes.
Ferrari and McLaren are joint highest constructors to win at Albert Park, 12 wins each.
Key Action Areas:
Run down to Turn 1 at the start. This is a near 90 degree turn and features a narrow entry. Drivers have struggled to stay on track during qualifying and practice so 20 cars entering at once can produce some action.
Turn 11 and 12 features a sweeping high speed chicane where many drivers have been off before.
Past Events
The Australian GP 2019 kicks off at 5.10 am GMT time. It will be a fantastic race and i hope you all thoroughly enjoy it.