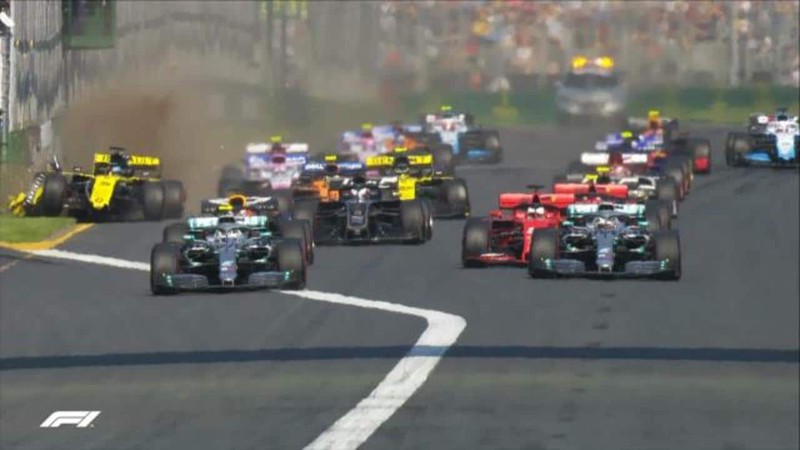 The opener at Albert Park was not short of action and various surprises taking place during the race ensure an exciting season ahead.
Starting on pole, Hamilton was looking to finally win from the front row which has been a scarce occasion in recent years. As it turns out, the race was won from the front row but by his teammate Valtteri Bottas. Hamilton got a shoddy start as Bottas powered down to the first corner and took P1. From there on, it was more about race management for Bottas. Hamilton was pitted early to prevent the attack from Vettel. This allowed Bottas to stay out longer and then pit later to have fresher tyres for the rest of the race. The result was massive. Bottas won the Australian GP with a extra point for faster lap all while being 20 seconds ahead of teammate Hamilton. An impressive drive for someone who was winless throughout the whole of 2018.

The perceived Ferrari pre-season dominance by many was shut down once again by Mercedes. Both Ferrari's lacked outright race pace which saw them slowly drift further and further from the lead. Ferrari made no mistakes during the race, besides LeClerc's small trip over the grass, but were unable to match the leaders. The best Ferrari car was 57 seconds off Bottas in first and a further 35 seconds off the Red Bull in third. Team orders were apparently present in Ferrari as LeClerc who was catching Vettel at more than a second a lap was ultimately told not to overtake his teammate. Was this the correct thing to do considering the circumstances?
McLaren Reliability still an issue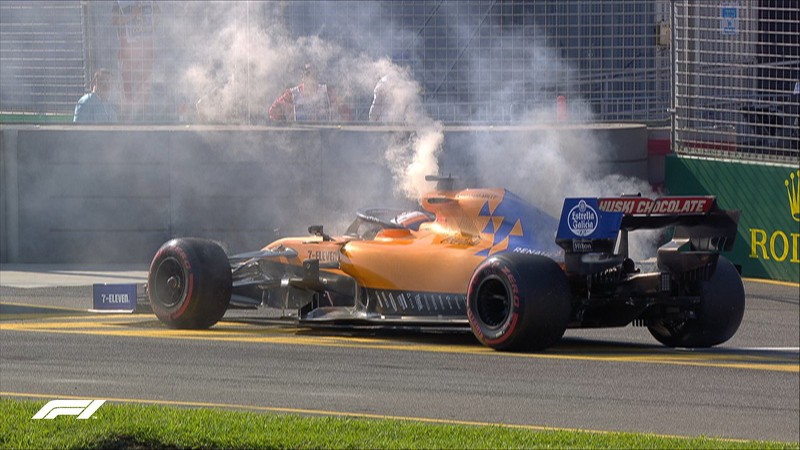 The first retirement of 2019 went once again to Renault engined car. Last year, Fernando Alonso went out numerous times in his Renault-powered McLaren and in the race Sainz too saw reliability as an issue. Not even a quarter of the way through the race, the McLaren started smoking and eventually caught on fire forcing him to retire. Once again McLaren will have concerns over their reliability of the car for 2019.
However, they do have some promising signs in the form of improved pace. Norris scored a 8th place qualifying lap and finished the race in 12th ahead of a Racing Point, Toro Rosso and Alfa Romeo car. If the reliability issues can be solved, McLaren can possibly be fighting for a top 5 constructors place this season.
Ricciardo out of home Grand Prix
Daniel Ricciardo, the born and bred Australian, has a massive following and support from the Australian fans but more so at his home race. Just look around Albert Park and a symphony of yellow caps or #3 branded merchandise is a plenty in support of him. Unfortunately, Ricciardo was forced to retire early on.
During the sprint to the first corner from the start, Ricciardo was forced wide and drove onto some raised ground just near the pit exit. This caused he front wing to be ripped off the car and he ultimately had to pit. They managed to replace the wing but time was lost in the pit stop. He continued for a few laps before they discovered damage to the barge board and ultimately retired him from the race as a precaution. A disappointing day indeed for Ricciardo.
Grosjean experiences deja vu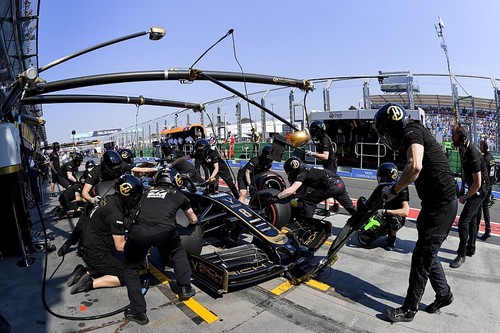 At the start of 2018, Grosjean experience continuous mechanical failures that put him out of the race. The start of 2019 was no different. While Grosjean made his first pit stop, the team seemed to struggle to correctly fit his front left tire. Some maneuvering later, the wheel was secured and Grosjean set off to rejoin the race. Soon after, Grosjean pulled off track with a left front wheel that seemed to be detached. Haas has diagnosed the problem to the wheel but that sheered due to too much pressure being applied to have it fitted during the tricky pit stop.
Verstappen back in full attack mode
With some more power under the hood, Max Verstappen was determined to get on the podium for the first time ever in Melbourne. He started 4th on the grid and was unable to better his position at the start but because of a longer first stint on his starting tyres, he was able to pit later than Vettel and thus had fresher tyres to chase him done. Verstappen closed the gap and followed Vettel down the main straight. He attempted to make a move but it didnt stick. Vettel had to block of the attack and coming out of turn 2 he just didnt get the jump on Verstappen. Verstappen made use of DRS to breeze past Vettel on the run to turn 3 to finally make the move stick. Vettel had no chance of catching the dutchman thereafter.
Max continued to close down on 2nd place Hamilton and was with 1,5s behind him with more than 10 laps left. Hamilton reported lack of grip on his older tyres. Verstappen kept chasing but ran off which cost him vital time. The gap was now 3,5s to which he closed to a second by the end of the race but was unable to take anything better than 3rd.
Mid-field battle heats up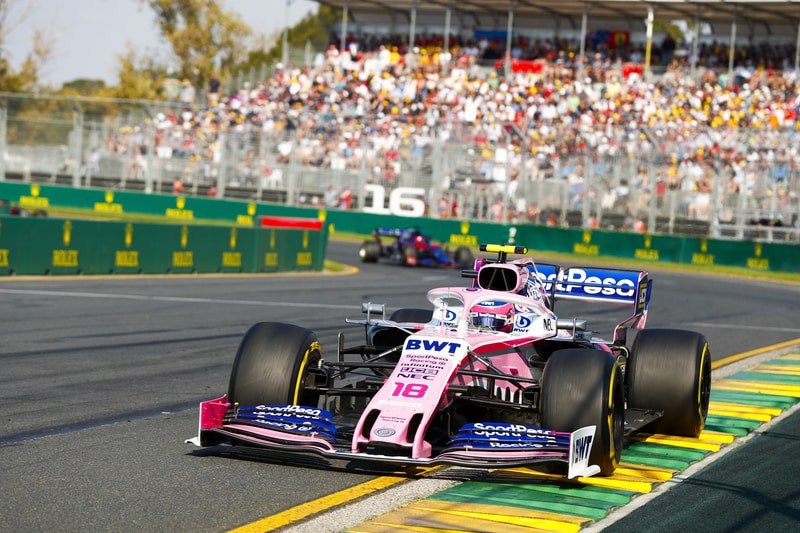 The mid-field battle is often not the main focus of the race but in the Australian GP, the mid-field definitely gave us a glimpse of something to be excited for as we head to the Bahrain GP next. Teams outside the top 6 were battling right until the end with 5 drivers in the mix. Raikkonen, Stroll, Kyvat, Gasly and Norris. The pack followed for numerous laps and the proposed 2019 can be seen as being able to follow a car more closely was definitely a factor. Overtaking, however, was not as easy. This could be due to the nature of the circuit and Bahrain might give us a better overall view of the overtaking capabilities this season.
What is interesting is that five Constructors were battling it out. This shows that the cars are beginning to become more competitive. The only teams that failed to score was Williams (as expected) and McLaren which has one car retired. The opinion that Renault will dominate best of the rest might be in for some shakeups this season and we can't wait!
Williams continue to fall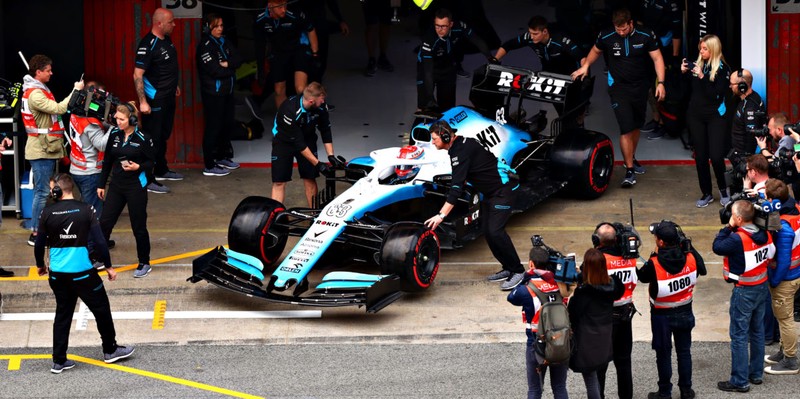 After poor qualifying, Williams were hoping for a much better race and not to be battling each other for last as per Russell's post qualifying interview. Unfortunately, that is exactly what happened. Williams finished last and second last with virtually not chance of improving throughout the race. Williams does not expect their issues to be solved with the next too races which means Williams will really need to keep motivation high until then.
Russell finished 2 laps behind the lead with no major errors occurring, just pure lack of race pace. Kubrick on his return did not have anything to wow fans with. He suffered a knock to his front wing and had to pit in the opening few laps which hindered his pace. Followed by this and lack of pace, he ultimately finished 3 laps behind the leader. No other team finished more than one lap behind the leader. The Williams car was more than 2 seconds a lap slower which is unlikely to be a quick fix heading to Bahrain.
Race for the bonus point
Announced just before the start of the 2019 season, the driver that finished in the top 10 and achieved the fastest lap in the race would attain an additional championship point for self and team. Many did not believe this would impact racing severely and little excitement amongst the drivers was evident.
However, on race day the value of this became evident. In the lead Bottas set the best race lap. Many would rather focus on their race than pursue this on worn tyres, however, Max Verstappen saw this as a chance. He decided to attack the best lap time which allowed him to close in on Hamilton. On catching Hamilton and setting the best time, Hamilton decided to respond and increase his pace. Bottas being out front wanted those 26 points in total and set off once again to finally set the best lap and retain that extra point. For a small change, it definitely created some excitement amongst race fans.
Championship standings
Ultimately, I saw Australian as an absolute treat to start 2019. We will definitely be looking forward to the Bahrain GP in two weeks time!