Qualifying
With our second qualifying session of 2019 coming to a close, we are getting a better sense of both driver and vehicle capabilities and how the drivers shape up against each other this season. Ferrari have been the stand out team all weekend as they lead all practices and then topped qualifying with a front row lockout. They definitely dampened Mercedes strong start in Melbourne.
McLaren too impressed as they put both drivers in Q3 which shows some big improvements in the McLaren camp since 2018 and they will be hoping for a strong race. Haas as well seems to be cemented in the top 10 with bot Magnussen and Grosjean qualifying in the top 10 again. Red Bull have some disappointment in Gasly as he again failed to reach Q3 and Renault lost Hulkenberg in Q1 and Ricciardo in Q2, which is not where the team has projected their performance.
Qualifying 1
Not too many suprises in Q1 as most of the drivers expected to progress to Q2 did, with the exception of Nico Hulkenberg for Renault. Hulkenberg was released into traffic which compromised his out lap and he was thus not able to post a competitive time and ultimately missed out by around a tenth of a second. The big suprise for me was Lando Norris for McLaren who finished 4th in Q1, quicker than Bottas, Verstappen and the Haas drivers. Moving to Q2 with some ease is definitely something McLaren will be pleased about.
As expected, both Williams were eliminated in Q1 and line up on the grid 19th and 20th. The pace was some 3,3 seconds of LeClerc in first and a further 1,8 seconds from moving to Q2. Stroll and Giovinazzi also failed to proceed past Q1 while their teammates of Perez and Raikkonen showed their experience to ease into Q2. The eliminated drivers in Q1:
16. Antonio Giovinazzi
17. Nico Hulkenberg
18. Lance Stroll
19. George Russell
20. Robert Kubica
Qualifying 2
Another 5 drivers have to be eliminated but which can move through to compete with the top six in Q3, the battle for 7th to 10th is always tight and showed some changes this week. McLaren took full advantage this session and managed to put both drivers in Q3 along with Haas. The Toro Rosso's of Kyvat and Albon were not expected to move to Q3 and were eliminated along with Sergio Perez from Racing Point.
The big suprise was Ricciardo who qualified 11th, just outside the top 10 again. Renault seems to be struggling this season so far despite a very hopeful team going into this season and weekend. Gasly in the Red Bull should have easily reached Q3 but only qualifies 13th being a tenth off the pace but he should be hopeful to get a good start and pick off the slower cars. The eliminated drivers in Q2:
11. Daniel Ricciardo
12. Alexander Albon
13. Pierre Gasly
14. Sergio Perez
15. Daniil Kyvat
Qualifying 3
After the first stints, Charles LeClerc in the Ferrari had set the best time equal to Vettel's lap record and was closely followed by the two Mercedes. Vettel and Verstappen where the only drivers who waited in the pits to only take the last run to set a time. Vettel was unable to match LeClerc's time while Hamilton was hot on the heels of Vettel to stay third and followed by Bottas in 4th. LeClerc was untouchable as he went out to improve on his time and take his first ever pole position in Formula 1.
The rest of the top 10 saw a mix of drivers and Magnussen starts next to Verstappen in 5th. Sainz in the McLaren will battle Grosjean to turn 1 while Raikkonen, who starts in 9th again, battles the young Norris in 10th.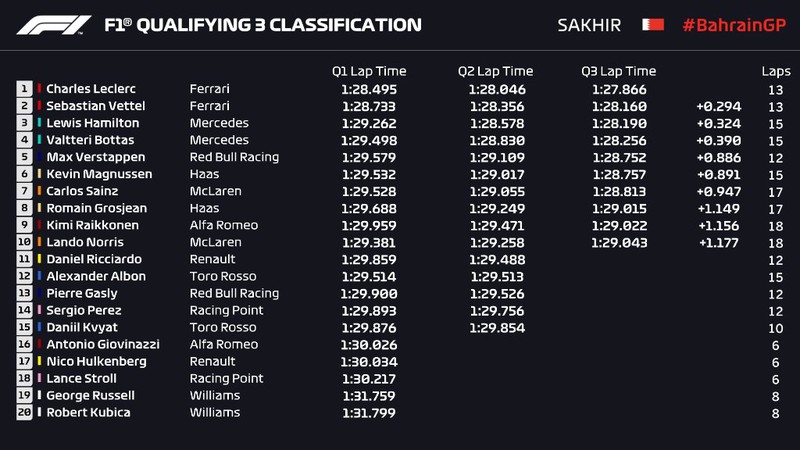 Race Preview
Track
The Bahrain International Circuit in Sakhir, hosted it's first F1 Grand Prix in 2004. The track is 5,412 km (3,363 mi) in length and covers 57 laps for a total race distance of 308,405 km (191,634 mi). The track begun construction in 2002 and cost $150 million to complete. The track features 3 DRS zones and promises overtaking during the race.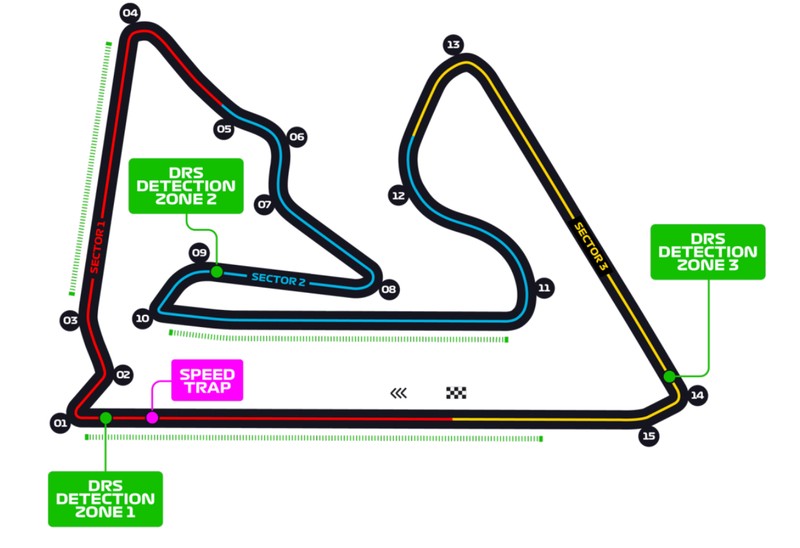 https://m.youtube.com/watch?v=xTezG7LJL5o
Some interesting facts:

Michael Schumacher won the first Bahrain GP in 2004 in front of Rubens Barrichello.
Pedro de la Rosa holds the lap record of 1:31.447 during the race in 2005.
The Bahrain GP 2019 is the 999th race in Formula 1.
Charles LeClerc was the 99th different driver to sit on pole position in Formula 1.
Charles LeClerc is the second youngest polesitter behind his teammate Sebastian Vettel.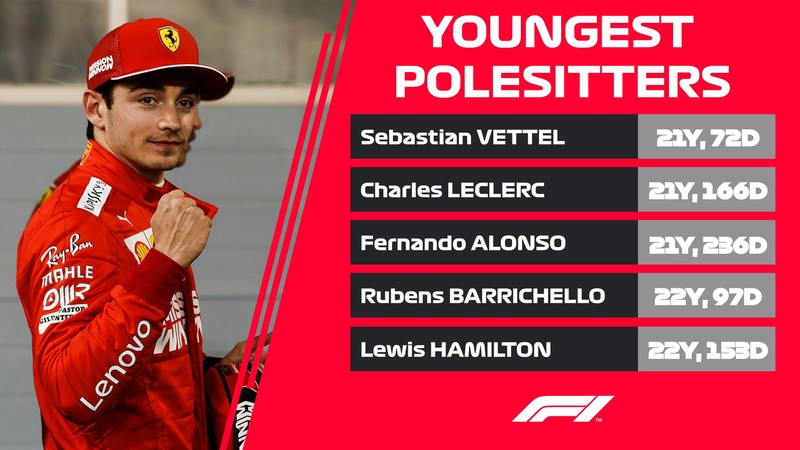 Past Events
https://m.youtube.com/watch?v=fd3-LK2sdXY
https://m.youtube.com/watch?v=O6fG9-lF46I
The Bahrain GP starts at 3.10PM GMT. Be sure to watch and let me know your thoughts in the comments.