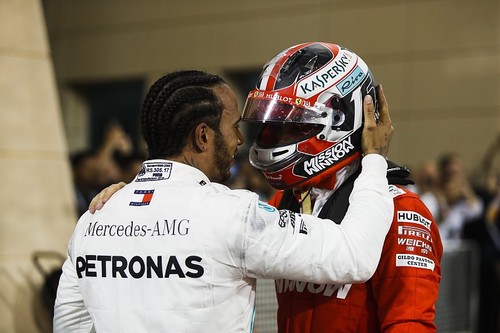 Shortly after the first race of 2019 in Australia, hopes were high for an exciting season to follow, but could the entertainment factor really live up to expectations? In my opinion, the Bahrain GP was one of the best races I have watched in the past few years. The race incorporated everything Racing fans desire: overtaking, Driver vs Driver battles, a chaotic start and the unfortunate mechanical issues that shook up the race in it's entirety.
Chaotic race start and first lap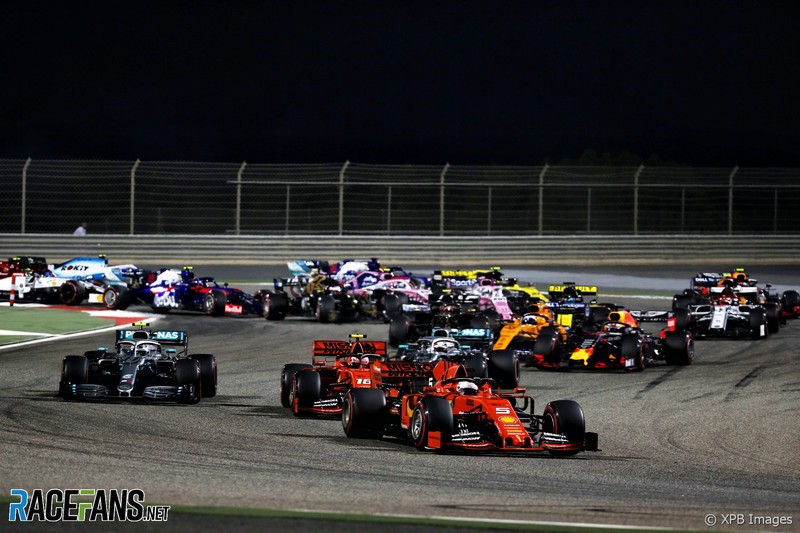 The race start is always a highlight of any Grand Prix. A drivers start can easily determine the outcome of his race. LeClerc had a poor start and instantly fell down to third place to which he had to work to reclaim his lead later on. The Ferrari front row, followed by two Mercedes on the second row was an opportunity for Mercedes to make an impact early on.
Bottas took full advantage of LeClerc's poor start to move up to second and cause the front runners to be shook up after turn 1 as the order was now changed to Vettel, Bottas, LeClerc and then Hamilton.
Verstappen too suffered a poor start from 5th and was placed under threat from the McLaren of Sainz and Magnussen in the Haas. Verstappen managed to retain 5th but his former teammate Sainz, continued to put on pressure and the too slightly touched. Sainz was thus forced to pit for a damaged front wing and ultimately retired.
Further down the field, Grosjean following his 3 place grid penalty was in thick of things. Stroll had collided with Grosjean causing him a rear right puncture and a ruined front wing for Stroll. The two both nursing the car to the pits, with Grosjean driving on the cars rim and Stroll with a dragging front wing create sparks the entire lap round. Grosjean was eventually forced into retirement with floor damage.
Grosjean's luck continues to run out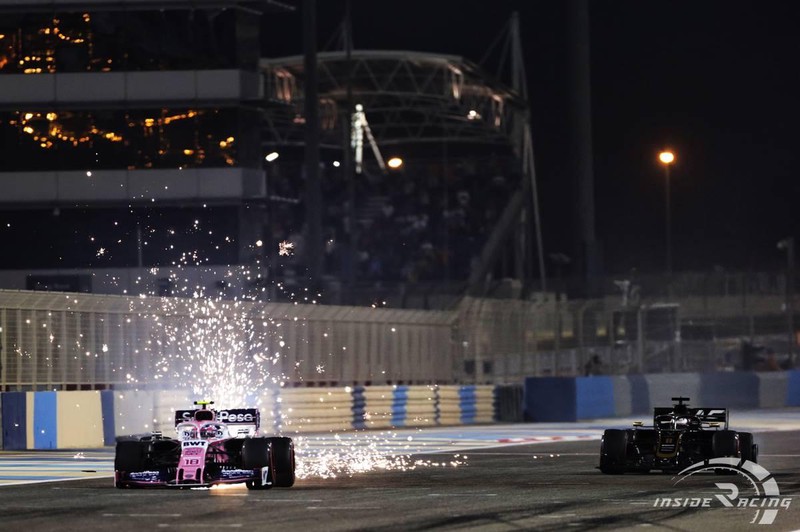 The start to the 2018 season was horrendous for Grosjean and after his retirement in Australia, he was certainly looking to score some points in Bahrain. Alas, he can just not stay out of trouble. At the race start, Grosjean was caught up in the middle of the pack and hit by Lance Stroll in the Racing Point which caused him a puncture and the car had to be nursed to the pits. Stroll too had to pit to replace his front wing due to the collision.
After just 16 laps, Grosjean had suffered damage to the floor of his Haas and was forced to be the first retirement of the race. That is now two pointless returns for Grosjean but he will be hoping to just have a consistent race in China to score points soon. He surely does not want to wait until July again, as in 2018, to score his first point of the season.
Vettel's eventually falls to Hamilton's undercut and the rest of the field
Vettel had got a steady start and stole the lead from his teammate. He put in a good first couple laps to build a slight lead but he was soon reeled back in by a determined LeClerc. He nevertheless was still battling for a second place and seemed likely to maintain this placing.
Hamilton being further down the road decided to try the undercut to gain on Vettel and steal 2nd place. Vettel had pitted soon after to cover this strategy. Ferrari had thought they had a decent buffer over the Mercedes, however, as Vettel emerged from the pits, Hamilton was right behind the Ferrari. The two got entangled in a world class battle.
Hamilton ultimately got the edge a few laps later due to DRS assistance around the track. Vettel fought bought but pushed slightly too hard and spun his car on the exit of a corner. The spin lost him some time and completely flat spotted his tyres, making the chance of catching Hamilton minimal.
Later that lap, however, the flat spotted tyres had created such harsh vibrations that his front wing completely detached from the car on the straight and flew directly under his car, sending him airborne momentarily and creating a rage of sparks across the track. Vettel was forced to pit for a third time and lost a further 25 seconds on the leaders. He was unable to gain this back during the race.
He managed to secure a 5th place finish, but after a strong start in early 2018, this 2019 season is slowly becoming something to forget for Vettel. The championship is slowly slipping from him already just as it did in the second half of 2018.
LeClerc loses power and maiden F1 Win
The 21 year old from Monaco seemed to have it all this weekend; a blisteringly fast car, pole position and a calm and collected attitude but nobody could have predicted what would unravel during the race.
The pressure seemed to have got to LeClerc as he suffered a poor race start. He was instantly passed by Vettel and by the end of the first turn, Bottas too had overtaken him. He remained determined, however, and worked his way back through the field to reclaim the lead.
LeClerc's race pace was phenomenal as he continued to grow the gap ahead of his teammate. All was going well until he reported a loss in engine power on the team radio. It first was thought to be a a turbo- related issue but the problem was costing him 5 seconds a lap. Hamilton was just a few seconds down the road and breezed past to take the lead.
Bottas, who was 30 seconds behind with 10 laps to go, could see a podium in site and gaining at 5 seconds a lap was easy pickings for the Finnish driver. The threat now loomed large for LeClerc as it was expected that Verstappen would catch up at this pace and steal the final podium spot. Verstappen brought the gap to below 10 seconds with a few laps to go and LeClerc was definitely going to fall to the Red Bull.
No sooner did the safety car get deployed due to the Renault dual DNF. With no overtaking permitted, the safety car secured the podium for LeClerc on a day that everything that could have gone wrong, did. LeClerc's outstanding weekend and pole was all just history after his mechanical issues.
Renault suffers double DNF simultaneously
Renault were on target for a top 10 finish for both Ricciardo and Hulkenberg until everything went wrong with just 3 laps to go. Renault would have been happy to take some points from Bahrain following their poor start in Australia and attempted one stop for Ricciardo during this race.
But unfortunately, Renault unreliability strikes again. Ricciardo was plagued with engine failures under his Renault-powered Red Bull last season and the gremlins seem to have followed him again. Both Renault were forced to retire following malfunctions relating to the engine.
A rare ocassion, however, as both cars broke down in the same place within a few seconds. Hulkenberg suffered an engine failure at the entry of the first corner while just further down the straight, Ricciardo followed and was then forced into retirement in corner 1 with what appears to be a power unit failure. With just 3 laps, a team can really not be as unlucky as Renault this grand prix.
Race finishes under safety car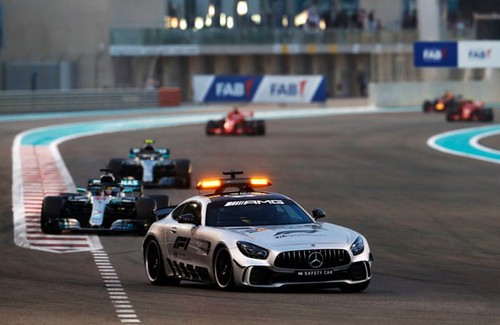 A very rare occurrence for an F1 race to conclude with all drivers following the safety car across the line. So rare in fact that it was only the 8th time in 999 races that such an event occurred. The safety car was deployed on lap 54 due to the double retirement of the Renault team. Both cars came to a halt at the end of the start/finish start and as such were a danger to cars potentially heading off track and colliding with the stationery vehicles as they are to be recovered by the stewards.
The deployment of the safety car marked an end to the racing action in Bahrain as the vehicles could not be recovered in time for racing to resume. An enticing battle between LeClerc and Verstappen for third was looming but unfortunately the safety car prevented this. For LeCLerc, he earned his maiden F1 podium and 3 seemingly unlikely points extra while Verstappen had to settle for fourth place.
Norris puts in drive of a lifetime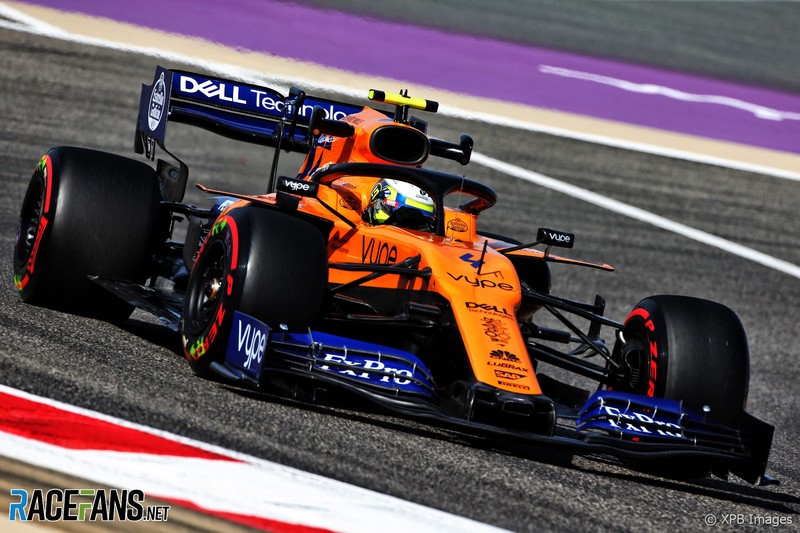 The last thing one expects when looking at the time sheets is to see a McLaren driven by a 19 year old to finish in 6th place amongest territory dominated by the heavy hitters of Mercedes, Ferrari and Red Bull but Norris achieved the seemingly impossible. In just his second F1 race, the 2017 Formula 3 champion went on to slowly work his way through the field and secure 6th place.
Starting 8th on the grid, Norris managed to stay out of trouble, unlike his temmate Sainz and was aided by the retirements of both Renault's, Grosejan and Sainz. Norris continues to impress with his maturity in the sport at such a young age an his race management seems to be spot on. With Raikkonen just two seconds behind, the safety car came to his assistance to secure him his best finish in Formula 1 and make his way to 7th in the driver standings. There is certainly much to look forward to from Norris this season and even the growing McLaren performance is alluring to watch.
We now look forward to Race 1000 taking place on the 14th of April in China. Lots of exciting posts to come so stay turned for more F1!