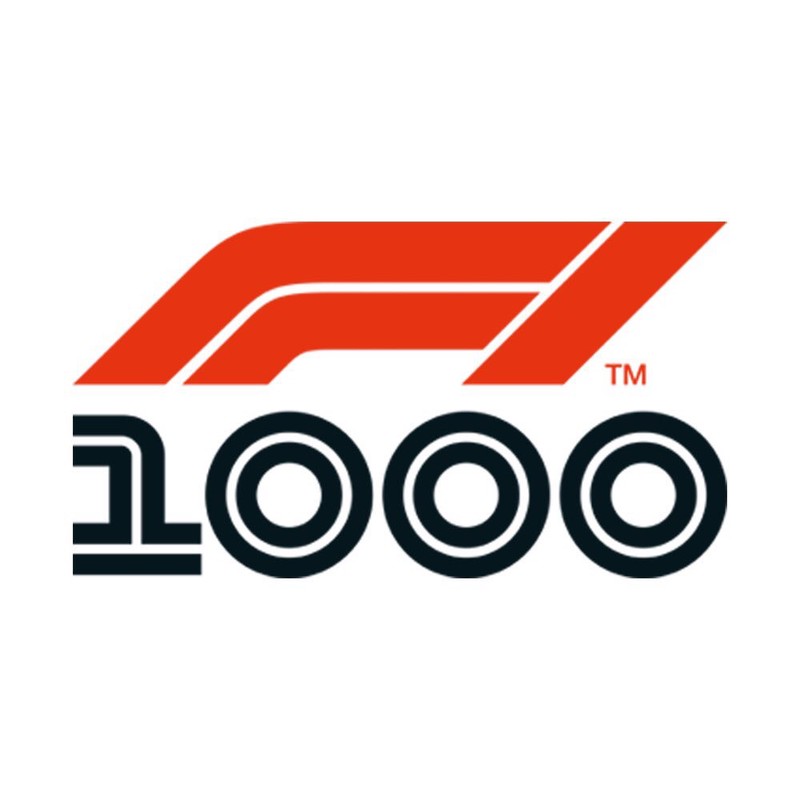 After a two week hiatus, Formula 1 is back with possibly one of the most anticipated races of the season and possibly the history of F1. Race 1000 is officially here and nearly underway. All the drivers are as motivated as ever to be crowned the winner of Race 1000 in Shanghai this weekend. Teams and F1 organisers alike have gone all out to ensure that Race 1000 goes down in history. Seeing that we complete 1000 races this weekend, i'll be posting some best of F1 and other content next week to commemorate this occasion.
Qualifying
Qualifying 1
There was not too many surprises in Q1. As expected, both Williams bowed out again while being 1,1 seconds behind the pace required to move into Q2. Lance Stroll for the Racing Point team also failed to reach Q2 which means he has failed to move past the first part of qualifying for all races this season and for a consecutive seven races. Stroll needs to improve soon as Perez is really beginning to pull a margin over his teammate.
Giovinazzi in the Alfa Romeo failed to set any qualifying time due to an error with his vehicle while Alexander Albon starts Race 1000 in dead last. He suffered an accident in Free Practice 3 coming onto the start/finish straight and collided with the side barrier. His vehicle was severely damaged and thus he took no part in qualifying. Valtteri Bottas topped the Q1 session with a 1:32.657 lap time. The eliminated drivers in Q1 were:
16. Lance Stroll
17. George Russell
18. Robert Kubica
19. Antonio Giovinazzi
20. Alexander Albon
Qualifying 2
The Q2 session seems to be gaining new residents every race. Today, the McLaren's of Lando Norris and Carlos Sainz could just not find the pace to place a driver in Q3. The team that has impressed this season finished 0,4 and 0,8 seconds off the pace to move into Q3. They will, however, fancy their chances to put in a strong race performance to attain some points. A surprising session for Kimi Raikkonen who qualified in 13th after holding the longest ever consecutive Q3 appearances by a driver.
Kyvat and Perez finished the eliminatd drivers list qualifying 11th and 12th respectively. Both drivers were just under a tenth off the pace of Daniel Ricciardo who qualified in 10th but earned a good starting place to battle for points for their teams. The standout performance of Q2 had to be both Renault's as they managed to overcome a poor first two races and qualifying to place in the top 10, arguably where they belong. The eliminated drivers in Q2 were:
11. Daniil Kvyat
12. Sergio Perez
13. Kimi Raikkonen
14. Carlos Sainz


15. Lando Norris
Qualifying 3
Possibly a rare occasion but the top 10 consisted of 5 teams each with both drivers featuring. Even more rare is that each team locked out a row. Both Mercedes. followed by both Ferrari's, Red Bull's, Renault's and Haas' cars. Who says Race 1000 wouldn't suprise anyone. The first stints saw Bottas take provisional pole followed closely by Hamilton. Vettel was peeking for some chances in third followed by Verstappen who split both Ferrari's with LeClerc in 5th.
Hamilton looking to earn another pole was eager to catch his teammate. After setting best times in the opening sectors, Hamilton fell just short of taking pole. This left Bottas in the leader seat just having to ensure the Ferrari's do not put in fast laps. Bottas was able to improve on this first stint time to extend the gap slightly while Vettel and LeClerc too put in faster times. Alas, no driver was able to match the current championship leader and Bottas starts on pole for Race 1000.
Verstappen failed to put in a final lap after being impeded by Vettel on his warm up lap. Gasly seems to have improved by making his first Q3 appearance this season to qualifying behind his teammate. Both Renault's will be happy in 7th and 8th waiting to jump on any mistakes by the top 6. Both Haas cars did not partake in Q3 and thus qualify 9th and 10th. The final starting grid is as follows: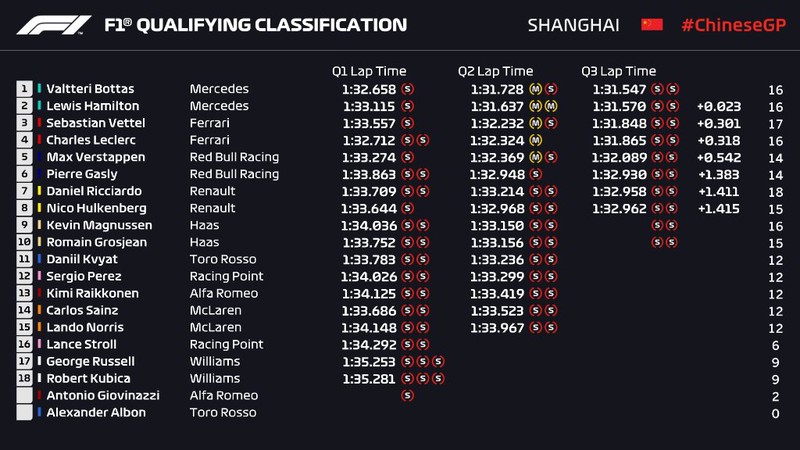 Race Preview
Track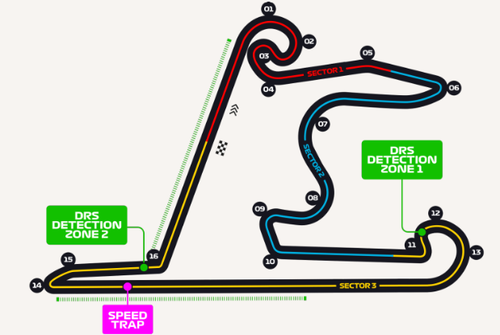 The Chinese GP was introduced in 2004 which took place at the newly built Shanghai International Circuit as has since become a landmark on the F1 calendar. The track is 5.451 km and we will see a 56 lap race for a total distance of 305.066 km. The race lap record is held by none other than Michael Schumacher with a time of 1:32.238 set in 2004.
The track is one of my personal favourites. It features many tight corners combined with some long straights. Turn 1,2 and 3 are always interesting during the race start. Some drivers find innovative ways to overtake at seemingly impossible places while the two DRS zones will make overtaking a breeze over the two long straights.
Past Events
Formula 1 Top 5 China Moments
Ricciardo wins 2018 Chinese GP
The China GP 2019 kicks off at 6.10 AM GMT +0. It promises to be an exciting race and any driver can take Race 1000, but who will it be?