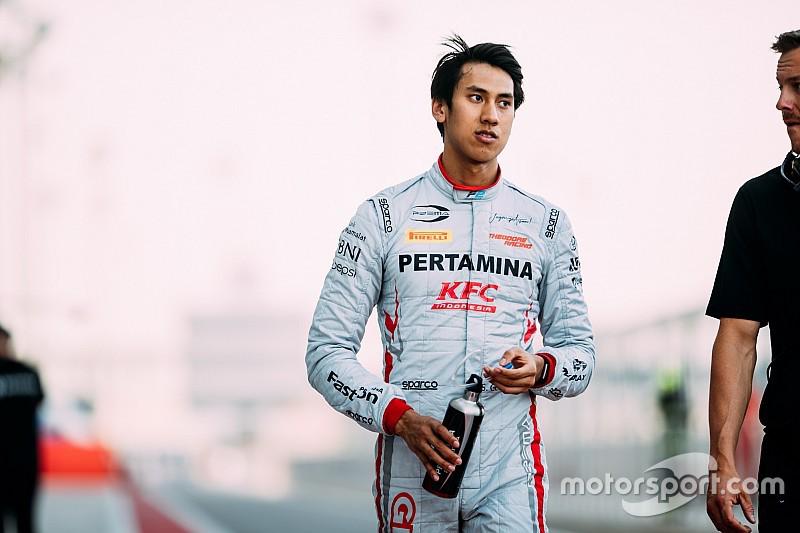 Indonesian racer Sean Gelael explains the challenges to be faced by riders in his career at an international level. Read:
< Gelael at Toro Rosso, Tost: "It's not about money"
< Gelael commented on Honda's engine performance at Toro Rosso
< Prema boss did not promise an instant victory for Gelael
< Gelael: The top five goals are very realistic
< De Vries: A number of judgments against Gelael are unjust
< Gasly: ​​Top 5 Gelael realistic targets in F2 2018
Actually there is a great interest in Indonesia towards motorsport. Remember the first Driver of the Day voting in the 2016 Australian Grand Prix. People thought maybe Sebastian Vettel or Lewis Hamilton were winning, but it turned out that Rio Haryanto finally got tremendous support. How crazy are Indonesians actually against motorsport?
Sean Gelael (SG): "It's growing, certainly growing, Indonesia is not known for motorsport, it's still pretty new there, the biggest sport is still football, like everywhere else, and in badminton we're pretty good. help more racers from Indonesia, hopefully it will further build motorsport, not just for racers, but also fans can be more enthusiastic, their career is more directed into motorsport, like engineering or others We are the fourth most populous country in the world , a great opportunity for motorsport to invest. "
Is that a big advantage for your career because you become more attractive to racing teams?
SG: "Hope you do, you know how the race is, in the end, everything is business, I'll just try to focus on small things, race after race, lap by lap, and in the end big things will come."
Indian racer Arjun Maini revealed that if you do not come from Europe, you should perform twice better than before. Do you also agree?
SG: "There are two things: One: Not much competition in Asia, like Arjun and I, it's hard to find a lot of competition, for example when I'm in karting, a year is only four rounds on the same circuit.While In Europe, there may be three races in one month, so first, you have to gather more experience and learn faster, and secondly, because motorsport is not too big [in Asia] you have to educate them, in the end, it's a sport and everyone wants to see the results. anyone cares if you are P12 or P10 well in your first or third season.In the end, people from Asian countries like Arjun and me where motorsport is not so big, it should be said this is an 'educational process' Hopefully later Indonesia and India could become closer to Europe as a motorsport country. "
Is participating in other events like WEC can help make you a better rider especially in your career phase now?
SG: "Everyone is different but obviously the more driving time, the better because you keep learning Everyone learns new things every day The biggest difference with Europe or the motorsport countries, they start from very young age No matter how much time to catch up now, you will always be left behind.I deeply believe you should focus on your championships, not think too much and do many other tests to avoid the rules [of a championship] restrictions.I'm always sure, do it all with In the end, that's the way we live not from the motorsport country.This is not an excuse.In the future, other riders from our country do not have to go through the same thing as us, they can have many races from the beginning of a career and experience to a higher formula category. "
Besides teammates, is there another racer you want to beat?
SG: "Just Nyck [de Vries] No, I'm kidding! I think you have to beat everyone There are a lot of strong riders this year and as you say, with a new car, the level of competition is more evenly, it will be very difficult, tight on the track.I guess you just have to be the best among them. "