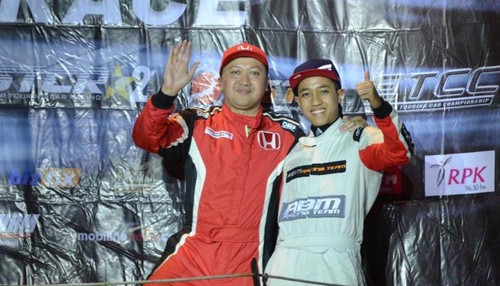 Young and extraordinary are words worthy of being given by Avila Bahar. At a young age, Avila won the ITCR Rising Star in 2019.
The young driver has only been active for four years. But the achievements he achieved were very encouraging.
Avila Bahar was a speaker at the "Youth Empowerment through Sports" session at the 2020 Indonesia Millennial Summit.
An 18-year-old man will appear on the stage "Talent Trifecta" on Saturday, January 18, 2020 at the Tribrata Building, Jakarta Indonesia
Avila Bahar began his career in the racing world in 2016. At that time, he still started 14 years. In its debut year, Avila competed at the Honda Brio Speed ​​Challenge (HSBC) and won the runner up title. It was a successful achievement, released he just jumped into the field.
In his years, Avila won the overall title in the Honda Jazz Speed ​​Challenge (HJSC) category. Then in 2019, Avila, which is becoming increasingly reliable, will take the Indonesian Touring Car National Championship (ITCR) together to try. In the program, he succeeded in becoming ITCR 16 MAX Rising Star in 2019 and Overall position 3.
The Indonesia Millennial Summit 2020 is an independent meeting of Millennial leaders with the theme "Shaping the Future of Indonesia". IMS 2020 was held in the Tribrata Building, Dharmawangsa, South Jakarta for two days, 17 and 18 January 2020.
This event presents more than 60 competent speakers who have a vision to develop Indonesia in the future. In the IMS 2020, the Indonesia Millennial 2020 Report is also launched.
scorum publikasi
https://www.facebook.com/irak23/
https://www.facebook.com/updategam3rs/
https://www.facebook.com/Movies-116631286384119/
https://www.facebook.com/groups/scorumblog/
https://www.facebook.com/groups/2246597958712330/
https://www.facebook.com/groups/1982608372046382/
https://www.facebook.com/groups/616504648418582/
https://www.facebook.com/groups/421567894585604/
https://www.facebook.com/groups/2162012137345884/
https://www.facebook.com/groups/2197014363703457/
https://www.facebook.com/groups/1555503924585867/
https://www.facebook.com/groups/174001162776140/
https://www.facebook.com/groups/232891467618329/
https://www.facebook.com/groups/274607113385466/
https://www.facebook.com/groups/2071862589791369/
https://www.facebook.com/groups/521363684981010/
https://www.facebook.com/groups/2247090888656332/
https://www.facebook.com/groups/1905406126437303/
https://www.facebook.com/groups/1546885095553342/
https://www.facebook.com/groups/IndoFilem21.top/
https://www.facebook.com/groups/1555503924585867/
https://www.facebook.com/groups/IndoFilem21.top/
https://www.facebook.com/groups/1689564934659269/
https://www.facebook.com/groups/845480612201157/
https://www.facebook.com/groups/476356649120335/
https://www.facebook.com/groups/1004844326376916/
https://www.facebook.com/groups/2207354446196742/
https://www.facebook.com/groups/1897431280569082/
https://www.facebook.com/groups/2071862589791369/
https://www.facebook.com/groups/2162012137345884/