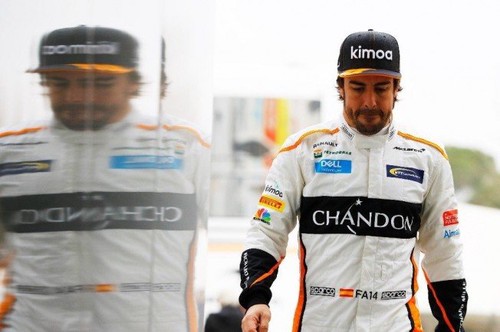 This weekend Fernando Alonso will run his final race as an F1 driver. Although the Asturian did not give more details about his future, he will not abandon racing and the next step is his career seems linked to the American Indycar.
The truth is this news that dismays me, because it is the retirement of one of the greatest pilots of his generation and, from my point of view, the most talented driver in Formula 1. I am sure that the F1 organization will make a space at the Grand Prix of Abu Dhabi next November 25, to give a well-deserved tribute to Fernando Alonso in what will be his last race in the maximum circuit.
What is sad about this farewell to Alonso is the way it is given: away from the podiums in the twilight of his career, with a car unable to compete in a dignified manner. Far was that last victory in the GP of Valencia in 2012; and further away are the memories of those two world championships with Renault.
Despite his undeniable talent, Alonso must have been the driver with more bad luck when signing contracts with his teams. After his first start at Renault after winning his second consecutive championship, that fateful year 2007 came with McLaren. Undeniably he had a better car, but his historic rivalry with rookie sensation Lewis Hamilton and the team's clear favoritism for the Briton buried his chances of being crowned again. A rivalry that along with that of Senna and Prost, will remain in the annals of history.
And at this point began the Calvary of Alonso with his cars. In 2008 it returned to a diminished Renault that was not even the shadow of what it was during the bicampeonato of Alonso. After this he had the bad luck to get to Ferrari at the worst moment in the history of the team of the rampant cavallino.
During the 4 seasons he raced in Ferrari is perhaps when the talent of Alonso was more clear to pilot an F1, since with a car much inferior to the Red Bull that dominated with iron boot; He was able to stay competitive, take a good amount of wins and was nothing to snatch the 2012 world championship from Sebastian Vettel. I am very sad with Alonso, because during his stay at Ferrari he practically ran without a car, every victory he achieved was achieved thanks to his innate abilities and great experience.
His bad luck continued when after leaving Ferrari, he again had competitive cars again. While his new team, Mclaren, had a car to fight to enter the points that fight for the championship. Since McLaren split from Mercedes, his biggest achievement has been creating cars that are more disgusting than the previous season.
In recent seasons, Alonso had to get used to being a regular on the last places on the starting grid. And it does not matter how hard Alonso tried, every time he managed to overcome and reach a decent position in the races, his car broke the engine or had 1001 mechanical problems.
At this point, the Spanish numbers may not seem impressive. His 32 victories and 2 world championships may seem little alongside what Hamilton and Vettel have accomplished in less time; but if Fernando Alonso does not have more world championships, it is because he never had a car to accompany him, that was on par with his talent.
That's why I prefer to look beyond the statistics and concentrate on the driving lessons given by Alonso every time he was at the wheel of an F1. Those early years at Renault were simply magical, the 21-year-old who drove a blue car won the battle for the best driver in history, a battle that Schumaher could never win.
Now at 37 years old, Alonso intends to achieve the greatest feat in motorsport: winning the Triple Crown. This means being the F1 world champion (which he already did, twice), winning the 24 hours of Le Mans (race he won this year) and winning the 500 miles of Indianapolis. The latter is his next big goal, which he was close to in 2017 when, without any previous experience in that category, he was on the verge of winning a career he had in his pocket. Until again problems with the blessed Honda engine got in his way. I have no doubt that what Alonso proposes in the Indycar will achieve it, and will close a brilliant race in which he deserved much more. The tracks of the Formula 1 will miss one of his idols, the best driver of his generation and without a doubt one of the best in the history of this sport.