Ferrari driver, Sebastian Vettel, managed to claim the leading position in Formula One (F1) Canadian GP after holding a qualifying session at the Circuit Gilles Villeneuve, Montreal, early Sunday morning, June 10, 2018. The German rider achieved the fastest time of one minute 10.764 seconds.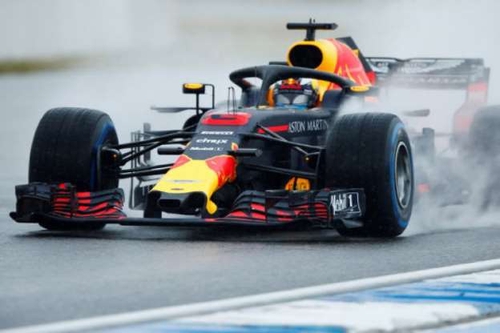 Raihan this becomes special for the racer. Because, this became the 54th pole position throughout his career.
This result is also surprising. For, during the free practice session, Vettel did not once get the fastest time record.
Instead, three times the fastest time winner during free practice, Max Verstappen, had to settle for third place. The Red Bull rider recorded a time of one minute 10,937 seconds.
Meanwhile, in the second position there was Valtteri Bottas who shot from sixth place in the last free practice. Meanwhile, Mercedes teammate, Lewis Hamilton, will start the race from fourth position.
Following are the complete results of the Canadian F1 GP qualification, quoted by Crash:
1. Sebastian Vettel GER Scuderia Ferrari 1m 10.764s
2. Valtteri Bottas FIN Mercedes AMG Petronas Motorsport 1m 10.857s
3. Max Verstappen NED Aston Martin Red Bull Racing 1m 10.937s
4. Lewis Hamilton GBR Mercedes AMG Petronas Motorsport 1m 10.996s
5. Kimi Raikkonen FIN Scuderia Ferrari 1m 11.095s
6. Daniel Ricciardo Aus Aston Martin Red Bull Racing 1m 11.116s
7. Nico Hulkenberg GER Renault Sport Formula One Team 1m 11,973s
8. Esteban Ocon TRD Sahara Force India F1 Team 1m 12.084s
9. Carlos Sainz Jr. ESP Renault Sport Formula One Team 1m 12,168s
10. Sergio Perez MEX Sahara Force India F1 Team 1m 12.671s
- ELIMINATED IN Q2 -
11. Kevin Magnussen DEN Haas F1 Team 1m 12.606s
12. Brendon Hartley NZL Red Bull Toro Rosso Honda 1m 12,635s
13. Charles Leclerc MON Alfa Romeo Sauber F1 Team 1m 12.661s
14. Fernando Alonso ESP McLaren F1 Team 1m 12.856s
15. Stoffel Vandoorne BEL McLaren F1 Team 1m 12,865s
- ELIMINATED IN Q1 -
16. Pierre Gasly TRD Red Bull Toro Rosso Honda 1m 13.047s
17. Lance Stroll CAN Williams Martini Racing 1m 13,590s
18. Sergey Sirotkin RUS Williams Martini Racing 1m 13.643s
19. Marcus Ericsson SWE Alfa Romeo Sauber F1 Team 1m 14,593s
20. Romain Grosjean FRA Haas F1 Team no time