So as you all read on my profile, I am kind of obsessed with the motorsports racing, particularly Formula 1 or as people like to say F1. So thought to post some details about it and what is my view on it right now.
As you all know, F1 season is about to end with the last race being held at Abu Dhabi Yas Marina Grand Prix circuit. So lets go with some stats on the current F1 standings and what might be the outcome of the Abu Dhabi GP.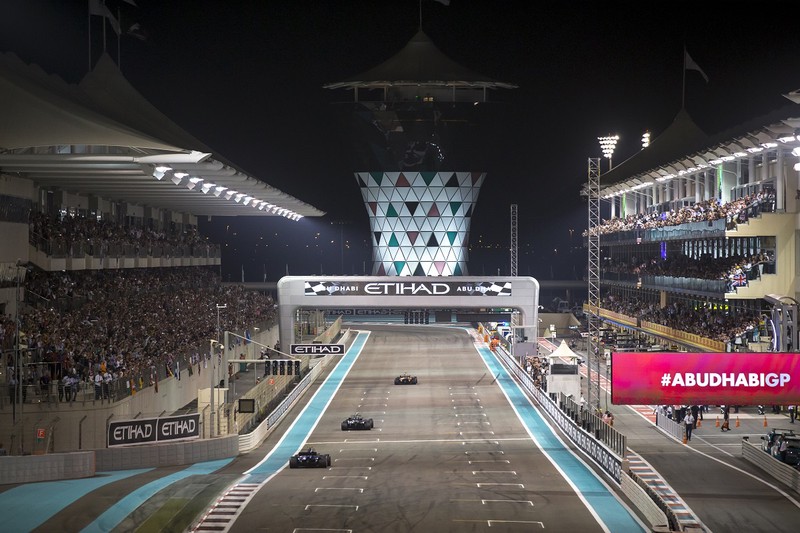 Current Standings:
As of now Lewis Hamilton is at the top with a total of 383 points this season followed by Sebastian Vettel with 302 points at the second rank and at the third position on the podium we have Kimi Räikkönen with 251 points.

Considering the top 5 position in overall standings of the F1 2018 season, we have Valtteri Bottas on #4 with 237 points and Max Verstappen at #5 with 234 points. Its a close run between Räikkönen, Bottas and Verstappen to see who will be on the podium.
Winning and Podium Scenarios:
#1 and #2 season standings:
As per the 2018 F1 season, no matter what happens in this GP, Lewis Hamilton will be on the podium with #1 position followed by Sebastian Vettel at #2.
The Dash For The Podium:
For Räikkönen to be on the podium at #3 position he just have to finish above Bottas and Verstappen.
While for Bottas, if he wants to taste that sweet podium finish than following are the scenarios in which he can do it.

If Bottas wins the Abu Dhabi GP, than Räikkönen have to finish 5th or a place lower than that for Bottas to be on the Podium this year. If Räikkönen finish in Top 4 in this Grand Prix than irrelevant of who wins he will be in #3 on the overall season standings.
Another thing to keep in mind for Bottas to get the podium finish is that Verstappen has to finish after him, because if he either wins the race or finishes above him considering top 5 positions than Bottas might lose the chance to get the podium. But again for this to be valid and Bottas to be at #3 the above scenario must happen with Kimi not finishing in the Top 4 positions.
For Verstappen to try an get the podium finish here are the possible conditions that need to be met.
If Verstappen wins the race, than Räikkönen must not finish in the top 6 positions. Even if Bottas finishes in the second place, Verstappen will still be on the podium at #3.
If Verstappen finishes Second in this Grand Prix, than for him to be on podium Räikkönen must not finish in Top 10 positions or get retired from the race and Bottas must not be in the top 3 in the GP.
Now with the winning scenarios explained in a simple manner, lets see what were the past outcomes on this track and who are the drivers that is gonna take the top three podium finishes.
Race Winners:
Sebastian Vettel and Lewis Hamilton both having equal number of wins on this track it is a tough situation to say who will finish at what position on the podium #1. But one thing to consider is, Vettel won three times on this track while he was in the Red Bull team, but as he is now with the Scuderia Ferrari racing team and this season he has only finished 5 times as #1 on the podium compared to Lewis Hamilton's 10 podium finishes this season at #1 position.
Also the past three times Lewis Hamilton has won, he was in the Mercedes team, so if you ask me I am pretty sure you will see Hamilton on the podium this Grand Prix given the condition he doesn't crash or get retired due to any other reasons. Chances for Vettel to finish in podium are not so high, so it would be thrilling to see if Vettel finishes on the Podium.
Now watching the battle for the #3 in the season overall standings between Kimi, Bottas and Verstappen is worth the money. With the scenarios explained above it would be much more thrilling to watch these drivers than Vettel and Hamilton.
With Kimi having 1 win this season ,Verstappen having two wins and Bottas with no wins its gonna be a fierce battle on the track. With Bottas winning the 2017 Abu Dhabi Grand Prix and having 7 Fastest lap this season along with being with the Mercedes team gives him the most favourable conditions to finish the race on podium compared to Kimi and Verstappen.

For Kimi, its a tough situation, although he has finished at #1 on this track in 2012, still the chances doesn't look in his favor. He is associated with the Scuderia Ferrari team, who has never won the Abu Dhabi GP in last 9 years. So for him to finish at #3 in the overall season standings we hope that he finishes above Bottas and Verstappen.
Now Considering Verstappen, he has never won on the Abu Dhabi GP like Kimi and Bottas, also for him to finish at #3 in the overall season standings it largely depends on at which positions the other two drivers finishes the race. So I would say pretty much least chances out of the three drivers.
Race Standings Prediction:
So that being said you must ask what will be the possible race result according to you. so here is the race standings:
Valtteri Bottas

Lewis Hamilton
Sebastian Vettel

Max Verstappen

Kimi Räikkönen

So here is my detailed analysis of the F1 Abu Dhabi Grand Prix 2018.
The predictions I made are completely based off on my opinions and viewpoint, its ok if you have different opinions than mine.
So Lets Go Racing.....